Wi-Fi cloud management for Small Businesses, Hotels, Hospitals and Schools



Centralized Management

Change the Wi-Fi password and other parameters through a web interface. Apply configurations to multiple devices at once! Everything in one single place.




Cloud-based

No need for expensive hardware controllers. State-of-the-art cloud technologies are the answer to who is looking for a cost-effective solution to manage WLANs.




Multi-vendor Compatible

Is your favorite model of Wi-Fi AP a Ubiquiti, a Netgear or an Engenius? With Tanaza you can add centralized management to all of them. Even to autonomous Access Points!
Solution
Tanaza allows to the IT Administrator to manage all the Wi-Fi Access Points of the wireless network, through a single web interface: cloud.tanaza.com. Through this interface you can add Access Points to manage, change password to multiple APs at once, add a temporary SSID, reboot devices, verify their status in real time. More features are coming soon, and will be added without requesting you to do anything, thanks to the cloud.
Tanaza can manage virtually any model of any vendor of Access Point. If you have a supported device in your LAN, you can try Tanaza now (Free Account) and see how easy and convenient is to have a well managed WLAN, instead of a messy bunch of devices with an unknown configuration (and sometimes even password). No more click-reset-start-from-scratch.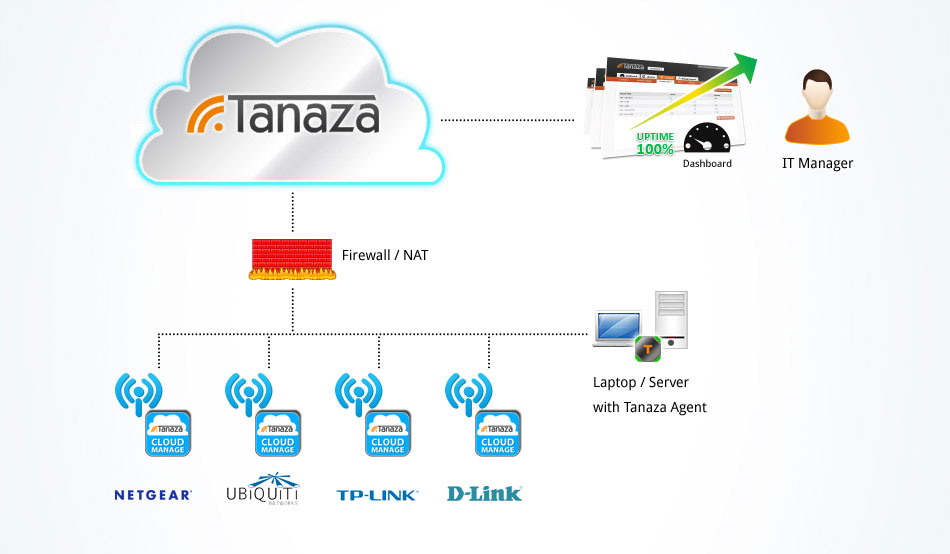 Get Tanaza White Paper and discover how to to Cloud Manage and Remote Monitor your APs