4 crucial Wi-Fi hotspot features to offer in coffee shops

Would you like to boost your business' growth by offering free Wi-Fi services? In this post, we help you identify the main Wi-Fi hotspot features coffee shops, bars and cafes should provide to run their business in a successful way.
Nowadays, free Wi-Fi has become a much-sought amenity among people, who expect to find it in public areas, such as coffee shops, bars and cafes. Indeed, offering free Wi-Fi services in such locations is the right strategy to attract new customers with no effort at all: for instance, students will choose a coffee shop with free Wi-Fi connection to study and do their online research; at the same time, young people will value a bar offering free Wi-Fi, so that they can send SMS on WhatsApp or access Facebook and other social media on their smartphones for free. Free Wi-Fi access helps you increase revenues and the number of returning customers in a simple way: not only visitors will stay longer in your location and will consume more, but they will also come back to your location to benefit from your services.
In order to provide an outstanding free Wi-Fi service in a bar or coffee shop, you firstly need to identify the most important features your Wi-Fi hotspot should have. Let's see the main 4 Wi-Fi features selected by Tanaza.
1. Remote management and monitoring
Tanaza allows you to  manage and monitor your deployments on the cloud dashboard remotely. The Tanaza cloud dashboard is a real perk, as it is accessible from anywhere, anytime and from any device – smartphones, tablets, laptops or computers. Here network admins can easily configure their SSIDs and multi-vendor access points as if they were from the same vendor: in this way, your network can include TP-Link as well as Ubiquiti devices, among many. Furthermore, you can check the real-time status of the access points deployed on the dashboard, and receive an email alert if any issues arise. Also, you can see detailed client statistics i.e. session duration and the name of the AP to which users are connected. The connection is 100% reliable and secure, as Tanaza isolates your network and guest network. In this way, you can run a separate network for your staff without any extra cost.
2. Analytics dashboard
Thanks to the Tanaza analytics dashboard, you can turn your Wi-Fi hotspot into a powerful marketing tool, so as to effectively create personalized campaigns and offered tailored promotions. The Tanaza dashboard, indeed, allows you to automatically capture and store user data, such as name, surname, age, e-mail address, phone number and type of device, every time a customer connects to your Wi-Fi network. For instance, you can decide to offer a special discount to those customers who stayed at your location several times, or you can give a free voucher to new visitors to use on their next visit, as a way to incentivize them to come back. Furthermore, you can export data and your client list to any marketing software like MailChimp, to promote your coffee shop using personalized newsletters or SMS.
3. Authentication page
The login page is the first thing users see before connecting to your Wi-Fi network. Accordingly, it must be intuitive and engaging. The easy-to-use, multi-language Tanaza authentication page is highly customizable, as it allows you to add your coffee shop logo, create new backgrounds, add links to your website and TripAdvisor page, and add advertising, such as your daily menu or special offers. You can also add videos and banners, even with random or time-based rotation. With Tanaza, you can choose among many authentication methods, such as access through email/phone, voucher or password, and you can increase your social media engagement through social login. Thanks to social login, users access your Wi-Fi network simply using their social networks accounts, i.e. Facebook, Instagram, Twitter, etc. In this way, you can improve your social visibility by asking them to like your Facebook page before they connect, or to "check-in" at your location. Through social media, you can attract new potential customers to your location in a simple way, as more and more people will hear about your coffee shop.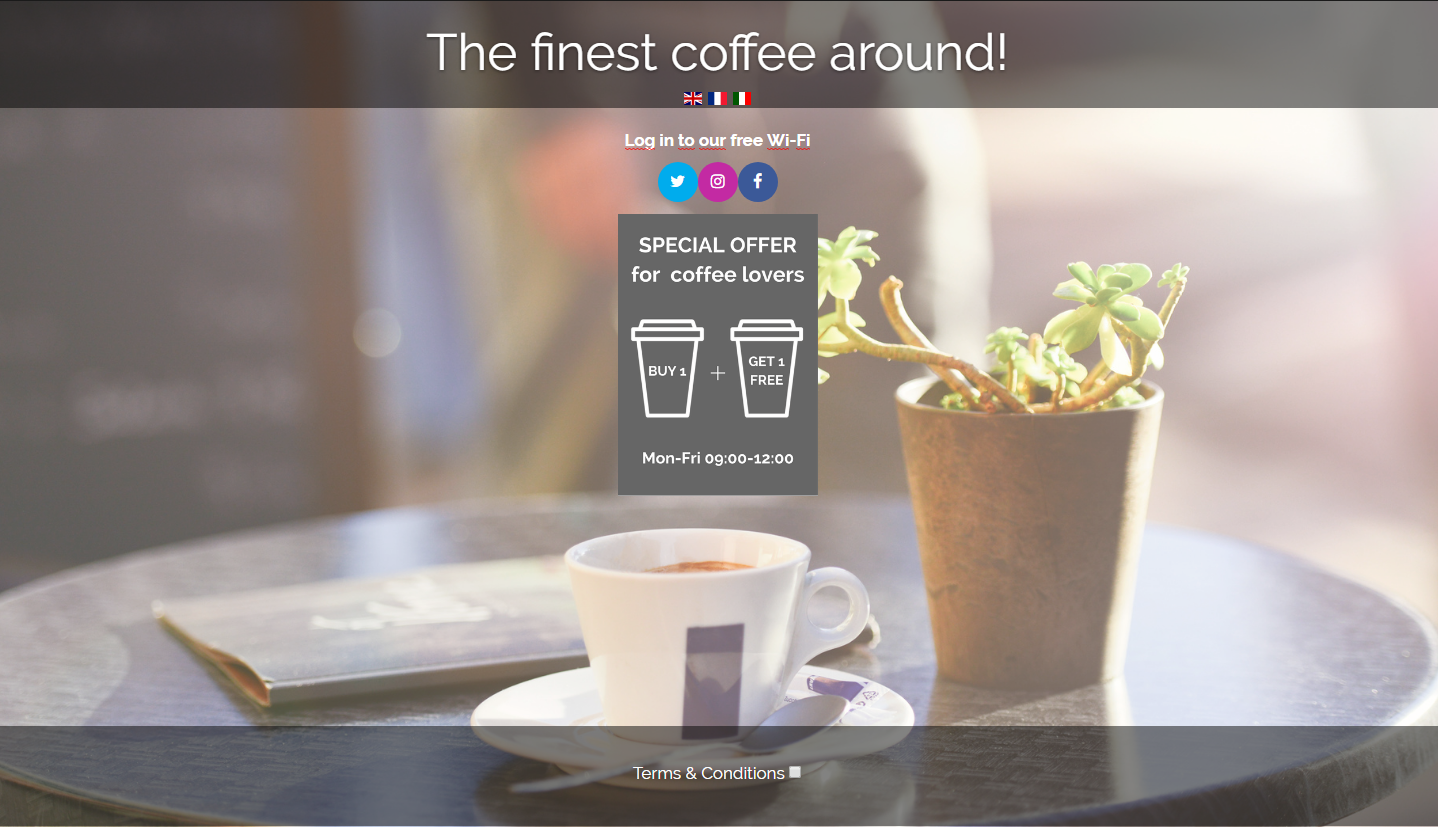 4. Content filtering tool
Wi-Fi hotspot providers are legally liable for the online content users access while using their connection. Therefore, it is important to protect yourself and secure your Wi-Fi network with a web content filtering tool. The cloud-based content filtering system offered by Tanaza allows you to limit the range of domains Wi-Fi users can browse, by blocking access to illegal websites and inappropriate content, i.e. pornography. Furthermore, securing your Wi-Fi hotspot is very crucial to avoid the most common cyber threats, such as malware and botnets.