The Alfa AP121 Hackers Nightmare!
Alfa Network AP121 supplied by Alfa is not only a High Speed Data Rater but also provides faster data rates up to a whooping 150Mbps and is well-suited to celebrated 802.11b/g. What gives Alfa AP121 a name in the market is the security assurance it gives to its users. The Advanced Robust Security Firewall with SPI to protect the internal host from hacker attacks makes this apparatus a must-get-own resolve. The Wireless security is wide-ranging and includes the WPA/WPA2 PSK feature RichWDS, Dual SSIDs, Static Routing, QoS and more. Another reason for the device to be your perfect AP/Router is that the model AP121 antenna 5dbi is a detachable RPSMA antenna and it can be fixed discreetly anywhere.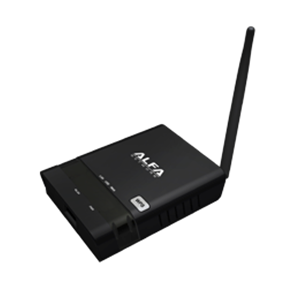 The Features That Make Alfa AP121 Great
Alfa Network AP121 supplied by Alfa the wireless device that works flawlessly because it's manufactured with precision to make it a champion in the AP/Router world. Its features are brilliantly made to give end user the ultimate network connectivity that beats even the smoothest net hacker nightmares. Its Speed Data Rates are amazingly the best compared to other wireless device AP/Routers. It is worth mentioning that there are few devices that download or upload High Speed Data Rates of up to 150Mbps and are compatible with legacy 802.11b/g equipment like AP121. The Firewall with SPI to protect the internal host from hacker attacks is configured by the Wireless security comprehensiveness that is upgraded via WPA/WPA2 PSK .Its Rich Features: WDS, Dual SSIDs, Static Routing, and QoS, and being easy to set up and operate makes the wireless device a clear leader in the market.
The Alfa AP121 Specifications Make It a Superior AP/Router
Product specifications are what identify its compatibility, flexibility  adoptability, usability and application in the intended field.Alfa Networks AP121 supplied by Alfa has all these qualities and more. It is designed to give you the maximum service, pleasure and yet at reduced overheads to your organization bottom-line.Alfa AP121 is the right partner in running your companies business. The list of the most critical functions available to you for information and decision are:-
Model
Antenna
5dBi detachable RPSMA antenna
Standards
Security
64/128bit WEP
WPA(TKIP with IEEE 802.1x)
WPA2(AES with IEEE 802.1x)
WPA Mixed
FlashSDRAM
Tx Power
802.11b: 19dBm± 1.5
802.11g: 19dBm ± 1.5
802.11n: 19dBm ± 1.5
Sensitivity
802.11b 11Mbps: -90
802.11g 54Mbps: -75
802.11n ( 20MHz) MCS7 : -71
Data Rate
802.11n ( 40MHz ): up to 150Mbps
802.11n ( 20MHz ): up to 72Mbps
802.11g: 54,48,36,24,18,12,9,6Mbps
802.11b: 11,5.5,2,1Mbps
Operation Mode
Router
Bridge
Wireless ISP (WISP)
Frequency Band
Operation Temperature
Power requirement
DC Jack: 5V DC (standard)
12V DC (option)
PoE: 12V Passive PoE

 
Dimensions
Weight
Storage Humidity
10% ~ 90% (Non-condensing)

 
Alfa is a renowned leader providing top of the range wireless AccessPoint/Routers, and Alfa AP121 is rated to be the very best AccessPoint/Router in the market.
Cloud manage Alfa AP121
Cloud management capability for AP121 is not yet supported. However you can request support for this or any other device through this form here.