Cloud-based controllers, access points, intrusion prevention and MDM tools help a New Jersey district ensure tablet security and performance at three sites.
Bill McSorley stopped using a notebook computer in summer 2011, around the same time he became Edison Township Public Schools' chief information and technology officer.
Leaving behind an IT career on Wall Street to oversee an infrastructure ­overhaul for the 17-school ­district in Edison, N.J., afforded him an opportunity to analyze which technologies would best meet his needs and those of the district's 15,000 students and 2,000 staff members.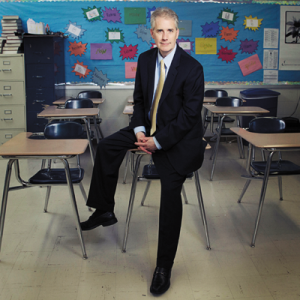 "I don't necessarily believe that the notebook is the best ­computing device for students," he says, "so we embraced a tablet mentality. They're cheaper than fully configured notebooks, and because of their popularity, there's been an explosion of apps being developed. Plus, students appreciate the 'cool' factor, so they show more interest in the content. We continue to find more and more uses for them."
Even so, the district is proceeding cautiously with its tablet initiative. To date, McSorley's team has rolled out several hundred tablets across the district, using them for math, world language, science, speech therapy and special-needs programs.
"For now, tablets are being piloted in select classes and for specific uses, with an eye toward expansion in the long term. But budget is a factor," McSorley says.
Making It Manageable
To support the influx of devices, the IT department began searching for a more robust wireless solution. "It had to perform at a really high level in a high-density environment," McSorley says. "It also needed to be cost-­effective and easy to manage."
McSorley and staff members Jason Sheehy and Scott Ruggiero ­reviewed several wireless vendors' proposals and were impressed by Meraki's cloud-managed wireless ­solution.
"I'm a big believer in ­moving to the cloud when it makes sense," McSorley explains. "The ­performance of Meraki's offering was far and above what we had at the time and also beat out many of its competitors."
The solution's design also was appealing. "The controller allows you to push apps to a device, ­manage it and even wipe it remotely from a cloud-based dashboard," McSorley continues. "Once it's set up, you don't have to babysit it all the time."
To date, the IT team has installed more than 200 Meraki MR24 ­wireless access points, which offer up to 900 megabits of throughput and are managed via the Meraki cloud.
"If the wide area network link goes down, people can still connect to the APs at school," McSorley says. "All local functionality continues. In fact, during Hurricane Sandy, I could see on the Meraki dashboard that we had power before the electric company even told me."
The district also is using Air Marshal, Meraki's wireless intrusion prevention solution, which is ­integrated into every access point. The company's cloud-based Systems Manager allows the Edison Township IT department to securely manage the tabletsand their apps from any location.
According to McSorley, Meraki's simplicity, ease of use and cost-­effectiveness made it the perfect choice.
"In a school district with so much density, you need a product that just works," he says. "That may sound simplistic, but I didn't want something that I'd have to constantly manage. Plus, its total cost over five years was the lowest we found."
—
Original article from EDTECH.