Tanaza is pleased to join the 2013 RISK Conference. We will present how to manage wireless networks, showing you how easy it is to setup your cloud WLAN, and configure and monitor any Wi-Fi Access Point model.
It's possible to register here before or during the event and see a demo:
www.tanaza.com/risk 
About RISK Conference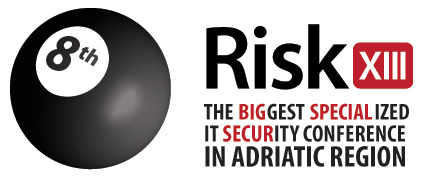 In recent years RISK conference has become one of the leading events on computer security in Adriatic region and is attended by engineering as well as executive staff of companies from the region. Much has changed in the field of security and data protection in recent times. There are popular new technologies in the form of SaaS and services in a cloud (cloud computing), green computing, etc. There are regulatory systems for end-users which require a compliance and use of standards such as PCI SSC, Basel II, SOX, GLBA, HIPAA, SB1386, FISMA, FFIEC. There is a myriad of new technologies and REAL security will ensure that these novelties are available to our partners and customers in the region. The meeting will be held on 6th and 7th of March and will show new technologies, techniques, strategies and methods of protection from cyber-crime as well as some other business continuity and computer systems monitoring and controlling solutions.
Speakers on RISK conference are experts from well known IT security vendors like: SAFENET, INTEL-MCAFEE, HP ENTERPRISE SECURITY, RIVERBED, WEBSENSE, SOURCEFIRE, QUALYS, GUIDANCE SOFTWARE, STONESOFT, INFOVISTA, OBSERVEIT, CYBEROAM, MERAKI and REAL SECURITY. Presentations are in English language. With the presence of global market leaders in each of the segments and topics costumers get the big picture on new solutions, strategies, tactics and products for protection from daily threat. The number of Participants is increasing every year. Last year RISK was host to more than 400 participants in two days. Participants are coming from 15 countries and from different business lines (Government, Industry, Banking, Insurance and SMB market…).
Attendants:
» Information Security Managers & Directors from government and private sector.
» Security Specialists & Staff.
» Systems Analysts.
» Network Engineers.
» CIOs & CSOs.
» Resellers from Adriatic region.
» Technical Engineers.
» Cloud WLAN / non-cloud WLAN and IT managers.
What visitors get out of the conference:
» Professional expert overview of the state of security and risk management practice.
» Overview of new best practices and solutions in each area of the security segment.
» Specific recommendations for addressing security needs.
» One-on-one debate with representatives from leading IT security vendors.
» Information exchange between CIOs, CFOs, CTOs.
» Takeaway tools for assessing risk, drafting a plan, and testing solutions.
Other sponsors