The DWL-G700AP is a great product from D-Link – an industry leading in home and office network solutions. This single band wireless G router is designed to deliver high speed wireless connectivity that allows users to share files, play online music and watch videos. It is part of the popular AirPlus G solutions by D-Link that deliver enhanced wireless speed and better end user experience.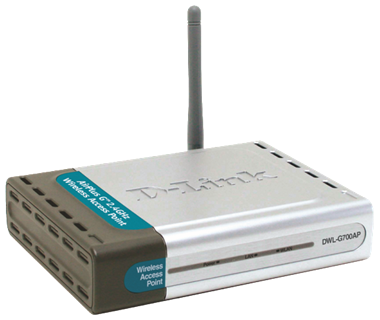 Wireless Specifications: The DWL-G700AP is a wireless G router that operates in the 2.4 GHz range. It can support data rates of up to 54 Mbps which is ample for listening to online music, sharing files, emails, and even chatting. It is perfect for any home or office usage. The best part is that this device also supports wireless b or 802.11b standard. This means that even the older wireless devices in the network can connect to the access point. This is really critical for enterprises that cannot overhaul all their existing devices in one go just for an access point. This device allows the enterprises to plan their network migrations and execute them in a gradual manner.
Wireless Security: The device can support the most standard wireless security encryption solutions. The default setting for this device is to have wireless security disabled, however it is recommended that some form of security is always configured – regardless of what type of traffic goes over the wireless network. DWL-G700AP can support four different kinds of security features: WEP (Wired Equivalent Privacy) and three flavors of WPA (Wi-Fi Protected Access) namely, WPA, WPA-PSK and WPA2-PSK.
WEP is a weak encryption solution that is usually supported by all wireless devices. DWL-G700AP supports 64-bit and 128-bit encryption options. Given its versatility, WEP is a good choice for networks where connecting wireless devices do not support any other security standard. However, if there is a choice, WEP must be avoided and WPA must be preferred.
The WPA is a more secure solution that cannot be easily broken or hacked into. Even in this the WPA-PSK is a stronger encryption protocol than WPA.  WPA2-PSK standard uses Advanced Encryption Standard (AES) which makes it the strongest security option available. Ideally, this should be the first preference, however practically the limitations of the devices connecting to the access point dictate the solution deployed.
The device also supports 802.1x standards where it can connect to RADUIS server for authentication purposes. In this setup, every new wireless device requested access to the wireless network is first authenticated by the RADUIS server. If the server detects an unauthorized device, then DWL-G700AP denies it access to the network. By moving the authentication from the access point to an enterprise server, the overall security of the office is maintained and wireless security is enhanced.
LAN Settings: The device comes with a single LAN port which can be connected to the enterprise switch or router or connected to the broadband modem for internet access. The factory default configuration on the device is a static IP address of 192.168.0.50 with the DHCP client function disabled. However, the device can be configured to request IP address from the network DHCP server if required.
Internally, the device has its own DHCP server that is used to assign IP addresses to connecting devices. This is typically useful in home networks where multiple laptops and other devices may connect and share the wireless network.
Configuring the Device: Follow the steps mentioned below to access and configure the DWL-G700AP.
Power up the access point and connect it to the computer.
On the computer browser, enter the following URL – http://192.168.0.50/
Enter user name as admin and leave the password field blank.
The AirPlus G Home Wizard screen is displayed.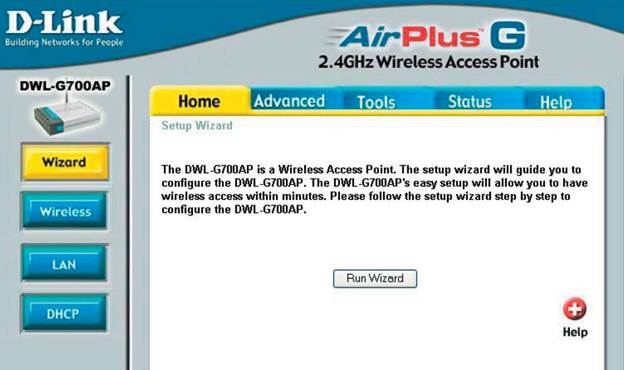 By accessing various menu items the different aspects of the access point can be configured.
As seen from the features of DWL-G700AP, it is clear that it is not a product designed for large or even medium sized enterprises. It is a standalone device designed mainly to create a network for wireless devices to connect and access the internet. Typically it would be a perfect fit for home or personal use. Some Small Office Home Office setups may also benefit from its simplicity. At around $70 per unit this is really a great buy for home or small business. However, if the enterprise is looking to expand the wireless footprint in its premises, this is probably not the best device to invest in.