Devolo's dLAN 500 duo is an intelligent, secure hardware bringing internet to homes via the household electrical wiring.
Devolo's dLAN 500 duo is a powerline device that provides a quick, stable, and secure internet connection for home networks. Data is transmitted through the existing power lines, without any cabling. dLAN is an entry-level adapter and its data transmission speeds up to 500 Mbps.
The dLAN 500 duo has a power saving mode, that automatically reduces the power consumption. The adapter is equipped with two LAN ports, that allow you to connect two devices directly to the powerline adapter. Moreover, the adapter's design allows its placement anywhere.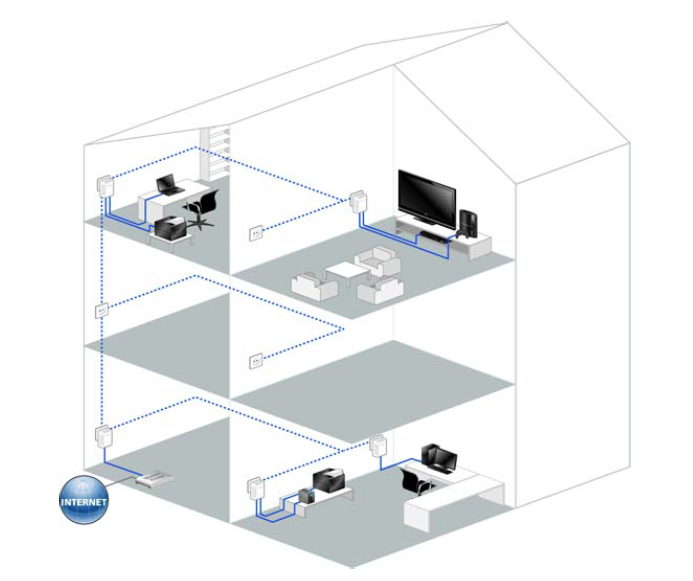 Source: http://bit.ly/2aJAUiq
Thanks to the dLAN duo adapter, any power outlet can be transformed into an internet access point. The dLAN 500 duo's password encryption allows active protection from unauthorized users. You can also activate a convenient and secure 128-bit AES encryption, by simply pressing a button on the adapter.
Powerline devices, like Devolo dLAN 500 duo, work well with Tanaza access points (TP-Link, Ubiquiti, D-Link, Mikrotik etc.). By using Tanaza access points together with Devolo powerline devices, you can also add a captive portal with social login on top of your infrastructure.
Related articles:
Bring internet to the AP without cabling: PowerLine Communication
Auto detect and add multiple Wi-Fi Access Points
The multiplication of Wi-Fi connected devices in the home network