A couple of days ago Tanaza R&D Team released firmware 1.5.6 for UniFi, Bullet2, NanoStation, PicoStation2 and other Ubiquiti Wi-Fi Access Points, 2.4 GHz series.
While walking home… I just tried to perform firmware upgrade through my iPhone. The three Ubiquiti APs of my remote network in Arca del Seprio, a no-profit organization 45 km far from me, received the new firmware and rebooted.
In the picture below, VU AP is just rebooting and results not yet connected.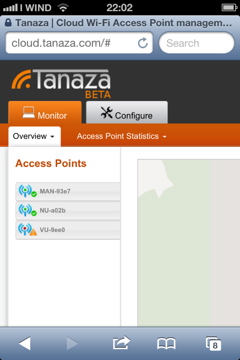 Ubiquiti APs can be cloud managed very easily if upgraded with Tanaza firmware, freely available here.