Tourism Accommodation Australia (TAA) conducted a survey of over 300 hotels and serviced accommodations in the continent, to find out how many offer free Wi-Fi access at their location.
The Tourism Accommodation Australia or TAA, an organization that represents the needs and interests of the Australian accommodation industry, recently conducted a survey of over 300 accommodation providers, in order to find out how many offer free Wi-Fi access at their location. The TAA survey namely represented 3 to 5-star hotels and serviced apartments situated in regional and remote areas of the continent. It was revealed, that  Australian hotels have made important steps towards offering 'free' Wi-Fi.
The TAA survey results are as follows: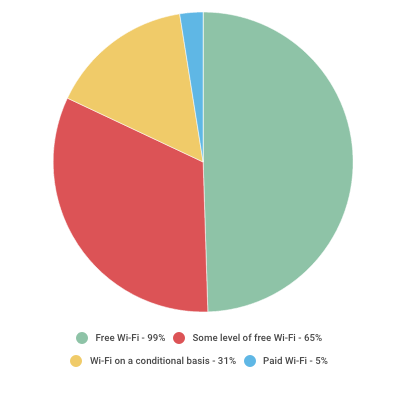 TAA CEO, Carol Giuseppi said: "There has been a revolution in Australian hotels over the past few years, with more than double the number of hotels offering some form of free Internet access to guests". As a proof of this statement, in the past two years, major hotel groups in Australia like Meriton and Rydges have introduced free Internet for guests throughout their chains, while some other hotel groups expanded their Wi-Fi access facilities.
The research also exposed that high-speed Wi-Fi deployment expenses reached a cost of almost $120,000 per hotel, in some cases. For instance, hotels located in regional and rural areas are likely to pay up to $20,000 for satellite connection costs in order to satisfy bandwidth requirements.
TAA CEO noted that, in comparison to the past, the majority of hotels throughout Australia, now offer their customers some level of free Wi-Fi access. The hotel administration boards know that it is of a high importance for the guests to be always connected as they want to answer emails, update their social media channels, send photos while they are away from home etc. But when it comes to using multiple devices, downloading huge files or streaming videos, a massive bandwidth is needed which comes at big cost, for hotels. In regard to this, Ms. Giuseppi stated that it is only fair for guests who want to download files or stream videos to pay for premium bandwidth usage.
According to a survey, some hotels are providing free Wi-Fi on a conditional basis: that is the case of 31% of the hotel groups, that offers free Wi-Fi access only to those guests joining the hotel loyalty club.
Even if 5% of the hotels still require some form of payment to connect to the Internet, while others provide Wi-Fi for free under specific conditions, the results of the survey demonstrate that a greater number of Australian hotels are now offering a free Internet connection at their locations.

Related Articles:

Setting price of WiFi projects: value-based pricing and room-based pricing (for hotels and B&Bs)
Wi-Fi for Hotels – High quality solutions at a SMB budget
2015 is the year of free hotel Wi-Fi