Google is testing an Android app that connects devices to city-wide WiFi hotspots, trialing an interesting new service in Jakarta, Indonesia: WiFi Passport is Android app that includes access to a variety of WiFi hotspots.
It's not easy to get speedy, reliable Internet access in cities like Jakarta so WiFi is a popular option — with even carriers offering access points. Google and partner MOGPlay have set up a range of hotspots which WiFi Passport users can access directly from the app, with no need for repeat passwords/log-in.
The service is free for an initial 10 days, thereafter it costs 20,000 IDR (under-$2) for 20 days and 50,000 IDR (under-$5) for 50 days.
We can see how this would be attractive in emerging markets, but for now the trial appears limited to Jakarta.
"WiFi Passport powered by Google is a fast, easy and affordable way to get online when you're out and about in Jakarta. To use it, just get a voucher, sign into your Google account, enter the code then head to the nearest participating hotspot. It's exclusively available for Android users and works across official Android smartphones and tablets running version 2.2 (Froyo) and above."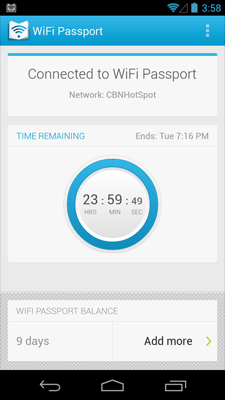 "After connecting, you'll be online for the next 24 hours so long as you're in a hotspot. You can use up to 3GB of video, music, photos and other content in a single day – or 7GB over seven days and 10GB over 30 days. With hotspots around the city, you can connect with buddies, watch the big matches, or stay in touch with the office all day long."
There's a free voucher that lets you use WiFi passport for 10 days and there are vouchers that cost $1.82 and $4.55 for 20 and 50 days of use. Here's the Android app that lets you add Wi-Fi time.