How to use WiFi as a marketing tool in a bar

Tanaza is a software for WiFi management that allows owners or public places to turn their public hotspot into a lead generation and marketing tool. Indeed, Tanaza features a built-in captive portal that enables network managers to personalise the way WiFi users log to the network and so the type of users data collected. Find out in this article how to maximise a WiFi hotspot in a public place like a bar.
Choose the right WiFi login mode
Tanaza features many login modes which allow you to gather different types of information about your customers like name, surname, age, gender, location, birthdate, type of device (smartphone, computer, tablet). WiFi network administrators can choose between email authentication, telephone number, button login, social login (Facebook, Instagram, Twitter, Linkedin etc.), custom form.
In a previous article, we explain to you why the Social login is one of the most easiest login modes for public spaces like bars and restaurants. Keep in mind that in public places like bars and restaurants, most WiFi users access the network with their smartphone, so think responsive and set up a mobile-friendly login mode.
Generate Leads from WiFi 
Tanaza captive portal collects data about WiFi users in a location, allowing the WiFi administrators to generate leads for their end-user customers. With Tanaza, venues like bars and restaurants gather real and up-to-date insights about their clientele, allowing them to understand their customers better and position their brand and services more effectively. Moreover, lead generation through WiFi is extremely cost-effective as it has only fixed costs, not variable costs based on the number of collected leads.
WiFi network administrators can generate tons of leads by simply enable the Tanaza captive portal, and export all  data collected to a third marketing application like MailChimp. The information and data captured about WiFi users are automatically stored within the Tanaza's analytics dashboard which is an intuitive web-based tool to access social stats and clients' contact details. The dashboard helps WiFi network administrators analysing data and discovering how to better engage with customers.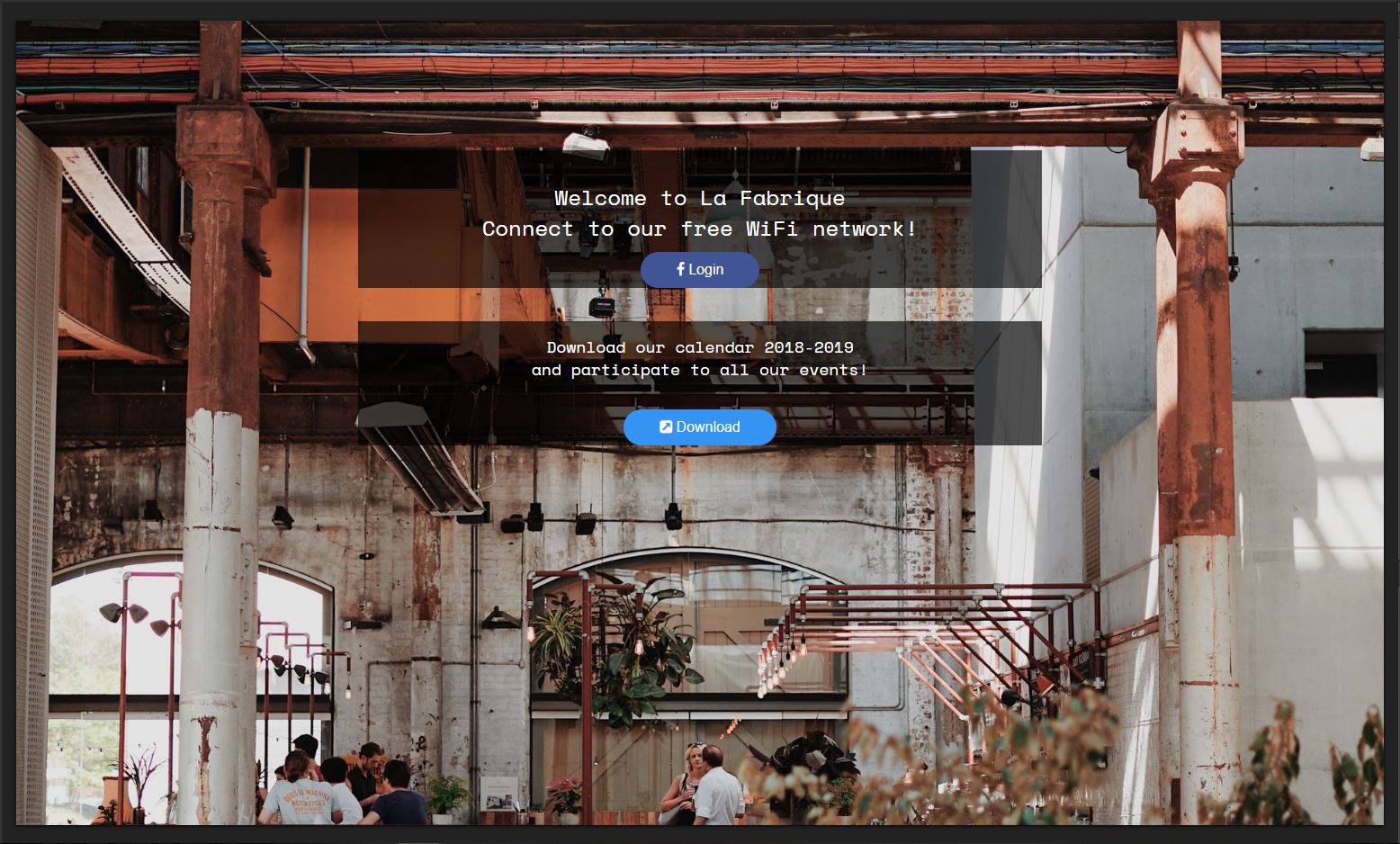 Engage with your customers thanks to WiFi
Once data is collected and stored on the analytic dashboard, WiFi network administrators can engage with their end-user customers, generating more online and offline conversions.
Customers are engaged while connected to WiFi making them more likely to appreciate discounts/offers, familiarise them with a brand, incentivise to make a purchase and to interact with the brand on social media. For example in a bar, WiFi network administrators can encourage customers to come back to the venue by offering them a discount on the splash page and give them information about upcoming events.
Build a community and promote your venue thanks to your WiFi hotspot.
Social WiFi actions
When setting up a WiFi network in public places like bars or restaurants, WiFi network administrators should consider the Facebook Social Login to enhance their visibility on social media. Indeed, Tanaza allows network administrators to ask for likes and check-in to WiFi users.
For example, after clicking on the Facebook social login, the user is asked for the basic permission and to "Like" a specific Fan/Business Page. The check-in action consists of asking WiFi users to geolocate themselves in your location. Social WiFi actions allow WiFi network administrators to increase the visibility of their end-user customers on social media and so to increase the number of returning clients in a location by sharing news, events, special offers etc. directly to the right target.
Learn how to create a splash page for your venue by watching this video: add your logo, brand, background, and text. Create redirection links and choose the right login mode.