Several months ago Icelandair, the first fleet-wide transatlantic airline, enabled in-flight Wi-Fi.
Icelandair is now among the 55 airlines that offer a Wi-Fi connection onboard. This airline connects passengers to the internet from the moment they step on the plane to the moment they step off it, providing an internet connection even during takeoff and landing.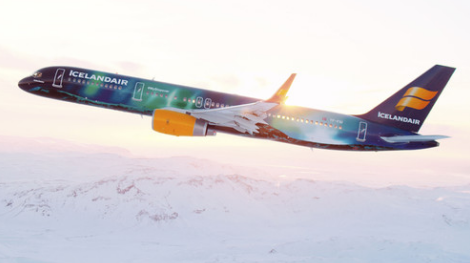 Source: http://bit.ly/2acQqby
While flying with Icelandair, Wi-Fi access can be purchased onboard, can only be activated when the device is set to flight mode and can be used on one device at a time. Icelandair's in-flight Wi-Fi is ideal for light browsing, social media activities, and emailing purposes. The connection speed onboard is similar to a 3G connection on the ground and thus far, the airline has not yet had any problems with its Wi-Fi speed and its passengers are relatively satisfied.
However, the same cannot be said about competing airlines offering in-flight Wi-Fi. American Airlines recently sued its Wi-Fi service provider company Gogo Inc. for providing poor Wi-Fi service. 
In-flight Wi-Fi is becoming a must in the travel industry. In order to enhance Wi-Fi usage, companies like Delta Private Jets and Bombardier Business Aircraft are providing 4G In-Flight Connectivity. As a result, Icelandair and other airline companies are putting great efforts into offering reliable in-flight Wi-Fi so that, regardless of whether they are on the ground or in mid-air, passengers can experience a fast and seamless connection.
Related articles:
Satellite-powered Wi-Fi hotspots on American Airlines aircrafts
In-flight Wi-Fi: Emirates, Norwegian Airlines, Delta, Virgin, Gogo
Gogo will provide in-flight Wi-Fi to an airline company