India tranforms its cities into smart cities
The Indian government launched the smart cities mission to create smart and sustainable cities across the country.
The government of India launched the Smart Cities Initiative, a mission that aims to transform 100 Indian cities into modern, citizen-friendly, tech-advanced locations. The Smart Cities mission will primarily focus on the citizen's needs by offering them opportunities for economic growth in a tech-driven environment, while also prompting smart urban planning and implementing an advanced infrastructure in order to improve India's standard of living.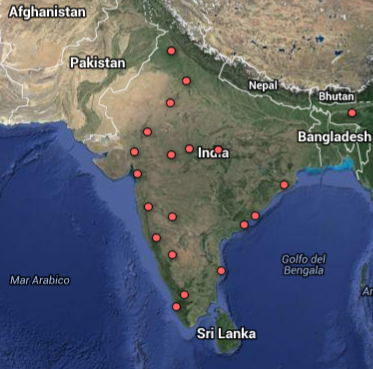 Image source: http://bit.ly/1JHF3Eb (The Hindu)
The red dots on the map represent the first 20
smart cities shortlisted for the 'Smart Cities Mission'
The project is divided into two phases in order to manage which cities come first or last in the smart city transformation process. The first phase includes cities such as Bhubaneswar, Pune, Ahmedabad, Chennai, Bhopal and the NDMC area of Delhi, while the second phase nominees will be announced in June 2016. A total of $15 billion has already been allotted by the Indian government for the realization of the project. Furthermore, the United States also plans to invest in the infrastructure of Indian smart cities to assist in improving smart services and deliver world class infrastructure across the nation.
One of the main goals of the initiative is to boost wireless connectivity and enable speedy broadband Internet. With this objective in mind, service providers are planning on investing in the Wi-Fi networks which will play a major role in providing smart city services in India. An Indian broadband and digital services provider, Reliance Jio, already plans to deploy Wi-Fi in over 50 cities in 2016.
Multi-national companies like Facebook and Google are already contributing to India's smart city initiative. For instance, Facebook is working together with Bharat Sanchar Nigam Limited (BSNL) to deploy Wi-Fi in 100 areas in rural India, while Google has announced a partnership with the Indian railways to provide hotspots in 400 railway stations by 2016.
Find out more about India and its smart cities project.
Video source: https://youtu.be/2xTuj3vOfkA (The Daily Conversation)

Related articles:
Singapore – the first Smart Nation in the world
Google's Sidewalk Labs plans to build the city of the future
Montreal becomes smart through free public Wi-Fi hotspots
Tanaza Wi-Fi cloud management is now being used to deploy Smart Wi-Fi in public spaces. Download our smart cities case study and learn how Tanaza Authorized Partner, Tacira Technologies, is intergrating smart services by way of the Tanaza solution.