LINKSYS WRT1900AC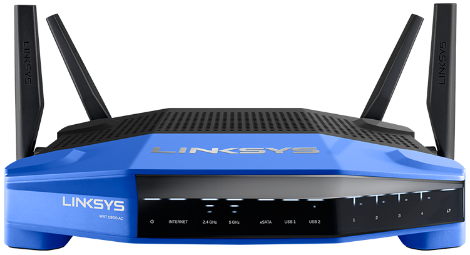 Linksys 1900 AC router has been defined "without question the most ambitious consumer wireless router networking hardware available" by PCmag.com.
It's a simultaneous dual-band 4×4 Gigabit router with 4 high-performance external antennas for enhanced dual-band communication, maximum signal strength, better coverage and range.
The iconic blue and black design pays tribute to the old WRT series of routers, from the '90, thanks to which Linksys developed its strong brand.
The Linksys WRT1900AC is powered by a ARM-based Cortex-A9 Marvell Dual Core 1.2 GHz CPU processor for unparalleled speed.  It is also developed to be Open Source ready.
It's retail price is $ 279, but we found it on Amazon.com at $ 215.
From PCworld.com: "The WRT1900AC isn't the most feature-laden router you can buy, but it is the fastest."
FEATURES
802.11AC, backward-compatible with a/b/g/n devices
Four external adjus table antennas that enhance 2.4 GHz nd 5GHz simultaneously
1.2 GhZ dual-core ARM
Data rates up to 600 Mbps (2.4 GHz) and 1.3 Gbps (5 GHz)
4 x Gigabit LAN, 1 x Gigabit WAN, 1 x USB 3.0 + 1x eSATA/USB 2.0
Here's the official video by Linksys
Unboxing WRT 1900 AC
The box includes: the router, 4 antennas, ethernet cable, power adapter, power cord, quick start guide and CD-ROM
System requirements for WRT1900 AC, the fastest AC access point on the market
Internet Explorer 8 or higher
Safari® 5 or higher (for Mac® computers)
Mozilla Firefox 8 or higher
Google Chrome 10 or higher
Related article: Asus AC3200, world fastest Wi-Fi (June 2014)