It's been a long time since I last wrote on this blog.
During the last 2 years, Tanaza has seen a huge growth: in its customer base, in its network of resellers and white label partners, and in the overall number of deployments. It has been an extremely exciting time for us and I am very proud of who we are and what we do today.
Now, I'm posting on this blog again because I'd like to announce the roadmap for the next year as well as give you an idea of the direction that the company is taking.
Sebastiano Bertani, CEO

Our "zero-support-tickets" goal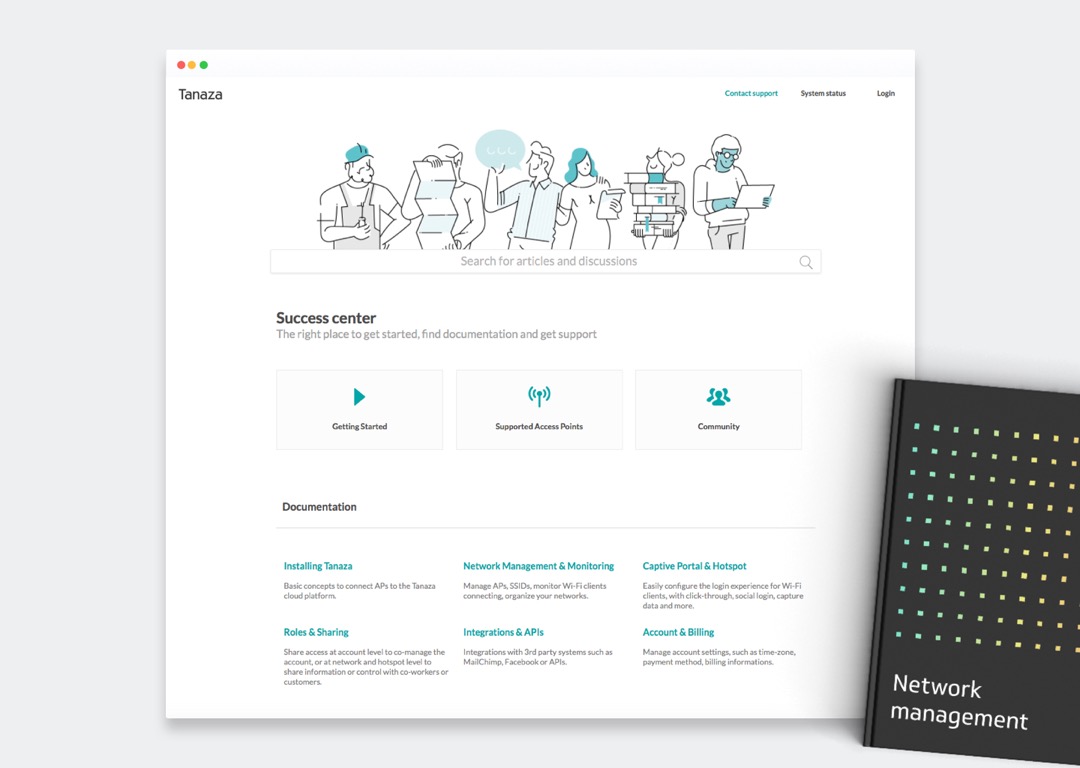 What's Tanaza's "zero-support-tickets" goal? 
Well, the idea came a couple of years ago when I was at a conference in San Francisco.
People do not want to spend time getting in touch with customer service representatives. They want products to work well and be user-friendly, so they can use it without anyone's help.
If a product is efficient and easy-to-use, there should be no need to speak with a technical support representative.
Following this logic, we are improving our product so that all parts of it work seamlessly so that using it is effortless and you do not need to contact our support team anymore.
NEW CUSTOMER PORTAL.
We have made available a great deal of technical information on our newly-released support website, which can be accessed directly at success.tanaza.com. There are hundreds of articles to guide you on how to best use the Tanaza product, but this is not just a "knowledge base" website. It is also an active community consisting of Tanaza partners and customers, where you can discuss Tanaza features, provide ideas for enhancements, and more.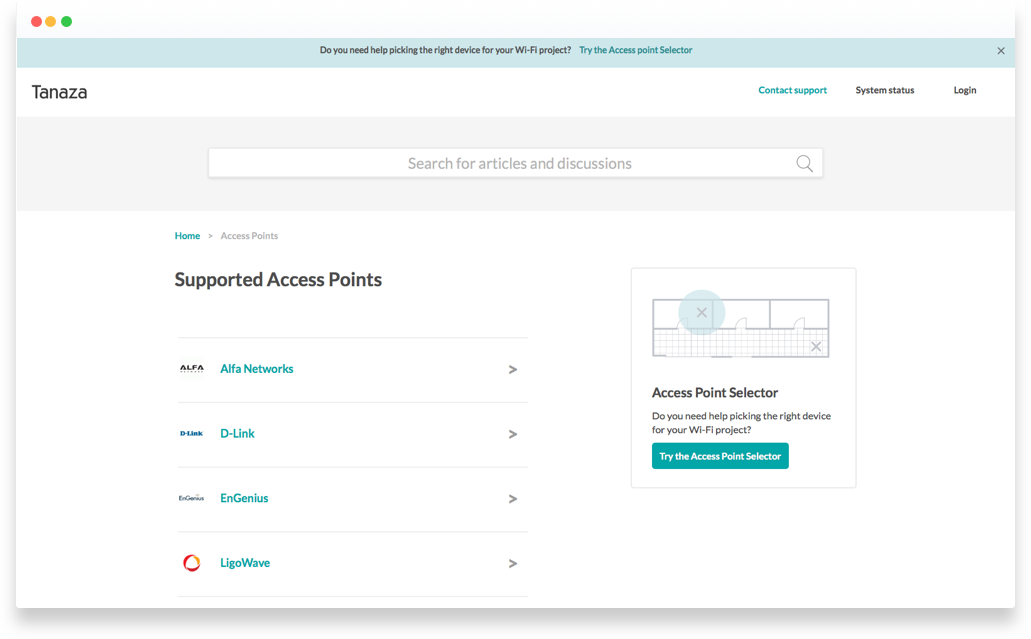 SUGGEST AND VOTE NEW DEVICES AND FEATURES.
Through the customer portal, you can suggest new access points to support as well as new features. Via the "Ideas" tool on our support site, you can upvote other people's suggestions and receive support for your own. This allows our product team to efficiently evaluate which are the most needed features to focus on.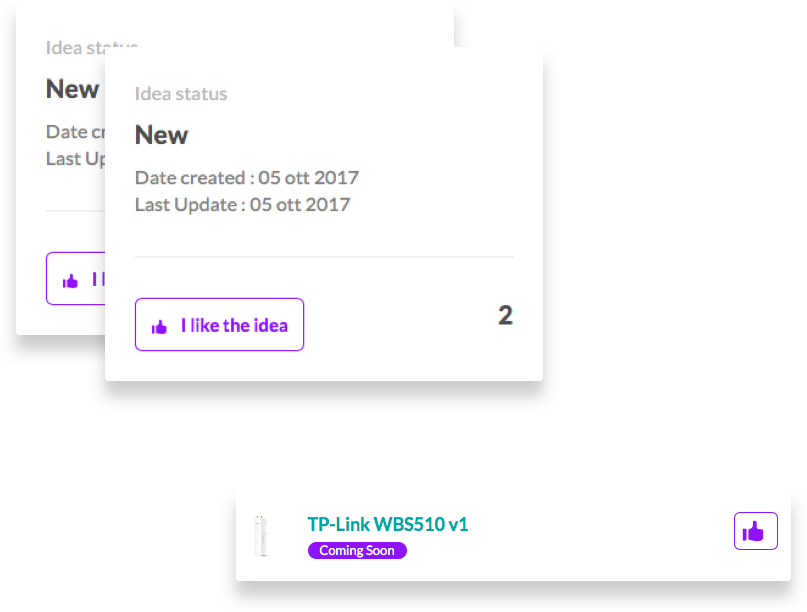 ACCESS POINTS SELECTOR.
One of the most frequently asked questions by customers is, "What access points do you suggest to use for this deployment?". Well, consider that the answer changes depending on a number of factors, including locations, requirements, number of connected clients, budget constraints, and so on. In light of this, we created a tool, available at https://success.tanaza.com/s/access-point-selector , which automatically selects the best access points for your deployments based on a set of filters.
GDPR COMPLIANCE.
Going into effect May 2018, the new Data Protection Regulation will impact how EU citizens' personal data is treated by companies and data processors. Last October, we set up a specialized internal team to focus on getting Tanaza ready for the GDPR deadline: we researched the areas of product and business which were impacted by GDPR, rewrote our privacy policy, road-mapped the necessary changes and improvements, and improved the efficiency and speed of our internal processes and procedures.
SUPPORT? FASTER THAN EVER.
Thanks to the reduction of support tickets, we are now able to answer 98% of your requests within 12 working hours. That's cool, eh?
Enhanced usability and interface
When speaking about UX/UI, our goal is not just having a "fancy interface".
What we want to offer, is the most effortless WiFi management tool possible.
Tanaza: As easy as can be.
NEW LOOK AND FEEL.
During 2017 we reviewed our Cloud platform interface to make it cleaner and more modern. In the upcoming year, we plan to continue to improve our interface: we'll keep you posted about this in the next weeks.
FULL RESPONSIVENESS.
MSPs and system integrators need to manage their networks, access points and SSIDs from their mobile devices. As a result, we are currently working very hard to make our platform fully responsive, so that any action that you normally perform from your desktop or laptop computer can also be effortlessly executed through your mobile devices.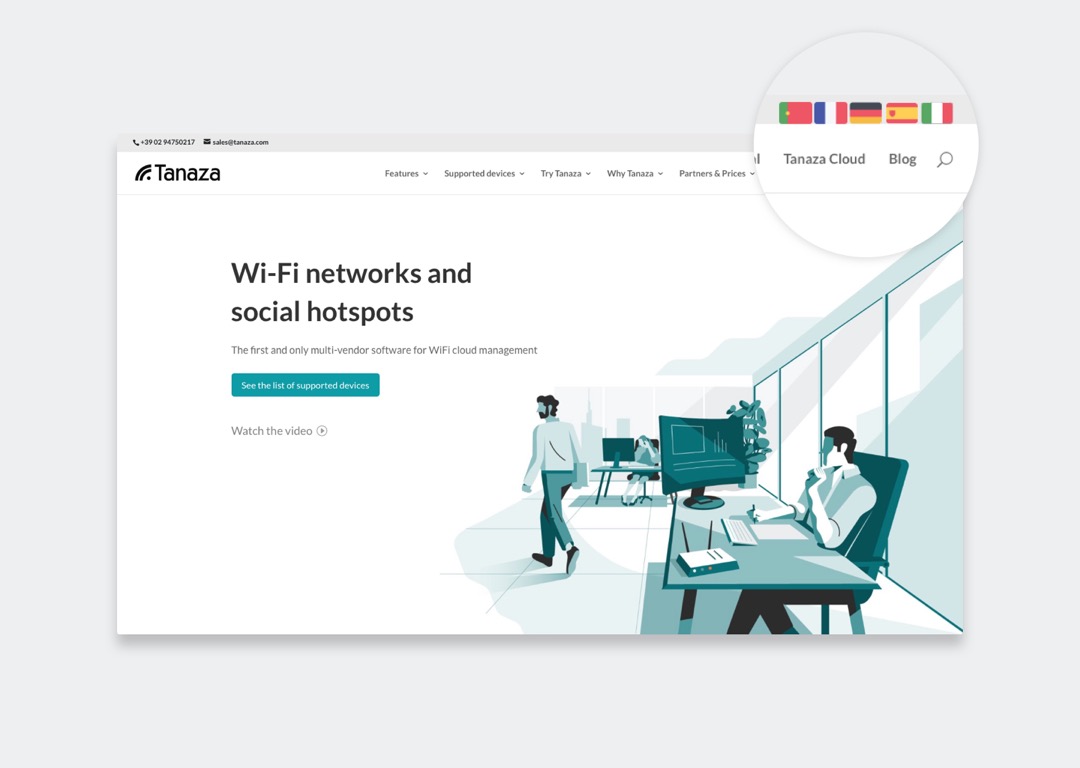 Though we have our offices in Milan, Italy (by the way: everyone is welcome, and if you're visiting Italy, come and meet us!), our reach is global.
We are currently managing customers and partners in more than 130 countries with an international team of 25 people speaking 12 languages.
MULTILINGUAL TEAM.
Serving hundreds of customers with thousands of access points, located in 130 countries in almost 20 different time zones… is really tough! We have managed to do it thanks to our bright and capable team, composed of 25 people coming from all over the world and speaking 12 languages.
MULTILINGUAL WEBSITE.
With over 120 new blog posts published each year and pages available in 5 languages (English, French, Italian, Spanish and German), Tanaza's website and its blog have become a point of reference for wireless professionals.
Tanaza's blog has recently been ranked the 42th Best Blog in the world for Networking.
MULTILINGUAL SPLASH AND DASHBOARD.
With the addition of two more languages in the last month, our dashboard for WiFi analytics is now available in 14 different languages, including Arabic, Russian and Brazilian Portuguese.
An array of compatible devices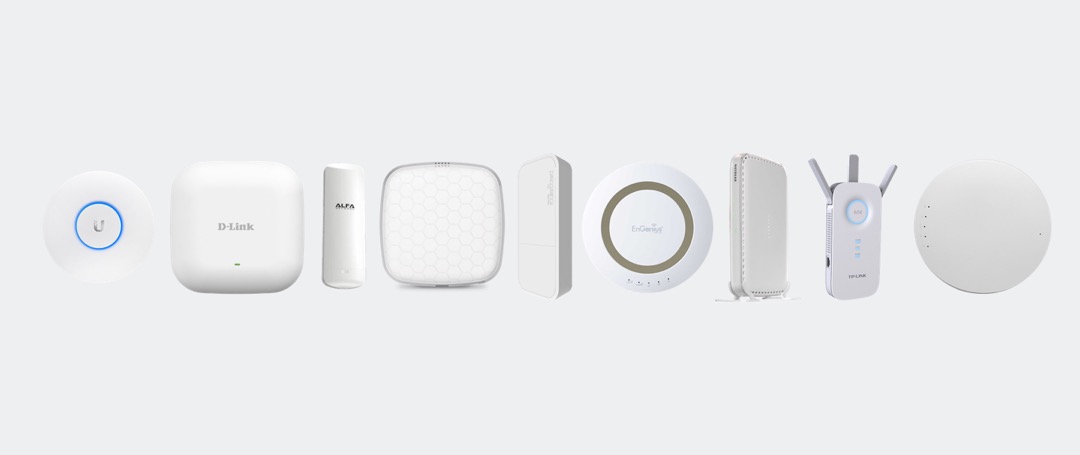 Keeping the pace of the latest technological advancements means, for us, developing our software's compatibility with the most used wireless access points.
WiFi 5.
Since we've seen a growing number of customers and partners looking for high-performing, high-speed devices, we have increased our compatibility with the most used WiFi 5 wireless devices. Our upcoming plan is to also support some MIMO 4×4 models and some WiFi 5 Wave 2 models.
FLASHING, MADE EASIER.
When making new devices compatible with our firmware, we want to make sure that they are easy to flash. We are now working on a new tool, which is already available in beta phase, which allows you to flash dozens of devices in seconds, in one simple click. This tool has already been used successfully with some Ubiquiti and TP-Link devices, and we are extending its compatibility so that you can use it with all other Tanaza supported models and brands.
DEVICES WITH "CAPTIVE ON LAN" FEATURE.
Some of our customers and partners cannot use compatible devices, but still want to get the power of the Tanaza captive portal. For this reason, we have started enabling the new "Captive on LAN" feature on some of our compatible devices. During 2017 we increased the number of devices compatible with this feature and we will continue to add more during this upcoming year.
FUTURE COMPATIBILITY.
By introducing new brands and models, we will widen our list of compatible devices. We will focus on brands with an important market share in our developing markets and we will expand our compatibility towards more outdoor devices and maybe, also to some tri-radio access points.
EASY SHIPPING PROCEDURE.
To carry out our compatibility expansion work more effectively we need your help. Being based in Italy, it is sometimes hard for us to get the exact same version or model of access point you find in your country. For this reason, we want you to send us the access point you would like to have supported!  Our support team will pay all expenses, including custom fees, for all the access points sent to the Tanaza Research & Development Lab. Once we receive the access points, we will analyze it and let you know whether it can be supported by us, or not.
Handy Wi-Fi management tools
We are enriching our cloud management platform with advanced enterprise-level tools for wireless networks management and diagnostics.
SEARCH TOOL.
Thanks to our search tool, it's now easier to search across hundreds of thousands of access points, networks and SSIDs without having to manually scroll through an extensive list! You can just enter the SSID you are looking for in the search bar the name, and you will find it within seconds.
ROGUE ACCESS POINTS DETECTION.
We have extended the usage of our newly-released feature to all customers and partners. The rogue access point detection system enables you to detect any unwanted access point broadcasting your same SSID name.
RESTORE STOCK FIRMWARE FROM CLOUD.
We understand that sometimes, people might want to restore the stock firmware of the device and stop using Tanaza. We don't want to lock these people in with our firmware, that's why we made it easier to restore the stock firmware of the access points in one click, from the cloud. This feature is already available for most of the compatible devices and will be extended to more devices in the future.
WALLED GARDEN NOW WORKS WITH BOTH IP AND DOMAIN.
Thanks to this feature, network administrators can set up (by domain or by IP) the list of websites that people can browse without authenticating to the WiFi network.
New captive portal features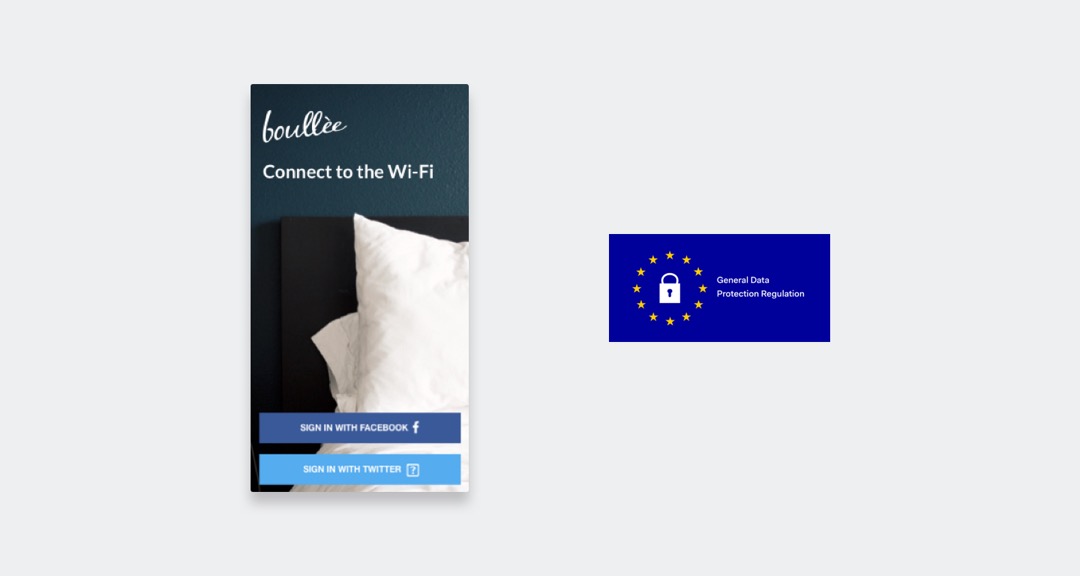 We are allowing business locations to deploy high-quality, easily-accessible and secure WiFi for their guests.
CONTENT FILTERING.
Internet is an opportunity, but it might be also a threat to people and businesses. This is why during 2017 we started offering DNS-based web content filtering and malware protection on top of Tanaza WiFi networks.
FASTER CAPTIVE PORTAL.
Some changes have already been made: for example, our captive portal has been made faster thanks to last year's 2.14 firmware upgrade. The captive portal can now handle thousands of devices connected simultaneously.
FLEXIBLE TERMS AND CONDITIONS.
We have developed a new "terms and conditions" widget for our splash page editor that allows you to be compliant with your local privacy regulations, by asking people to give their consent to multiple terms and conditions text elements.
EMOJIS IN SSID NAMES.
In many countries, there are many SSID names available and it is very hard to make your network name stand out. This is why we have released this new feature, which allows you to add Emoji images to your SSID name to make it stand out among the other and thus, encourage more people to connect to your splash page.
SCALABLE WIFI ANALYTICS DASHBOARD.
Our WiFi Hotspot Analytics dashboard has been improved to answer the needs of our largest MSP partners, which are now managing thousands of devices and some hundreds of thousands of records in their WiFi client database. We were thrilled to see just how quickly our partners were able to grow in this market. Now, with the improvements made to our Dashboard, it can be a great aide as they scale their businesses.
FORM-BASED AUTHENTICATION.
We know that sometimes, the clients' data provided by Facebook or other social networks is not enough for businesses to re-target customers with personalized direct marketing activities. For example, a supermarket might want to know more specific information from certain clients, such as the number of members in their family. To obtain this sort of personal information from customers, we created the powerful form-based authentication tool with customizable questions and fields.
CODE AND SOCIAL LOGIN.
In some locations, like coffee shops, there is the need to use social WiFi to gather clients' data, while at the same time allowing only customers to connect. To make this model work, we created a feature that, first, requires customers to provide a WiFi access code (which is usually printed on their purchase receipt); then, allows them to log in either using their social accounts or by filling in a form, so that their data is collected in the WiFi analytics dashboard.
VOUCHER BASED AUTHENTICATION.
You can now export coupons and add your own coupon codes for voucher-based authentication. This means that you can export coupon codes and print them in your preferred format and layout so that you can customize coupon vouchers with your own brand. Also, you can copy and paste your custom code database into our system, so that you decide which is the coupon code used by customers when they are logging in.
Conclusion:
We are strongly focusing on our customers' and partners' needs;
We are enhancing our interface and improving usability, particularly for who is managing thousands of networks and has the need to scale up;
We are expanding internationally and opening new markets;
We're enhancing our compatibility with top-notch high-performing devices, to keep pace with the latest technological advancements;
We are providing advanced tools for WiFi networks management via cloud;
We are expanding our feature set in the hotspot segment at a very rapid rate, to enable new business models and use cases.
We are aware that some of our customers have felt that their needs haven't been met lately, but we have decided to focus primarily on that which benefited the majority instead of the few. We wish to continue to receive feedback and suggestions from all of our customers and we promise will to answer to your needs as quickly as possible and in the best way. On this note, we would like to encourage you to make use of our online community by contributing to it, suggesting new feature ideas and requesting the support of new devices, and getting your suggestions upvoted by other partners and customers.
I would also like to take this opportunity to introduce a couple of new things. First, I will continue to make regular contributions to the Tanaza blog as a means of keeping you posted about our roadmap advancements and/or any future changes. Second, we will continue to host frequent webinars about new features and system updates to inform you in real-time about what happens here at Tanaza.
Last but not least,  if you are ever in the area and would like to have a quick chat (or just a cup of coffee) … just drop us an email!
Hope you are as excited about the current and upcoming changes as we are.
It's going to be a great year!
See you soon!
Sebastiano