If the access points in your network are not close together, you have various options to bring Internet to each device:
1) cabling each devices, you create a wired network (best option)
2) create a mesh network using devices that support the mesh option
3) create a point-to-point wireless bridge (read instructions below!)
4) use the powerline communication option
The best option would be a wired network, but in the case you cannot wire each AP, the point-to-point wireless bridge is the best performing option for your case.
A point-to-point bridge can solve the problem of bringing Internet to an access point that cannot be wired to a gateway.
See below an example: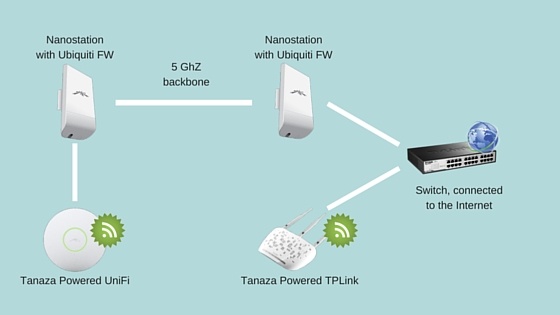 In this example, you have two Nanostations with the original Ubiquiti firmware, configured to create a 5GhZ wireless backbone. You should choose the device (Ubiquiti Nanostation M2, or M5, or others) depending on the distance that you should cover.
Basically, the bridge is a substitute for the cable – this means, that you can connect any access points to the Internet without wiring them, included the Tanaza Powered Access Points.
Thanks to this configuration, you have a high-performing network without connectivity issues, and you can cloud manage some of the access points and the SSIDs / splash page through the Tanaza Cloud Dashboard.
Benefits of this setup include:
Good coverage of a large area
Complete separation between 5 GhZ backbone and 2.4 Ghz access network (better than mesh with mono-radio access points, because there's not intereference)
Reliability
You can cloud manage the APs for Wi-Fi guest access and the Splash Page through the Tanaza Cloud Dashboard
Scalability