News from TechCrunch: PowerCloud Acquired by Comcast.
Congratulations to Jeff Abramowitz, Andrea Peiro for this successful exit. Well done!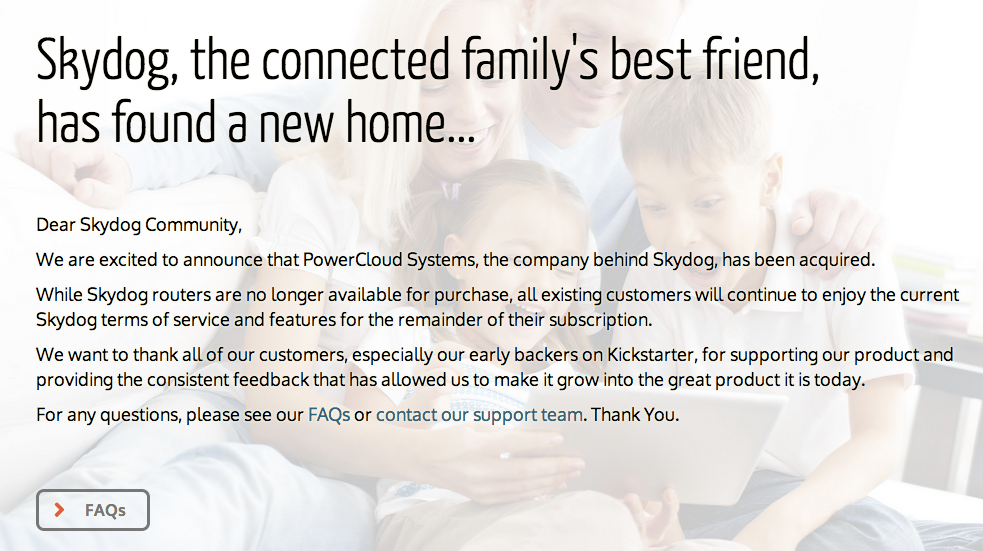 Comcast has acquired PowerCloud Systems, a spinoff from PARC that developed hardware and software to monitor broadband usage in your home or office. From what I understand, the deal was mainly an acquihire and small in Comcast terms, at under $50 million.
Comcast will not be resuscitating Skydog (a home WiFi monitoring hardware and app) or other products from PowerCloud. Rather, the idea, from what I understand, will be for Comcast to take some of that technology, and the people who created it, for them to work on a bigger "smart Internet" strategy (that's the term used internally). As carriers continue to look for ways to be more than commoditized bit pipes, this will be part of Comcast's wider technology play, and will include developing a product similar to Skydog but effectively able to connect with, monitor and manage all connected hardware in the home.
While Comcast has bigger ambitions outside of being a bit pipe, it will be worth watching whether it chooses to expand its own walled garden accordingly.
"This would be a good move for Comcast as it instruments the home, first with connections, then with sensors, then with the apps that help a customer understand how everything is moving through their pipes, their home, their electrical wires," James McQuivey, an analyst at Forrester Research, says about the acquisition. "The question is whether Comcast would want to own this asset only to use it in service of its limited network or whether it would try to scale it beyond Comcast's network. Feels like a shame not to reach outside of its footprint, which is a general problem Comcast has — the question of how to get outside of its footprint so it can compete with the big guys: Google, Apple, Amazon, even Microsoft."
Comcast — the cable, broadcasting and Internet giant in the middle of buying Time Warner cable for $45 billion – is also honing the products that will help it sell more broadband services when (and if) that deal gets completed. As part of that strategy, Comcast has quietly acquired PowerCloud Systems, the company behind, Skydog, a WiFi router and app that lets users monitor and modify how broadband is used in their homes.
Last week, Skydog announced on its home page that it had been acquired and that it would no longer be selling the routers but that existing customers would be able to continue their services for the remainder of their subscriptions. There was no further information about what would happen to the company or who acquired it.
PowerCloud Systems, launched in 2008, is a spinoff from the Palo Alto Research Center, the Xerox R&D subsidiary better known as PARC. PowerCloud picked up a number of backersincluding Qualcomm Ventures and Javelin Venture Partners. CrunchBase notes that it has raised at least $6 million in funding from VCs. Its enterprise products included the CloudCommand VC, which helps companies monitor and control Internet access in their offices.
When PowerCloud began to make consumer hardware and software, it turned to more public forums to raise money and test the market. Skydog, a consumer/home Internet version of the CloudCommand service, marketed itself as a way to help families control Internet usage at home: for $149 you got a package that included a dual-band 802.11n Wi-Fi router, a mobile app and a 3-year subscription to Skydog's cloud service, which allows access to home network control and reports from anywhere via the web.
A Kickstarter campaign for Skydog raised close to $122,000 and helped the company grow its profile among mass-market users. We covered Skydog here and here, and judging by the number of people who have written into TC asking if we knew what had happened, it was a pretty popular product with users, too.
If the deduction about Comcast buying PowerCloud turns out to be accurate, it is not clear how Comcast may end up implementing PowerCloud Systems, but there are a couple of obvious places where it could make sense.
The first is in attracting new customers. Even without TimeWarner, Comcast is already one of the very biggest providers of broadband in the U.S. But it still faces competition from the likes of AT&T and Verizon, Charter, Dish and many others, including potentially the likes of Google if the search giant gets more serious about Internet access.
Aside from new customer acquisition and retention, there is also the issue of how to make better returns and margins on those who are already customers. That's another place where existing PowerCloud products could come in handy: a product that small businesses and home Internet users could buy to make their use broadband use more efficient and more intelligent.
* * *
Original article by Ingrid Lunden available here.