Zone Flex 7343: for Adaptive Antenna Technology
Ruckus Wireless Zone Flex 7343 the High Performance 802.11n Mid-Range Smart Wi-Fi Access Points with Adaptive Antenna Technology has many returns to any occupation bottom-line  that  any businessperson  must make a decision to acquire and install this wonder device. This Wireless Access Point is a single-band Maximum 802.11n capacity of 300Mbps making it  highest performer on offer to all enterprises and environments including hotels, schools, shopping malls, hospitals and corporations. The High Performance 802.11n Mid-Range Smart Wi-Fi Access Points has anAdaptive Antenna Technology and the security capabilitiessecurity/Encryption Algorithm WPA2//WPA-PSK/AES and TKIP gives it an edge over other wireless Access Points.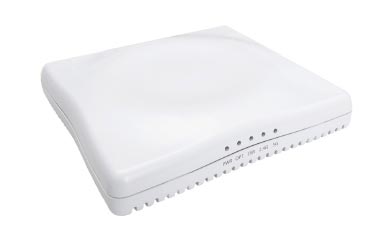 TheZone Flex 7343 Features
Ruckus Wireless Zone Flex 7343 by Ubiquiti has ultra-special indomitable constructions capabilities and outputs that stun many. This cute handset is the ideal choice to give to your business. Below are the features that make this device to be the best-in-class of top-range performers.
Concurrent dual-band
Advanced RF management
Concurrent support for video, VoIP and data

Adaptive antenna technology and Automatic interference mitigation

Smart meshing increases flexibility and reduces costs
Smart Mesh Networking
Admission control/load balancing
The Zone Flex 7343 Specifications
Data Transfer Rate 300Mbps
Data Link Protocol IEEE 802.11b
IEEE 802.11n
IEEE 802.11a
IEEE 802.11g
Remote Management Protocol CLI
HTTPS
HTTP
SSH
SNMP
Telnet
Frequency Band 2.4 GHz
Capacity Concurrent devices: 200
VoIP calls : 20
Status Indicators Status:
Power
Features Priority-based flow control
Quality of Service (QoS)
Power over Ethernet (PoE)
Auto-uplink (auto MDI/MDI-X)
Firmware upgradable
security/Encryption Algorithm
WPA2
WPA-PSK
AES
TKIP
Authentication Method RADIUS
LDAP
Basic Service Set Identifier (BSSID)
Active Directory
Compliant Standards IEEE 802.1x
IEEE 802.11g
IEEE 802.1Q
IEEE 802.11a
IEEE 802.11i
IEEE 802.11n
IEEE 802.11b
IEEE 802.11e
Wi-Fi CERTIFIE
Antenna
Internal integrated
Antenna Qty 1
Expansion / Connectivity
Expansion Slot(s) None
Interfaces 1 x Network – Ethernet 10Base-T/100Base-TX/1000Base-T – RJ-45
2 x Network – Ethernet 10Base-T/100Base-TX – RJ-45
Compatible Slots None
Miscellaneous:   Compliant Standards WEEE, RoHS
Power
Power Over Ethernet (PoE) Supported PoE
Power Device Power adapter – External
Voltage Required AC 120/230 V
Battery
Environmental Parameters
Min Operating Temperature 32 °F
Max Operating Temperature 104 °F
Humidity Range Operating 15 – 95%
Benefits/ Applications
Ruckus Wireless Zone Flex 7343 by Ubiquiti gives you awesome benefits. Just sample some of the itemized benefits offered by this unique wireless Device:-
Naturally everything is perfectly set to give you maximum service through easy to install/configure/expand, also with spontaneous advanced security for your total satisfaction.
Superior Wi-Fi systems, through WLAN-wide finest signal path selection, automatic WLAN-wide interference prevention, and WLAN-wide reflex RF coordination to acclimatize the ever constantly-changing Wi-Fi workplace.
Automatic interference mitigation, optimized for high-density environments
Smart meshing increases flexibility, reduces costs, Smart Mesh Networking and Admission control/load balancing
Ruckus flex 7343-WLAN combines smart meshing, dynamic user security, adaptive RF signal routing, 802.11n, and centralized management – all within a secure, scalable, and simple-to-use platform.
Cloud management and remote monitoring
Ruckus ZoneFlex 7343 devices can be cloud managed thorugh Tanaza, thanks to a single centralized dashboard. Click here to know more about cloud managing a Ruckus 7343.