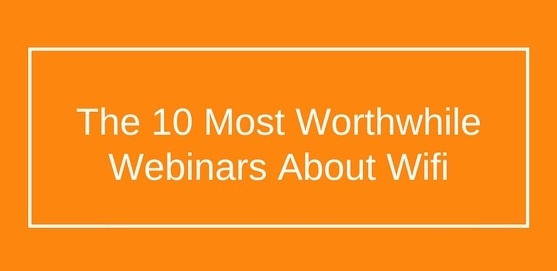 With these webinars, you can find out more about the Wi-Fi industry, its latest trends, innovations, Wi-Fi cloud management, high-capacity network design and much more.
Here is Tanaza's list of 10 worthwhile webinars about Wi-Fi:

How to design high capacity Wi-Fi networks
If you want to learn more about the critical aspects of capacity planning and how it can lead to great Wi-Fi networks, then this Webinar is for you. As a Wi-Fi expert, Andrew von Nagy, discusses Wi-Fi industry trends, critical aspects of Wi-Fi design, capacity planning considerations and an iterative process to balance all design aspects.
In this webinar you can learn how to become a Wi-Fi expert in record time. The webinar covers an overall understanding of Wi-Fi by including tips for designing Wi-Fi networks, troubleshooting, tuning WLAN's, installing APs and configuring client networks .
This webinar will help you evaluate customer requirements and determine the best ways to deploy a dual band wireless network in your environment.
Evolving Wi-Fi to 802.11ax: Is it just about higher peak speeds?
In this webinar you can learn more about the innovations that 802.11ax standard is bringing to address existing challenges of Wi-Fi industry in order to serve a large number of users, support a variety of applications, expand coverage and more.
Smart Wi-Fi Strategies – Why Quality of Experience Pays
Caroline Gabriel, Research Director of Rethink Technology Research, will explore issues like voice over Wi-Fi (VoWi-Fi), Wi-Fi in smart cities, roaming partnerships and trailing Wi-Fi.

Top Seven Wi-Fi Threats and How to Protect Yourself
As the demand for Wi-Fi access is booming, businesses and organizations cannot disregard network security. Join Ryan Orsi, Director of Product Management, and Nick Kelly, Director of Product Marketing, to discuss the top 7 threats to your wireless network in 2016 and how to deal with them effectively.
Hotel Wi-Fi – Designing it Right
Join this webinar to find out the ins and outs of wireless network design in a hotel. During the session, Rob Rohde the Senior Hospitality SE at Brocade Wireless, will walk you through the history of hotel Wi-Fi, as well as its realities and trends.
5 Reasons Guests Will Endorse your Wi-Fi
This webinar gives tips on how to provide a secure, reliable connection and high performance free Wi-Fi at hotels.
How can Mobile Operators Build Wi-Fi into their Plans and Make Money from it?
A 30 minute Webinar by Openet CEO, Claus Hetting, on the latest innovations in the Wi-Fi market and the existing opportunities for mobile operators.
Wi-Fi Security – How to prevent your network being hacked by a kettle
By attending this webinar you will learn why context-based network access is crucial to any Wi-Fi deployment and you will also find out more about the challenges of BYOD and IoT.
Tanaza hopes this list of webinars will enrich your Wi-Fi knowledge!
Related articles:
TOP 30 influencers in the Wi-Fi industry
Useful tips for protecting your Wi-Fi network security
Power your indoor and outdoor wifi devices with Tanaza