The global economic value of WiFi reaches $1.96 trillion in 2018

A report commissioned by the Wi-Fi Alliance estimates that the annual global economic value of WiFi is $1.96 trillion in 2018, and predicts that it will grow in the next five years by almost 80%, surpassing $3.47 trillion by 2023.
This report, completed by the Telecom Advisory Services, also points out WiFi's role in creating job opportunities in different countries by evaluating its impact on different employment categories. It is forecasted that WiFi will create over one million jobs by 2023, a 50% increase in employment rate from 2018.
According to the report, WiFi is having a positive impact on the economy in four main categories:
Expanding consumer choice by developing alternative technologies (i.e. mesh networking systems);

Serving as a platform for the creation of innovative business models that develop and deliver unique services (i.e.

remote cloud management services

);

Expanding access to communication services for mobile and fixed networks;

Enhancing the effectiveness of wireline and cellular technologies by complementing them (i.e. with

WiFi hotspots

).
WiFi's value to consumers and producers and its contribution to GDP
Due to diverse unlicensed spectrum environments, the true economic value of WiFi has always been difficult to determine. This report defines its economic value by taking into account the tangible, economic gains that WiFi provides to consumers and producers, as well as its net contribution to Gross Domestic Product (GDP).
Nowadays, WiFi's value to consumers both inside and outside of the home is indisputable. WiFi is now so pervasive that its availability is taken for granted in many countries and its importance in everyday life often goes unrecognized. Most devices and home appliances use WiFi and are doing so at a growing rate. WiFi was installed in approximately 800 million households around the world and more than 340 million hotspots provided access to consumers, as of 2016.
WiFi also creates value on the production's end: indeed, equipment manufacturers (access points, routers, gateways, controllers, but also appliances with built-in WiFi capability) and mobile carriers that rely on WiFi to offload traffic from their networks, all profit from its use.
Moreover, WiFi contributes to GDP growth by delivering undeniable social benefits: indeed, it provides a useful application to reduce the digital divide in rural or isolated territories, as well as an essential platform for free Internet access.
The value of WiFi and its growth estimate on six individual markets
In addition to defining WiFi's economic impact on a global scale, the research also analyzes the individual economies of six different countries, underlining the value of WiFi and stressing the need for adequate unlicensed spectrum to ensure WiFi keeps delivering to economies, businesses and consumers.
The United States is at the top of the list: in this country, WiFi contributes $499 billion in economic value today and is expected to contribute $993 billion by 2023. Japan, Germany, and South Korea follow with respectively $171 billion, $94 billion, and $68 billion in Wi-Fi economic value as of 2018.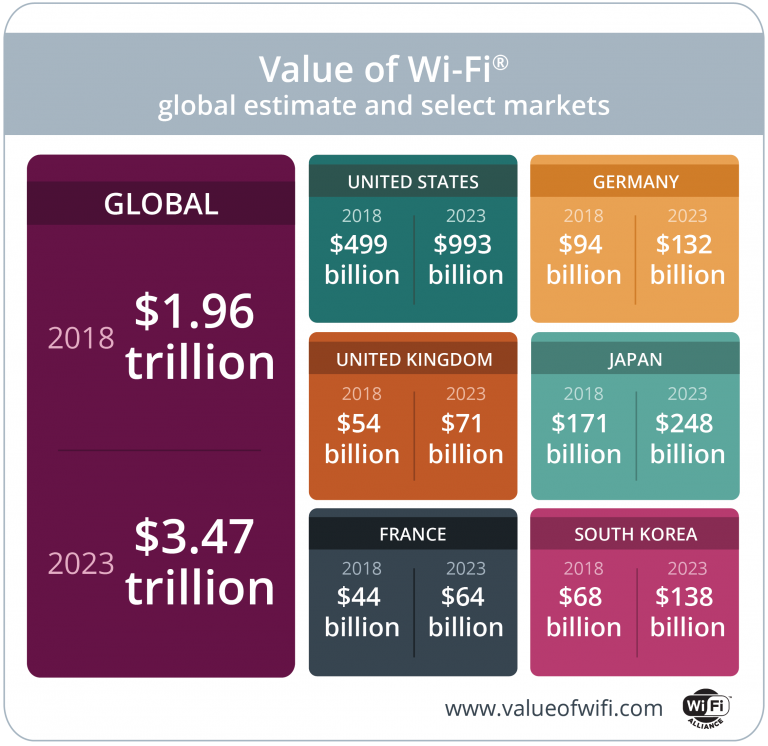 A dominant engine in the digital ecosystem
"Wi-Fi has a powerful and often underestimated economic impact all over the world," WiFi Alliance president and CEO of Edgar Figueroa stated. "This study brings attention to the tremendous economic benefit from Wi-Fi, and underscores the importance of favorable spectrum policy to ensure Wi-Fi continues delivering even greater economic and societal benefits for many years to come."
"Wi-Fi technology should be recognized as one of the dominant economic engines of the digital ecosystem," said Raul Katz, research author and President of Telecom Advisory Services. "Governments should develop the right incentives to stimulate the social and economic benefits of Wi-Fi, including assigning enough spectrum to avoid congestion across the globe, promoting the development of start-ups that rely on Wi-Fi to create applications, and leveraging Wi‑Fi technology to address the digital divide barrier."
This research is an important step in validating WiFi's role as a key indicator of economic health and market opportunity, as a new wireless generation approaches.
Indeed, WiFi creates value in different vertical markets, such as hospitality, education, public transportation, healthcare and retail to name a few, and many companies are successful in those sectors using Tanaza WiFi.
If you want to develop a WiFi project, our business consultants can help get you started and make the most out of it by understanding your business needs and guiding you through all the different features of the Tanaza platform, showing how they can help you to deploy a successful WiFi project.