Top 7 hotel Wi-Fi hotspot features your facility should have

Guest Wi-Fi can turn into a powerful business and marketing tool for hotels. Let's see what are the main 7 hotel Wi-Fi hotspot features hospitality venues should have to grow their revenues and increase their visibility.
Nowadays, free hotel Wi-Fi is a basic expectation among travellers and a relevant factor when they choose a facility. Furthermore, is not only free guest Wi-Fi a customer amenity but also is a powerful tool that allows facilities to grow their business and increase their visibility and reputation.
Let's see how Tanaza helps hotels and hospitality venues to boost their revenues, increase their online visibility and meet their guests' needs, thanks to these 7 must-have hotel Wi-Fi hotspot features.
1. Captive portal
The captive portal offered by Tanaza provides hoteliers with an easy guest access system. Indeed, different authentication methods for guest Wi-Fi access are available, based on your needs: login through email or phone, coupon or custom code, password, social login, etc. Also, Tanaza makes Wi-Fi access easy not only for hotel guests but also for the staff, as you can configure up to 8 SSIDs per access point. For instance, you can create one SSID for the hotel staff with WPA encrypted password, another SSID with your captive portal for guest access using social login, one SSID for the hall with coupon-based registration and one last SSID for hotel equipment. In this way, by separating traffic, you will guarantee a secure Wi-Fi connection.  
2. Web Content Filtering
Your hotel guests expect to be provided with a safe and secure browsing experience. Parents want to safeguard their kids while they use your Wi-Fi to browse, in particular. This is why you should control and protect your network by deploying the network content filtering offered by Tanaza, which allows you to block user access to inappropriate or unwanted websites and apps, such as content of pornography, violence, betting sites, etc. Indeed, you can choose what content categories your guests can access while using your hotel Wi-Fi network on their computers, tablets, smartphones, and other Wi-Fi-enabled devices and you can schedule when to block or unblock them. Also, this content filter blocks malware, botnets and other common viruses and can also function as a parental control software tool: in this way, you will further ensure the security of your network, guaranteeing a safe browsing experience for both your guests and staff.
3. Login Page Editor
You can welcome your guests building a personalised, branded login page before they access your network. Tanaza features a responsive and customizable login page, which gives you the possibility to promote your services, hotel facilities and special offers in a simple and effective way: for instance, you can add banners to advertise your room service or to show your best rooms. You can promote new amenities, new menus at the hotel restaurant or your spa offerings. Also, you can add special deals and discounts on your login page to incentivise your guests to try your services. In addition, you can add widgets to promote your conventions with local tour operators and other business partners by giving suggestions about particular events held near your facility. And it's not all: you can even insert a TripAdvisor widget on your login page to further promote your hospitality venue. Thanks to the login page offered by Tanaza, you can build you Wi-Fi guest access page in more than 60 languages, included Spanish, Portuguese, German and Italian, simplifying your guests' login process to your Wi-Fi network.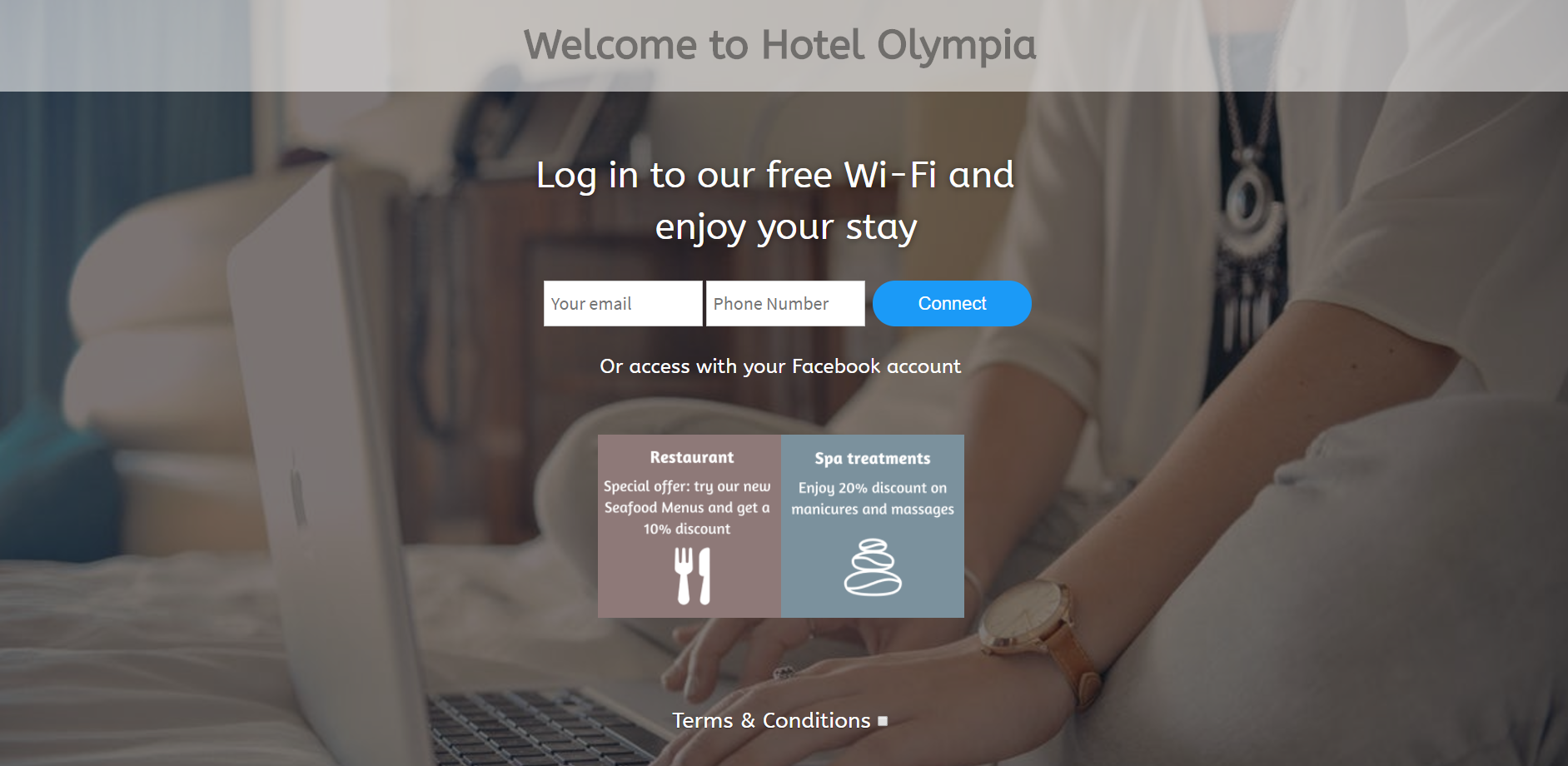 Example of a hotel's login page
4. Analytics dashboard
When hotel guests log in into your Wi-Fi network, they provide some personal information, such as name, surname, age, gender, birthday, location, etc. Thanks to the analytics dashboard provided by Tanaza, you can easily collect and analyse user data to run statistics and marketing campaigns. For instance, you can see the number of users connected to your Wi-Fi, the preferred authentication method they chose to access your network, the preferred time at which they logged in. Once collected, you can export and name your list of data in CVS or XLSX to easily access it at your convenience. Furthermore, on the Tanaza Cloud dashboard, you can monitor in real-time the bandwidth usage for every access point of your network, which is a useful information to better control your bandwidth allocation.
5. Remember me
The "Remember me" Tanaza feature allows you to offer your guests a home-like experience. Indeed, the network remembers users' devices after their first authentication and reconnect them automatically when they access to Wi-Fi after a while. In this way, guests will not be required to re-enter time-consuming codes or passwords.   
6. Social login
Among the many authentication methods offered by Tanaza, social login is the ideal solution to enhance the visibility of your facility and improve your brand reputation on social media networks. Indeed, through the social login provided by Tanaza, users access your Wi-Fi using their social networks accounts, such as Facebook. In doing so, you can ask guests to put a "Like" on your Facebook page or to share their position after they have connected to your network, through a Facebook "Check-in". Thanks to social Wi-Fi and social sharing, more people will hear about and grow their interest towards your hotel. In this way, your web reputation and the number of bookings will grow in a faster way, and you will increase the likelihood to get positive reviews on TripAdvisor.
7. MailChimp connector
Once you have collected enough user data, you can leverage the MailChimp connector integrated with Tanaza to communicate with your guests in a tailored way. The MailChimp Connector, indeed, allows you to add automatically new email addresses gathered through Wi-Fi to a MailChimp list and send triggered emails and campaigns to your guests. For instance, you can send automatic surveys to guests who stayed at your hotel asking for feedback, to improve your services. Also, you can send customised offers depending on your target: you can promote your spa specifically to couples, the playground of your facility to families, or offer treatments and massages at the beauty centre of your hotel to women, etc.

Last but not least, Tanaza is multi-vendor and supports a broad range of indoor and outdoor access points from different vendors, such as Tp-Link, Ubiquiti, etc. In this way, you have the unique opportunity to choose the access points you prefer for your Wi-Fi deployment, optimizing your costs while, at the same time, relying on a first-rate network. For instance, you can use a Tp-Link or an EnGenius device for outdoor areas, such as the hotel parking area, the garden or the swimming pool, and opt for a Ubiquiti access point for indoor areas, such as the hall or the restaurant. For instance, we suggest opting for the latest Ubiquiti UniFi AC In-Wall for hotel rooms, as it is small, easily deployable and can provide both wireless and wired connectivity.