The TL-WA901ND is a 300 Mbps wireless router for domestic as well as commercial use in small and medium businesses. This amazing product from TP link has wowed critics all across Europe winning awards and recognitions. ITespresso online in DE awarded it four stars, while it fared as "Good" in ITespresso's review in Germany. It was also awarded Editor's choice be Megaobozor.com in Russia. The TL-WA901ND comes with some of the latest technologies and great networking and security features, making it a great fit for any home or small commercial user.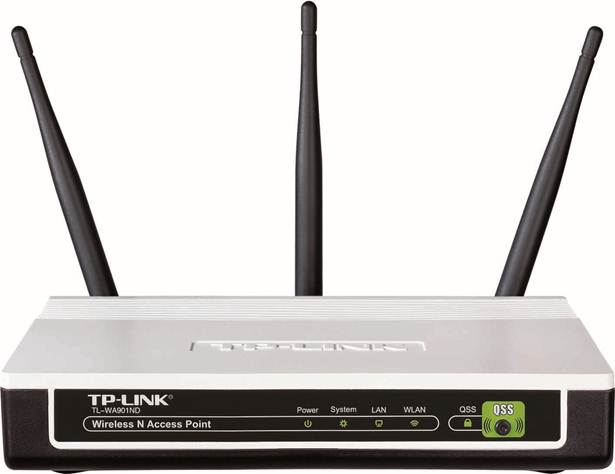 Speeds: This TP link router supports the Wireless N technology which can deliver up to 300Mbps (theoretical throughout) speeds. Such high bandwidth pipes allow users to exploit the true high speed broadband links to enjoy high end online gaming, high quality video streaming and even inexpensive Voice of Internet Protocol solutions. This router can also support older wireless devices as it is backward compatible with 802.11 b/g products too; so even an old laptop can connect to this router. With older laptops, due to limitation from the underlying technology, you would not experience high throughputs. 802.11b supports up to 11 Mbps while 802.11g supports up to 54 Mbps throughputs theoretically.
The product supports Wi-Fi Multimedia (WMM) technology which assures the quality of service for lag sensitive applications like VoIP and online video. Typically services like voice and video put a lot of demand on the network resources for dedicated bandwidth. WMM ensures that such dedicated demands of the service are met to ensure a smooth and jitter free experience.
Range:
This router has very good receiver sensitivity and it can provide reliable connection at even 270m from the router. Of course, the specifications are derived under ideal conditions. Depending on how and where you place your router, the connectivity and connection speeds would vary.  This router uses MIMO technology which gathers signal inputs from multiple antennas (3 in this case) to buttress the signal strength and deliver good connection and higher speeds.
To ensure sustained connectivity, the TL-WA901ND also comes with TP Link's trademark Clear Channel Assessment technology. This ensures that the frequency of the router does not interfere with other devices working in the same frequency range of 2.4 GHz. By reducing the interference, the wireless channel performance is improved.
Despite all these amazing attributes that help improve the range of the router, it is best to work closer to the router and consciously avoid using devices with conflicting frequency close to each other. Typically you would get interference from cordless phones and microwaves. So by ensuring such devices are not too close to each other, wireless network performance can be improved.
Security
On the security front, TL-WA901ND supports all the latest and the best industry standards. It supports 64-bit, 128-bit and even 152-bit WEP security. With increasing bit, the security of the wireless channel also improves. Deepening on your security needs and the level of security your devices can support, you can provision the best solution for your home network. Besides, WEP, this model also supports WPA, WPA2, WPA –PSK and WPA2-PSK security features. These wide range of security standards mean that you can connect almost any kind of device to your wireless network in a secure fashion.
Where to Buy?
TP link has a host of Distributors, Resellers, retail stores as well as online stores where you can purchase this product. The TP Link website provides additional details on all these options. Among online and retail stores, Amazon.com, Best Buy, Future Shop and NewEgg.com are some of the more famous places where you can get this product. Typically the online stores sell this product for anywhere between $45 to $60.
What does the Box Contain?
Now that we've seen all the amazing features that this model supports, it is time to look at what come as a part of the package.
TL-WA901ND Access Point
Power Injector
Power Adapter
RJ-45 Cable
Quick Installation Guide
Resource CD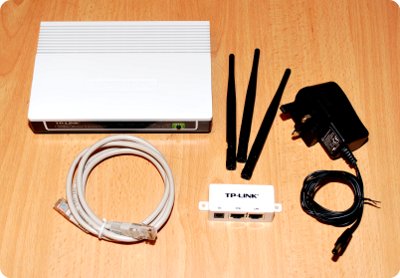 Wireless Router Operation Modes
The TP Link TL-WA901ND can be configured in six different modes depending on how it is being used by the end user. The table below shows the various operation modes for the router.
| | | |
| --- | --- | --- |
| Mode | Function | Use Case |
| Access Point | Act as access point for wireless devices to connect to the Internet. | This is used in home by retail customers to connect laptops wirelessly to their broadband modems |
| Multi-SSID | Allow wireless devices to connect to different SSIDs and VLANs | This used in small businesses when traffic needs to be segregated based on VLANs |
| Client | Act as the wireless link for wired nodes connected to main wireless access point | This is used to connect wired computers to a wireless network in the office |
| Repeater | Acts as a signal repeater to extend the range of the root wireless access point | This is used in places with a large office space where end wireless devices cannot get reliable connectivity |
| Universal Repeater | This mode is similar to Repeater but it also supports non-WDS networks | Similar to repeater mode but also encompasses non-WDS networks. |
| Bridge with AP | This mode acts as a bridge for up to 4 other access points | This is used to set up wireless infrastructure in the office. |
Configuring Wireless Router in Access Point Mode
Depending on the operation mode, there are different parameters that need to be set for the wireless router. To access these modes you need to follow the steps mentioned below.
Connect the power adapter to the wireless router and power it up
Connect the router to the computer and carry out the basic setup steps.

Type http://192.168.1.254/ on the browser
Login with the following credentials: User Name: admin and Password: admin
Open the Status tab.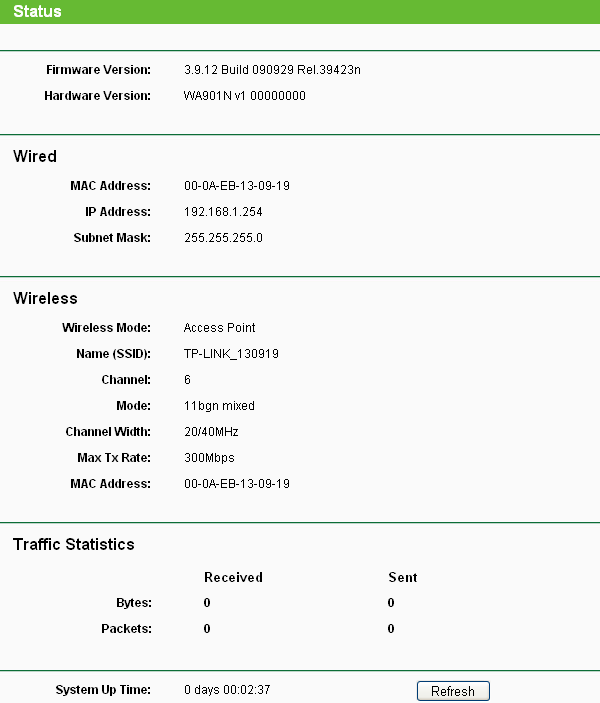 Now disconnect the router from the computer and connect it to the broadband connection.
Configure your computer to connect to the wireless router remotely.
Now open the browser to launch the router configuration page. Under Wireless menu select Wireless Settings submenu. Set the router in Access Point mode and select a SSID. Click Save.

Now select the Wireless Security menu and update the desired wireless security options. Click Save.
Remote configuration of WA901ND
TP-Link 
WA901ND can be remotely configured through the Tanaza Dashboard, with no need for VPNs, Public IPs or port forwarding. Click here.