In May 2011, Ubiquiti Networks released their first indoor WiFi router called the AirRouter 802.11n Wireless Router. This commercial indoor router has a sleek design that would fit well into any home or small office.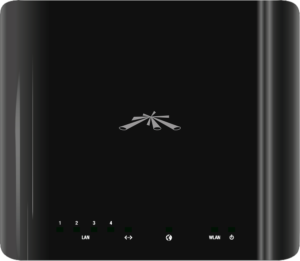 The main features of the AirRouter include 5 Ethernet ports that can be used to connect the router to the Internet or to other devices. There is also a USB port and an integrated antenna. The AirRouter utilizes Ubiquiti's powerful AirOS technology which is, according to Ubiquiti, "capable of powerful wireless and routing features". With the AirOS, which is an advanced operating system, you can take full advantage of all the wireless features of the AirRouter (and any other Ubiquiti products, for that matter). This operating system is actually installed on a number of Ubiquiti's high-end products, giving it advanced features for networks and routing.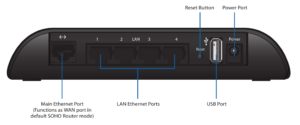 Theoretically, the AirRouter can connect to any device from a maximum distance of 100m and at 150 Mbps. In reality, though, this is not always the case. Unfortunately, in real life, this product connects well at shorter distances than the predicted maximum distance. This is mainly because interference will distort or weaken the signal (which is true for most home wireless devices, anyway).
There are a number of other disadvantages with this AirRouter. First of all, it offers a single-band access point. That means, you cannot connect anything that does not use the 2.4 GHz band, which is already crowded with many other devices both in the home and in a small office. The manufacturers could have included a dual-band function to make the AirRouter versatile in this regard. Secondly, the USB port actually does nothing. The documentation says that the purpose of the USB port is to connect a USB antenna, in case the internal one is not good enough for your needs. But there is no such thing. On the user guide, there is confirmation that the USB port is reserved for some future function – meaning it currently has no function and shouldn't even be on the AirRouter. The manufacturers shouldn't have listed it in the features either. We are just hoping that future versions of this AirRouter will have drivers installed for the USB port, giving it printer and network functionality that you'd expect for a product at this level. Thirdly, the internal antenna could be a disadvantage in that the signal may be weaker. But this is just a theoretical assumption and has not been tested yet.
The main advantages of this WiFi router include its multi-purpose function. It not only serves as a standard router that you can use in your home or small office, but it can also operate in bridge or router mode. It can also be used not just as a router, but in access point mode. According to multiple user reviews, this is probably the best function for the AirRouter. The limits posed by the firmware make it more ideal as an access point rather than used as the main router.

One main drawback of setting up the AirRouter is that you have to have used Ubiquiti technology before for the setup process to be flawless. The Quick Start Guide provided with the product is difficult to follow if you are not familiar with the technology. Contrary to popular demand, the installation user interface does not provide a wizard to easily walk you through the different installation steps. Consequently, anyone who has not used AirOS technology before, even if they are well-versed in installing other wireless devices, may find the process difficult.
But don't let this deter you. Ubiquiti have an excellent customer service desk, and your supplier will also probably be willing to offer assistance in this regard. The product is also very affordable when compared to other similar devices, retailing from $39 to $45. So if you are looking for an affordable router with high-end software that will work well as an access point for your home or small office network, then Ubiquiti's AirRouter is the product for you.