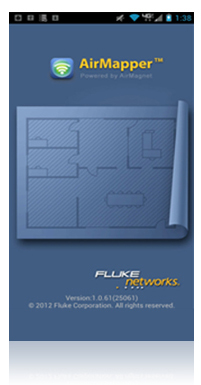 With the ever-growing BYOD (Bring Your Own Device) phenomenon and the recent Wi-Fi explosion, IT groups within organizations face the constant challenge of flooded network resources by "foreign devices"(smartphones, tablets, …). IT staff must find the delicate balance between meeting the needs of the users with the best practices defined by the organization's policies for Wi-Fi security and performance. User expectations of seamless mobility and superior performance on their own devices are not what IT staff signed up for.
Adding to the misery is the unique radio characteristics of mobile devices (low transmit power, number of antennas, etc.). It's challenging to make the best Wi-Fi Access Point deployment decisions to serve these devices as compared to traditional laptop/desktop. There is a disconnect between user expectations of seeing full bars for a Wi-Fi signal and their actual experience. The only way of representing the true end-user experience is mapping the Wi-Fi throughput for the connection. It becomes critical for the IT staff to deploy the network efficiently the first time to handle this avalanche of devices and traffic to avoid time and resource-consuming, costly network redesigns.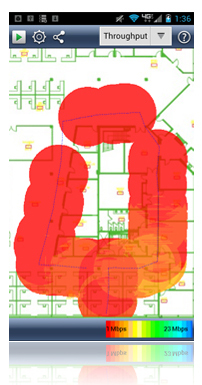 The AirMapper app is the most accurate and complete heat map, Wi-Fi network design and deployment solution available on the Android platform. This app assists IT staff members deploy the best performing Wi-Fi network for end users. Users can map the RF signal coverage and visualize the Wi-Fi throughput of the connection at every location on the floor. Users walk the floor with their smart device and perform quick site surveys for perspective on device performance in the environment. The results help the user design or redesign the Wi-Fi network by taking into account the real-world experience.