The positive sales growth of wireless access points counterbalanced the negative results registered in 2016 in the Western European market of network devices.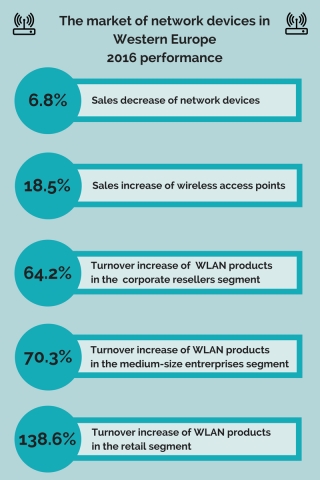 According to the latest research from Context, a company specialized in European IT market analysis, the sales of network devices in the Western European market declined by 6.8% in terms of value in 2016, compared with the previous year.
Nonetheless, this trend was partially outweighed thanks to the encouraging results of the market for wireless networks. Indeed, sales in the wireless access points' segment showed an increase of 18.5% in the same period.
Furthermore, the spreading adoption of the WiFi 5 standard across Western Europe led to a significant growth in Wi-Fi equipment sales. By delivering higher speed and multi-user throughput in WLANs – the WiFi 5 standard provides data rates up to 7 Gbps in the 5 GHz band and has become highly demanded. This past December only 85% of the marketable Wi-Fi products in the market enthusiastically adopted this standard.
Lastly, focusing on the segment of corporate resellers, it can be said that the business of WLAN products' recorded an outstanding performance: its turnover increased by 64.2% compared to the previous year. Moreover, both the small and medium-sized enterprises and the retail segments saw improvements, with a 70.3% and 138.6% increase respectively.
Related articles: