Evolve your network to the Cloud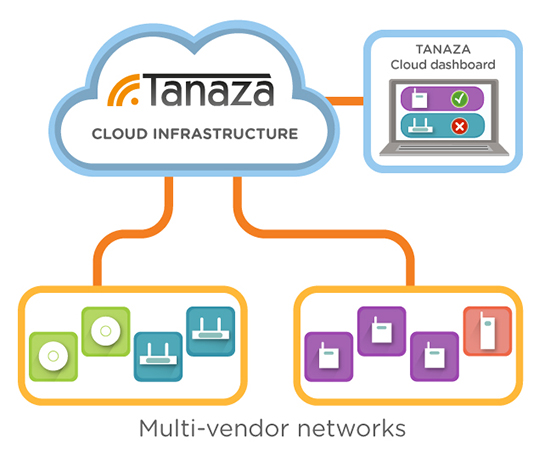 Cloud Infrastructure
---
All the information and the statistics about the Tanaza Powered APs that you are cloud managing are stored in a secure, reliable, scalable and redundant cloud infrastructure.
Tanaza is hosted on Amazon Web Services: your data is stored in the public cloud but are isolated from the other network data, like in a multi-tenant infrastructure.
You can sleep at night!
The benefits provided by Tanaza architecture
No need for a physical or virtual host for every location
No high expenses to install, maintain and upgrade on-premises IT infrastructure
High levels of availability and fault tolerance, thanks to the complete separation between the management plane and the control plane.
Permanent accessibility from anywhere, anytime.
Remarkably high savings, because of the elimination of expensive hardware controllers in the architecture and the reduction of on-premise maintenance.
Saas-delivered software dramatically lowers the total cost of ownership. Easy forecasting, no unexpected costs.
Extraordinary performances and value-added funcionalities available in the centralized management system. Automatic upgrades and constant innovation.
Limitless scalability and flexibility, no effort needed to execute implementations and upgrade, reduced time-to-value interval. Fast deployment in continuous upgrade mode.
Exceptional security and permanent updates to comply with current standards and relevant laws
No more local software installed on local hosts in every location
No need to configure complex VPNs, port forwarding, Public IPs, Dynamic DNS