According to a worldwide survey, customers are unwilling to share their data with companies due to lack of information about how this data might be used. Being transparent about data usage is key for marketers who wish to collect customer data.
The EU law stipulates that personal data can only be gathered legally under strict conditions and for a legitimate purpose. Marketers and organizations who collect and manage personal data must protect it from misuse and respect the rights of the data owners guaranteed by EU law. Data collection still remains a controversial subject for customers. A survey conducted by Edelman based on 34K people worldwide shows that 58% of the respondents do not use digital services because of privacy concerns. This shows that there is obviously lack of trust from the clients and lack of information about how this data is used.
Nowadays, many websites, applications, companies, etc. require access to clients' personal data like name, surname, email address, phone number, date of birth, and gender. The main problem is that people are often afraid to share their data because they don't know how it will be used by the company and for what purpose. In fact, the report shows that 71% of respondents believe that companies access their personal data for unethical purposes (such as reselling data, sharing data with other companies, spamming, etc…).
Consumers are unwilling to share their data but their information is necessary for marketers that adopt predictive technologies to offer relevant content and contextual advertising for their clients, by analyzing their past behavior.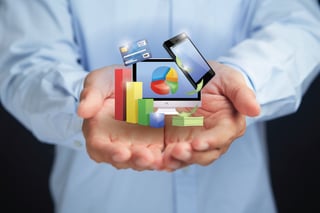 One example of predictive technology is the globally spread use of cookies to personalize the web content and perform logins to a website or e-commerce. Cookies use the data collected in the past from clients' browsers to identify them, remember their login data, and customize their web content. Another example of using data in a proper way is the identification of returning users to a Wi-Fi network. A phone's MAC address is saved into a database so that returning users are automatically identified and reconnected to the Wi-Fi network the next time they are in that location, for a "Wi-Fi like at home" experience.
Jonathan Hargreaves, the global vice-chair of Edelman's technology practice, says that "[predictive] technologies are powerful and […] can do good things if they are used in an appropriate way". For this reason, marketers and companies have had to invest more and more in predictive technologies to better understand the customer, instead of basing their strategies only on the data collected with the cookies. The amount of data companies ask for must be proportionate to the advantage of their providing. So, if a fashion brand asks users to provide info about their purchasing habits, users may be more interested in sharing insights about themselves if they can get something valuable in exchange, i.e. a discount coupon.
By being more transparent about privacy and by offering relevant content to customers, marketers and companies can become more trustworthy and encourage customers to share their data.

Related articles: