Tanaza wins WiFi Now's Best WiFi Startup and Best Enterprise WiFi Solution awards
We are excited to announce Tanaza's win of two Wi-Fi NOW Awards. This year, Tanaza took home the awards in two categories: Best Wi-Fi Startup and Best Enterprise Wi-Fi Solution.
According to the award criteria posted on the Wi-Fi Now website for each category, the Best WiFi Startup award was given to the company who represented the best value proposition on the market today, and the Best Enterprise Wi-Fi Solution award was given to the vendor that had created the most value in this segment.
In a previous post, Tanaza announced its participation in the Wi-Fi NOW Europe expo and conference hosted in Berlin, Germany where our CEO Sebastiano Bertani would speak on the conference's main stage in a session titled "Unbundling Wi-Fi hardware and software ".
On November 6th, Sebastiano Bertani's session took place. The session was attended and praised by many, including Wi-Fi NOW's renowned CEO & Chairman, Claus Hetting, who defined his speech "interesting and provocative".
If you would like to listen to Sebastiano Bertani's session, we can send you a recording of it at a later date. If you are interested, please write us to marketing@tanaza.com.
On October 15th, it was announced that Tanaza was shortlisted as a nominee in 3 different categories (Best WiFi Startup, Best Enterprise Wi-Fi Solution and Best Service Provider Wi-Fi Solution) of the 2018 version of the Wi-Fi NOW Awards. Tanaza won in 2 of the 3 categories in which it was a nominee.
About Wi-Fi NOW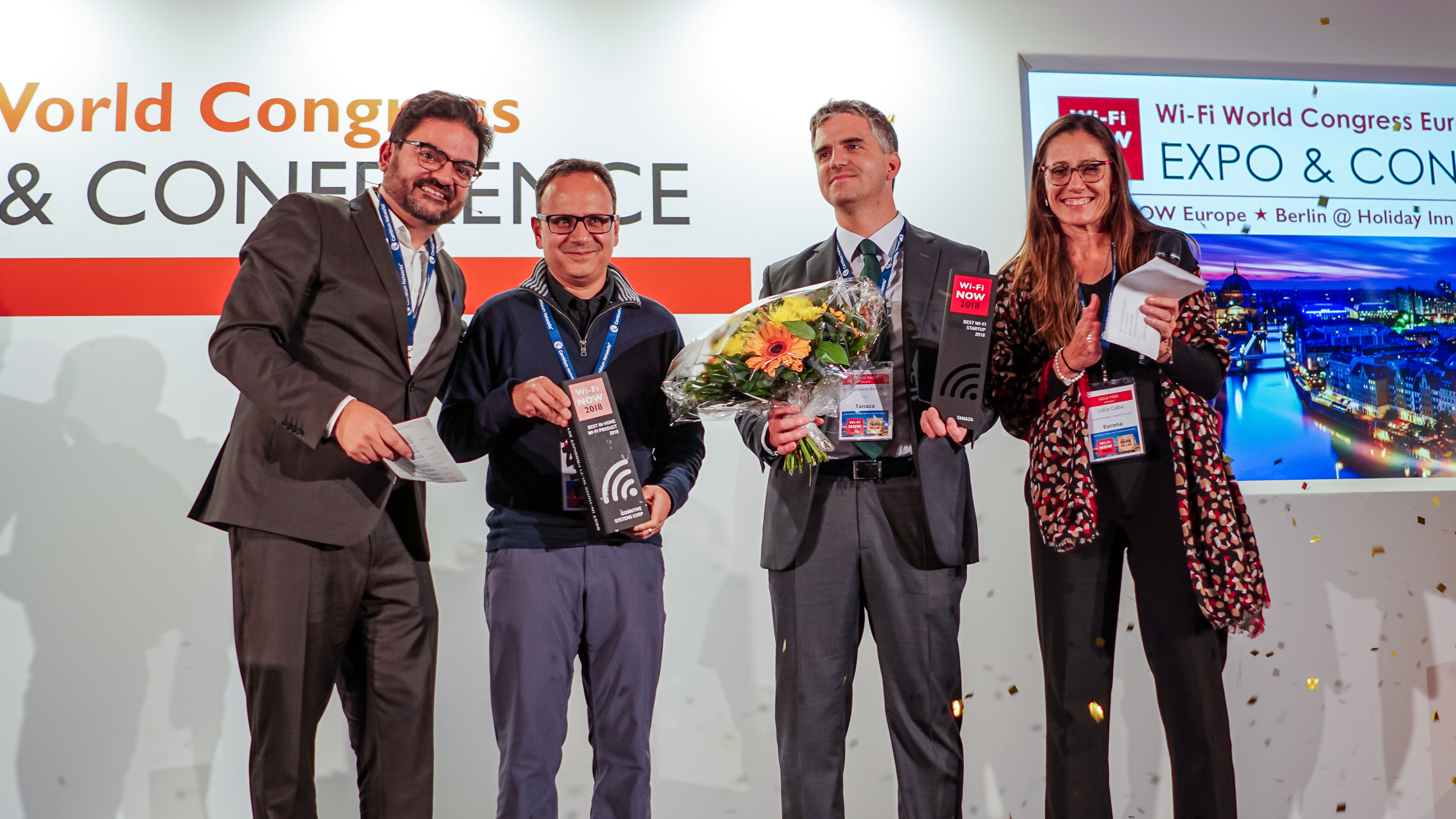 Wi-Fi NOW is the only expo and conference in the world dedicated to Wi-Fi.
Every year, expert speakers in the field of WiFi showcase their skills and share their expertise with event attendees. At the end of each day of the conference, the winners of the WiFi NOW awards are announced.
The winners consist of a select number of companies considered the world's best in WiFi.
This year there were 8 different WiFi NOW award categories.
>> Find out more about the eight Wi-Fi NOW awards winner announced in Berlin
Photo: Awards Ceremony w/ Claus Hetting (Wi-Fi NOW), Taj Manku (Cognitive Systems), Sebastiano Bertani (Tanaza) & Lidia Caba (Eurona)
To ensure fair judging takes place, the Wi-Fi NOW awards process involves a panel of appointed judges, completely independent from the Wi-Fi NOW team or any of the shortlisted nominees.
---
Wi-Fi NOW 2018 Award Nominee Shortlist