Tanaza gana premios Wi-Fi NOW como Best WiFi Startup y Best Enterprise WiFi Solution
Estamos muy contentos de anunciar la victoria de Tanaza de dos Premios Wi-Fi NOW. Este año, Tanaza se llevó a casa los premios en dos categorías: Best WiFi Startup (Mejor Wi-Fi startup) yBest Enterprise Wi-Fi Solution (Mejor solución de Wi-Fi para empresas).
De acuerdo con los criterios de adjudicación publicados en el sitio web de Wi-Fi Now para cada categoría, se otorgó el premio Best WiFi Startup a la compañía que representó la mejor propuesta de valor en el mercado hoy en día, y el premio Best Enterprise Wi-Fi Solution se otorgó a el vendedor que había creado el mayor valor en este segmento.
En una publicación anterior, Tanaza anunció su participación en la exposición y conferencia Wi-Fi NOW Europe organizada en Berlín, Alemania, donde nuestro CEO Sebastiano Bertani hablaría en el escenario principal de la conferencia en una sesión titulada "Unbundling Wi-Fi hardware and software ".
El 6 de noviembre tuvo lugar la sesión de Sebastiano Bertani. Muchos asistieron y elogiaron la sesión, incluido el reconocido CEO y presidente de Wi-Fi NOW, Claus Hetting, quien describió su discurso como "interesante y provocativo".
Si deseas escuchar la sesión de Sebastiano Bertani, podemos enviarle una grabación en una fecha posterior. Si está interesado, escríbanos a marketing@tanaza.com.
El 15 de octubre, se anunció que Tanaza estaba en la lista de candidatos nominados en 3 categorías diferentes (Best WiFi Startup, Best Enterprise Wi-Fi Solution and Best Service Provider Wi-Fi Solution) de los Premios Wi-Fi NOW 2018. Tanaza ganó en 2 de las 3 categorías en las que fue nominado.
>> Ver los candidatos nominados al premio Wi-Fi NOW 2018 
Acerca de Wi-Fi NOW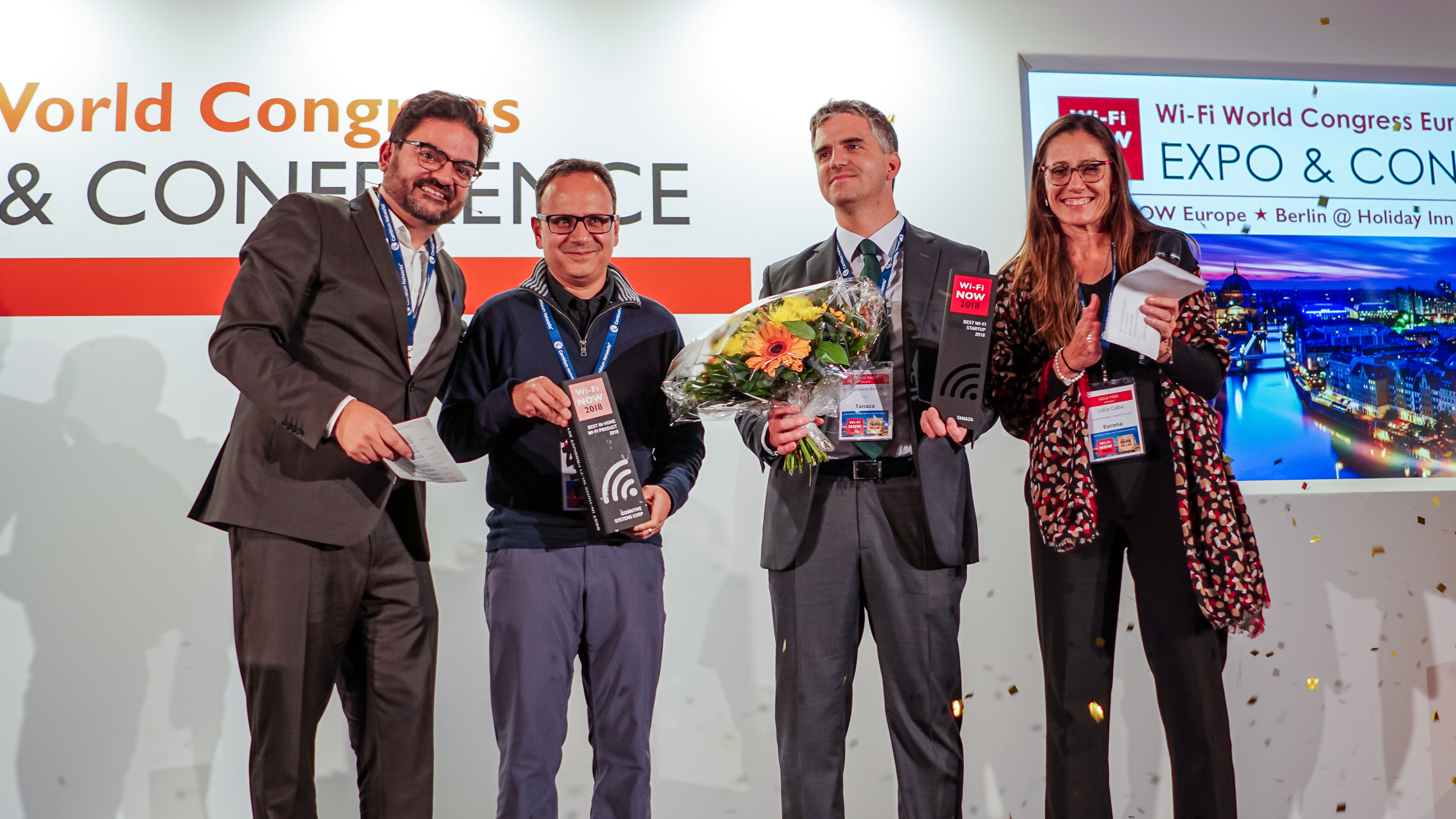 Wi-Fi NOW es la única exposición y conferencia en el mundo dedicada a Wi-Fi.
Cada año, oradores expertos en el campo de WiFi muestran sus habilidades y comparten su experiencia con los asistentes al evento. Al final de cada día de la conferencia, se anuncian los ganadores de los premios WiFi NOW.
Los ganadores consisten en un número selecto de compañías consideradas las mejores del mundo en WiFi.
Este año hubieron 8 categorías diferentes de premios WiFi NOW.
>> Obtenga más información sobre los ocho ganadores de los premios Wi-Fi NOW anunciados en Berlín
Foto: Ceremonia de premios con Claus Hetting (Wi-Fi AHORA), Taj Manku (Sistemas cognitivos), Sebastiano Bertani (Tanaza) y Lidia Caba (Eurona)
Para garantizar que se lleve a cabo una evaluación justa, el proceso de premios de Wi-Fi NOW incluye un panel de jueces designados, completamente independientes del equipo de Wi-Fi NOW o de cualquiera de los nominados preseleccionados.
---
Candidatos nominados a los premios Wi-Fi NOW 2018