Easy cloud management, easy hotspot software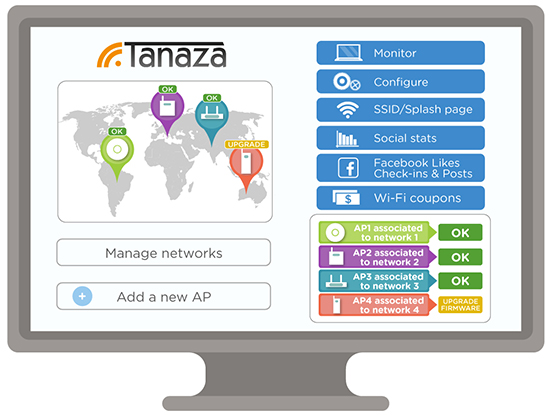 Cloud management makes your life easier
At Tanaza, we love to make things easy. We designed the only Wi-Fi management software that allows you to be the god of your network. Touch and configure an AP 5.000 Km far from you while you are drinking a coke. So you have more time to enjoy your life…
Tanaza has been developed to make IT Professionals' life easier. For example:
No need for IT experts on-site when deploying; thanks to Tanaza Zero-Touch deployment, you could even ship the APs to the customer premise and easily provision them, remotely upgrade the firmware, add SSIDs, change passwords, all through the Tanaza Cloud Dashboard.
You can manage all your APs and WLANs from just one place. The Tanaza Cloud Dashboard allows simultaneous monitoring and management of multiple Wi-Fi routers and access points, with individual or centralized SSIDs, located in one place or in remote locations. No more repetitive one-by-one tasks. No  more useless trips to reboot devices. If anything happens to any network, you receive an alert. And stop drinking the coke.
Vendor-agnostic SW
You are free to pick your favourite hardware. Tanaza is vendor-agnostic and works great with a wide range of access points, indoor or outdoor, desktop or ceiling­-mountables, even with POE. Get the right one for each situation, and still enjoy your centralized dashboard to manage them.
Choose your access point and install Tanaza software onto it: you can easily do it through the web local interface of the AP or using Tanaza Flasher for UniFi and MikroTik.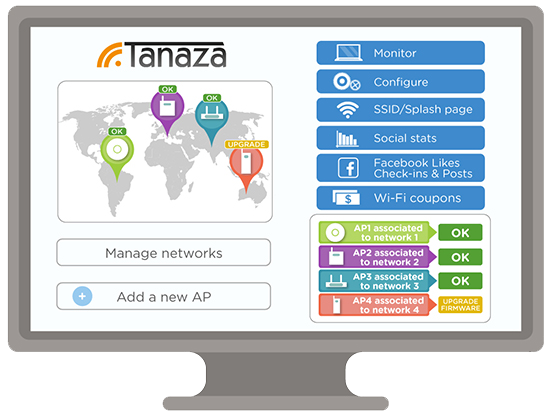 Try now the full set of Tanaza superpowers!
Start the 15-days, no-limits, all-in-one free trial:
Unlimited networks and APs
Unlimited connected clients and concurrent users
Unlimited splash pages
Full feature set
Access to the Social Dashboard for your customers