Marketing-related Wi-Fi services
Loyalty campaigns, lead generation and direct marketing through Wi-Fi
The marketing agencies can leverage Tanaza for its public guest access, Social Wi-Fi and data capture tools. Free Wi-Fi is a powerful tool that collects a large number of registrations, logins from customers and prospects visiting your venue.
Thanks to the wide network of Tanaza Authorized Partners worldwide, that give the best technical support for deployment, configuration and management of multi-location Wi-Fi networks, many local marketing agencies have extended  their product offering, integrating Social Wi-Fi in the marketing mix.
Free Wi-Fi makes customers happy and boosts engagement!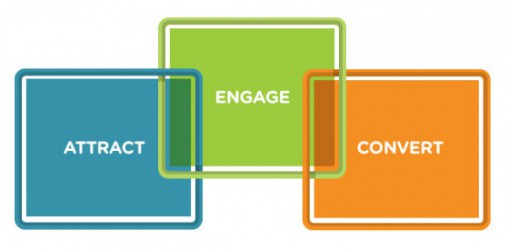 Why to integrate your public Wi-Fi hotspot in your marketing mix
More conversions
---
Are you a location owner, or a marketer?
Wi-Fi allows you to better understand your customers, their needs and their behaviour. Run real-time direct marketing campaigns and loyalty marketing campaigns. Build a positive word of mouth (off-line, on-line, on social media) around your brand.
Don't forget to nurture your leads and fidelize them, sending the appropriate contents and marketing messages while they're in the right stage of the customer's journey. Tanaza built-in advertising system allows you to generate more on-line and off-line conversions.
Analyze data
---
The Tanaza Dashboard helps you analyze your public Wi-Fi hotspot data and analyze them in relation with your business KPIs (e.g. in-store presence data, revenue, number of sales receipts, shopper patterns and telesales performances).
The Tanaza Dashboard shows aggregated and per user data like gender, age, location; it also allows you to make queries, and download and export data to an external marketing tool you already use.
Thanks to Tanaza Cloud Management, the network administrator can share hotspot statistics with his customers while having full control of the network and access points.
Generate qualified leads
---
Public guest Wi-Fi access gives the unique opportunity to boost, in short time, the number users in your database.
Tanaza makes guest access to Wi-Fi super easy, by enabling multiple login flows: coupon-based, email-based, phone-based logins, and social login.
You can also use Wi-Fi to boost the number of opted-in e-mails for newsletters, or to get more phone numbers for sales calls (phone numbers can be verified through an SMS token).
In crowded venues like shopping malls or during events, public Wi-Fi is the best way to quickly generate hundreds of contacts for your company and increase the awareness around your brand.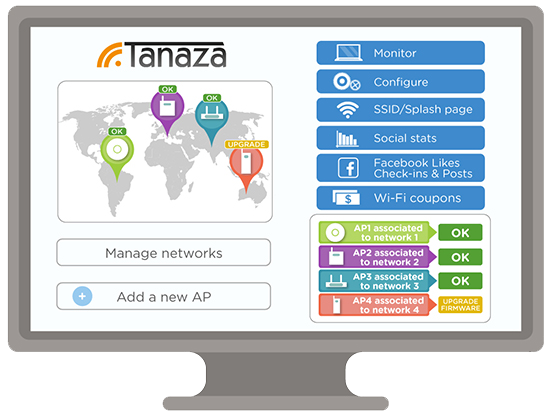 Try now the full set of Tanaza superpowers!
Start the 15-days, no-limits, all-in-one free trial:
Unlimited networks and APs
Unlimited connected clients and concurrent users
Unlimited splash pages
Full feature set
Access to the Social Dashboard for your customers