10 good reasons to choose the Social Login

Tanaza features a built-in captive portal that allows network managers to personalise the way WiFi users log to the network. In addition to the basic login modes (email, phone number, and password), Tanaza's captive portal enables the Social Login.
By choosing the social login, the owner of a venue gives the possibility to his visitors to access the internet through social media like Facebook, Instagram, Twitter, Linkedin etc.
In this article, we give you ten reasons to choose the social login rather than another login mode.
Tanaza allows multiple social logins such as Facebook, Instagram, Twitter, but also Linkedin, VKontakte, Google+ and Windows Live. Leave the choice to your WiFi users!
Faster registration
Nowadays, most of the people have a facebook, or an Instagram, or even a twitter account, on their mobile. This means that in just one click, the user access to the internet! No need to write their email address, or their phone number, or a long password…
Social login and social actions
By allowing the social login on your Tanaza splash page, you will have the option to request social actions such as a Like on your Facebook page or check-in in your venue. These two social actions are a good way to increase your visibility on the internet.
Data capture
Tanaza's captive portal allows data capture through social login. This means that every time someone logs to your WiFi network, you will be able to collect data such as name, surname, email address, age, gender, location and so on. For the network administrator, it is a great tool to drive marketing campaigns and target the right people.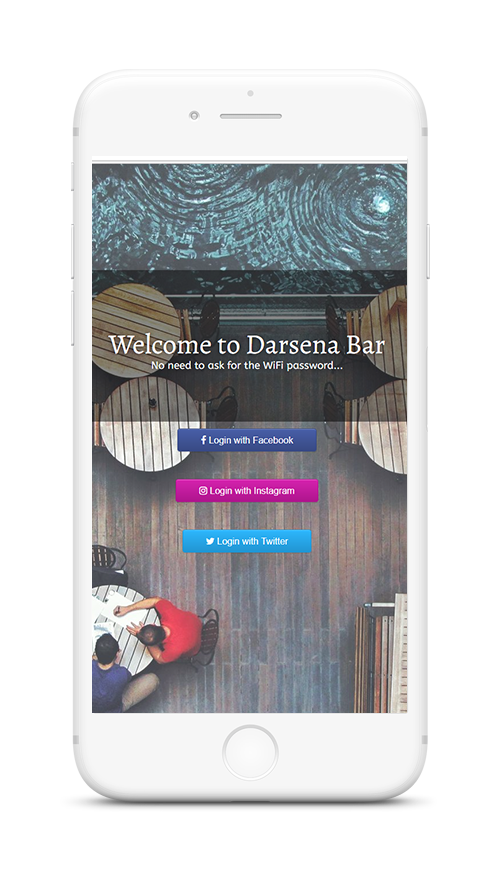 Easier registration
People have so many accounts and so many different passwords… the social login allows them to choose easily their favourite way to connect. This will also guarantee less failed logins.
True data collected
When users have to give data in exchange for internet access, they might be tempted to give false information. Social login guarantees you verified data such as the email. You will be able to structure your database with relevant information about the clientele.
Greater personalized experience
Thanks to the data capture, you will be able to personalize the client's experience directly in your venue or through offline marketing campaigns.
Easier login for mobile
Even though mobile screens are always bigger, it is not easy for people to fill out a registration form on their mobile. Thanks to the social login, you will have more mobile registrations, and so more data collected…
Strengthen relationship and promote your events
For example, when visitors log in through Facebook, they will be able to see your Facebook page. This way, they will get more information about your venue, your future events, your promotion and discount… even when they leave your place.
Visitors choose their favourite way to log in
Tanaza allows multiple social logins such as Facebook, Instagram, Twitter, but also Linkedin, VKontakte, Google+ and Windows Live. Leave the choice to your WiFi users!
Improve your marketing campaign
As previously said, social login allows a network administrator to gather data from its clientele. This data is a powerful insight to improve marketing campaign. Create personalised offers or events, send target email thanks to a better clients segmentation.