The Cisco Aironet 1240AG series is a wireless access point for offices that is secure, of high quality and reliable. It has enterprise class features that are being demanded for by WLAN customers. This device has been tailored for use in environments not usually thought of as a reliable wireless situation like factories, warehouses and larger retail establishments. It is a versatile and ruggedly constructed device with connected antennas and a broad range of temperatures it is able to operate in.
There are three versions available:
A  version that is lightweight
A version that is autonomous that is upgradeable to the lightweight version
A version with a single-band 802.11 for using in domains that will not allow 802.11a 5GHz operation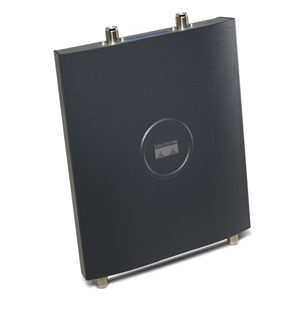 Wireless specifications
The device has dual radios for the 802.11a and 802.11g with a capacity up to 108Mbps and the antenna conductors will support a range of Cisco 2.4 and 5GHz antennas.
The memory is 32MB RAM with a 16MB flash memory. It draws 12.95 watts in power and it can operate in extreme temperature conditions from -20°C to +55°C.
The autonomous access points can function as an access point or as abridge in either dual or single band versions
The indoor range for the 802.11a is 54 Mbps at 26metres to 6Mbps at 100m
The indoor range for the 802.11g is 54Mbps at 32m to 1Mbps at 140m
The outdoor range of the 802.11a is 54Mbps at 30m to 6Mbps at 198m
The outdoor range for the 802.11g is 54Mbps at 34m to 1Mbps at 290m
High transmit power and receive sensitivity
Applications
The Cisco Aironet 1240AG device has been manufactured for it to withstand a range of temperatures with its rugged case and antenna connections. Its location is flexible as the antennas cover an extended range.
The access points can be placed in different locations such as between suspended ceilings with the antenna below the ceiling.
It is also able to be located in plenum areas as it has a municipal fire regulation code of UL 2043.
The device is also suitable for hotel locations due to antenna versatility that is able to cope with a wide range of RF challenges.
Security
The security in this system allows it to detect any spoofing from access points and any malicious users that are impersonating access point infrastructure.
The Cisco Aironet 1240AG series has the following security and encryption features:
WPA, WPA2
Cisco TKIP
Cisco message integrity check
IEEE 802.11 WEP keys of 40 and 128 bits
AES-CCMP encryption
EAP flexible authentication via secure tunnelling
Protected generic token card
PEAP Microsoft Challenge Authentication Protocol version 2
EAP Transport layer security
EAP Tunnelled TLS
EAP-SIM
Cisco LEAP
Configuration
Below is an example of the express start-up page that will configure your device to your set specifications. It also allows you to configure security and features in a step-by-step process.