The Champs-Elysées Committee, in partnership with JCDecaux's outdoor advertising, launched free public Wi-Fi all along the famous Parisian avenue, Champs-Elysées. 
The Champs-Elysées Committee, an association which takes care of preserving Champs-Elysées, together with JCDecaux, a french digital advertising company, enabled a free, high-speed Wi-Fi connection along the whole avenue. The project was accomplished with an assist from Ruckus Wireless who provided 58 access points, located in JCDecaux's outdoor advertising columns, and Hub One, a Wi-Fi service provider that deployed and managed the access points.  Furthermore, the new Wi-Fi hotspot provides an interactive map and a user-friendly interface for the customers.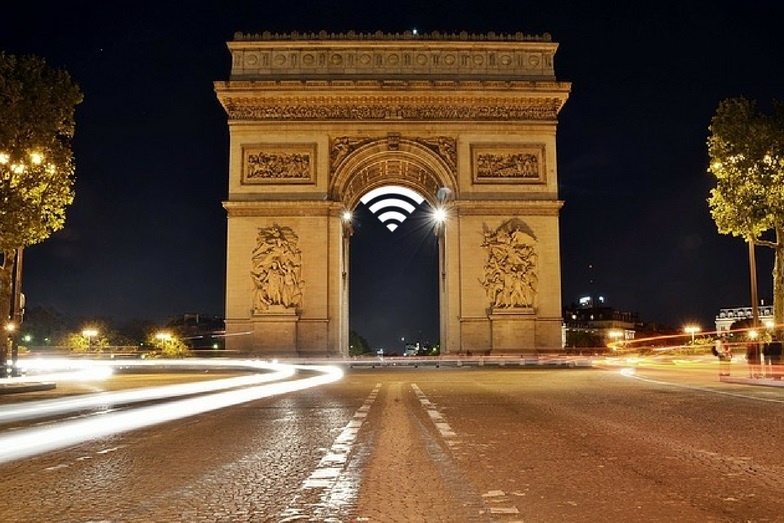 According to Jean-Noël Reinhardt, President of the Champs-Elysées Committee, having a high-speed connection on this avenue, will better serve and guide the visitors to Paris as the possibility for free web browsing will help tourists get involved in city events. Chairman of the Executive Board and Co-CEO of JCDecaux, Jean-Charles Decaux added that free Wi-Fi is the perfect technology for connecting people with services, and this project is a great opportunity to raise JCDecaux's prestige as a leading firm actively contributing to Smart City services.
The Wi-Fi SSID is called "_Champs-Elysees_freewifi" and delivers 30-120 Mbps to up to 35,000 concurrent users. It provides internet to 100 million visitors. Thanks to this free Wi-Fi service, tourists and Parisians alike can enjoy activities like browsing the web and social media, calling friends all over the world, checking flights, making hotel reservations and much more.
Related articles:
Update on LinkNYC's free public Wi-Fi
France will NOT ban public Wi-Fi
Montreal becomes smart through free public Wi-Fi hotspots
Free Wi-Fi access in the TGV trains in 2017