How to censor porn on public Wi-Fi

The development of free public Wi-Fi  is increasing worldwide, but an unintended consequence is spreading as well: some case studies show that the majority of users in India and the US watch porn while being connected.
Public Wi-Fi is quickly developing and a larger number of people are currently benefiting from it. Thus far, free Wi-Fi has been installed in 23 train stations throughout India by Google and RailTel, one of the main Indian internet providers. Google stated that every day 15,000 of the 3.5 million monthly RailTel Wi-Fi users are connecting for the first time from these stations.
However, according to a report carried out by IANS, the largest independent news service is India, it seems that people are taking advantage of free Wi-Fi especially to watch porn. A railway official reported that this phenomenon mainly occurs in Patna, the number one railway station in the country for free Wi-Fi.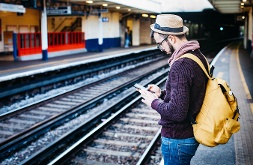 The inappropriate use of public Wi-Fi to browse pornography is also happening in cities like New York. According to the television broadcast company CBS New York, web browsing had to be censored at the LinkNYC free wifi kiosks spread around the city.
Despite these incidents, the process of providing free Wi-Fi in public areas is far from being limited. An example of this is  the latest project announced last September by Google. With its Google Stations project, the tech giant aims to expand free Wi-Fi in all public places in India and worldwide. Not only railway stations but also bus stops, malls, and coffe shops throughout India will be equipped with Google's Wi-Fi hotspots.
Allowing people to be connected in public areas has many upsides, but it is important for providers to limit the misuse of public Wi-Fi, such as porn consumption. A possible solution is for providers to restrict free web surfing by using web content filtering tools to block certain categories of websites, create blacklists and whitelists, and at the same time block phishing sites and reduce malware threats.
Tanaza provides a ready-to-use integration with external  DNS content filtering tools. Content filtering can be easily set up using any third party DNS content filtering tool on top of any Tanaza Powered infrastructure.