How to deploy an outside Wi-Fi network for camping

During holidays, campings are invaded by vacationers leaving the big cities to enjoy the sea or the mountains. During the last few years, comfort at camping places increased a lot, and now the biggest majority provide Wi-Fi for their hosts.
Wi-Fi is a good solution for campings to engage with guests and encourage them to come back for the next holidays.
The main challenge when deploying a network for camping venues is the weather. You have to think that your hardware needs to resist to the wind, sun, powder, and snow, while having antennas that can cover long distances and provide internet to lots of concurrent users.

The first step is to determine the needed bandwidth. We can reasonably think that the number of concurrent users is higher in the evenings than during the day  and that the level of usage is between medium and heavy (social networks, emails, VoIP calls and video streaming). So the first thing is to find an ISP or WISP able to provide sufficient bandwidth to your place, at a reasonable price.
After calculating the bandwidth, you need to think about the kind of hardware you want to use and how to maximise the signal's performances.
In a previous article about how to deploy Wi-Fi for summer events, we suggested you use outdoor access points like Ubiquiti ones and in particular the Nanostation, Picostation or the Rocket's series. We also recommend the EnGenius outdoor access points. The mentioned devices are outdoor access points that can be easily mounted on poles or trees.Most of them have directional antennas so that by positioning them, you can manage how the signal is spread around the area.
Additional antennas can be used  to maximise the WLAN performances they will increase the power of the access point. For example, you can use an antenna AMO-2G10 Ubiquiti together with an Ubiquiti Rocket M2 to make the Wi-Fi signal stronger in a specific area (for example, the open-air restaurant or the swimming pool).
Moreover, Tanaza allows you to keep an eye on each device's status and to control its configuration, from one single pane of glass. You will be able to remotely manage your Wi-Fi networks from the cloud and to receive alerts via email in case of disconnections, which is extremely important when deploying outdoor networks.
About the hotspot configuration, you can decide whether to protect the Wi-Fi access with a password or to create a login page and select one of the many authentication processes available. We suggest you to opt for the second proposition, because it's better from a marketing point of view. In fact, when creating a login page, you can advertise your products and services to your customers and increase their engagement. Select the social login (Facebook, Instagram and other social media authentication) or the email login to gather information and collect insights about customers. This data can be used then for marketing purposes, like creating a targeted newsletter campaign.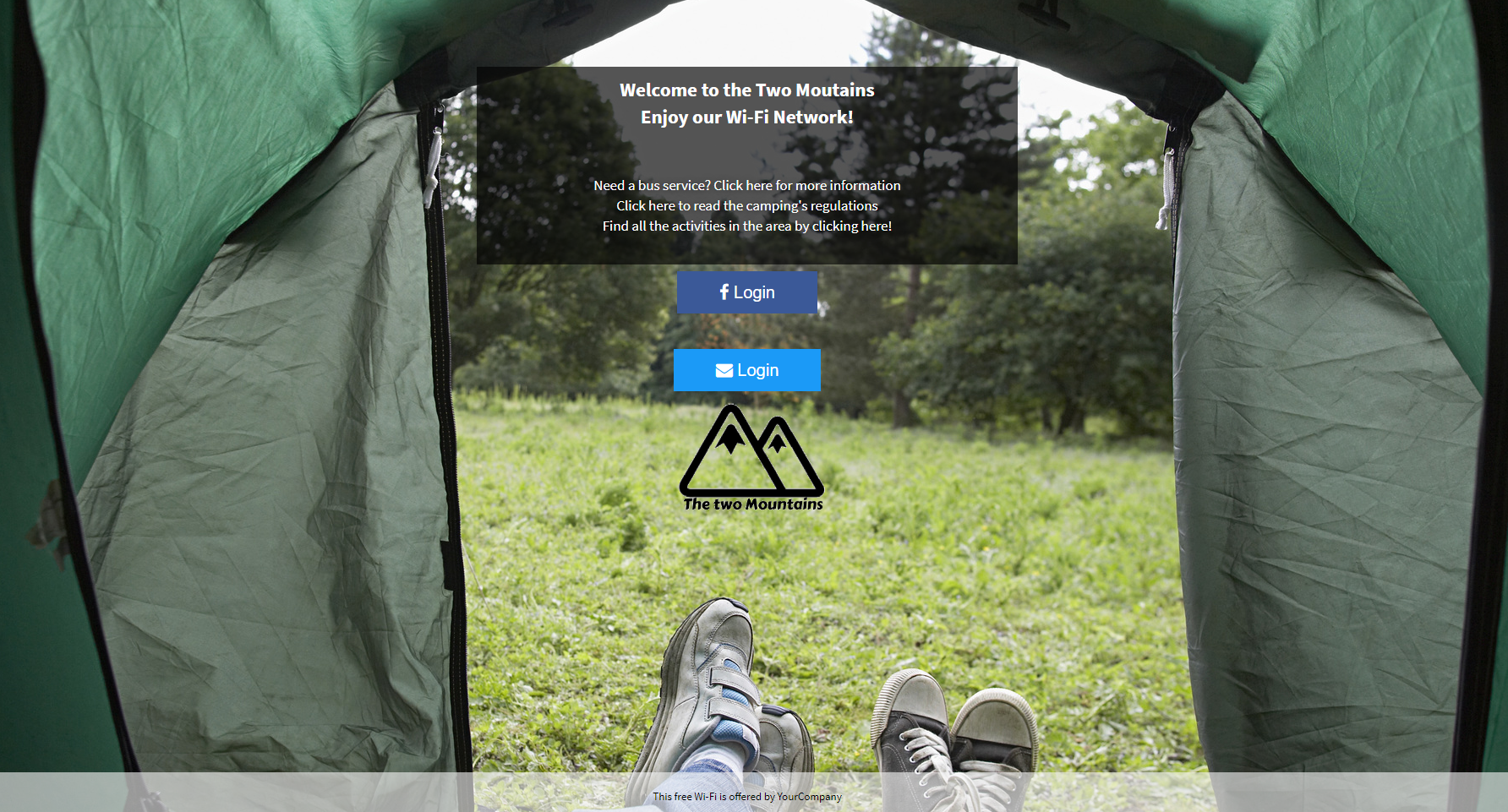 For example, encourage customers to book now their next holidays in your camping by offering a discount on your login page, promote activities nearby your camping.
Tanaza also features a content filtering tool to keep control on the Wi-Fi usage and block access to inappropriate websites like violence, pornography, betting, etc. This tool also blocks malware internet pages and guarantees safe browsing on the Wi-Fi network.
To conclude, deploying a Wi-Fi network within a camping implies to select the right hardware for the outdoor deployment, and to keep in mind the number of concurrent users and the coverage needs. A Wi-Fi network brings additional comfort to the camping's customers, but is also a marketing tool to boost their engagement and generate more revenues.