We are glad to host on our vendor-agnostic blog a third interpretation of this fantastic acquisition, by Bill Cannon, Vice President of Business Development at MCPc.
* * *
Cisco Systems bought Meraki Inc. for $1.2 billion. This for a company that had less than $100 million in annual sales. Did Cisco overpay? No, they made a critical acquisition that is going to have a major impact on how we work and live.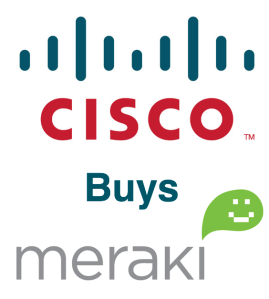 To understand the deal's impact you have to know a little history of the wireless industry. For more than one hundred years the federal government has been selling off chunks of the radio frequency spectrum. The first customers were, of course, radio stations. But, eventually, pieces of the spectrum were sold to television stations, cell phone companies, satellite providers and more. But there was an exception. It was determined, years ago, that the frequencies at 2.4GHz and 5GHz were useless, having no commercial application. So the government left them unlicensed. Anyone could broadcast at these frequencies, and the thought was that they would be used exclusively by amateur radio enthusiasts. But a funny thing happened. Bright people started thinking up commercial applications. One company, Telesystems SLW Inc., rapidly became the industry leader. This Canadian developer and supplier of wireless data communications products and local access networks (LANs) was the first company in the industry to receive the approval of both the U. S. Federal Communications Commission and Canada's Department of Communication for its spread spectrum radios. Telesystems was acquired in 1992 by Telxon, an Akron based supplier of hand-held barcode readers. Telxon renamed the company Aeronet and, in 1999, spun it off as a public company. Six weeks later, Cisco, wanting to make a move into the wireless industry, bought Aeronet. The age of broad acceptance for wireless networks had begun.
The products Aeronet brought to market were autonomous access points. Each AP was controlled individually. If you wanted to change channels or power settings, you consoled into the AP to do it. And in the early days that worked fine. But by 2005, autonomous wireless networks were becoming a victim of their own success. There were so many APs out there that management was becoming a nightmare. Enterprise organizations, such as hospitals, couldn't keep up with maintaining the WLAN, and a new breed of wireless companies sprang up. These companies pulled the intelligence from the APs and centralized it back on a controller. Now WLAN administrators could manage an entire network from a centralized point. Cisco responded to the changing market by acquiring Airespace, a leader in controller-based wireless networks. To this architecture Cisco has added many innovations. ClientLink, Clean Air, Unified Access and ISE are just a few of the enhancements coming out of their labs.
But, in the background, change was coming again to wireless. While controller-based architecture allowed centralization, it also added complexity. Now, besides understanding RF you also had to be a networking expert to maintain your systems. Organizations found themselves dedicating more and more resources to an ever-expanding WLAN. In many ways we have returned to our old problems. Innovation in wireless has brought increased proliferation, and expanding wireless networks have brought complexity. In 2006, three doctoral candidates from MIT had a different idea. What if complexity could be removed from the wireless network? Thus, before anyone was saying cloud they created a cloud solution for wireless. The idea was simple. Their company, Meraki, would do all of the management. There'd be no need for controllers. Customers could just install thin APs — access points with no built-in intelligence — and Meraki would take it from there. The idea resonated with customers and Meraki became an overnight success. Now they're part of Cisco, a company with the ability to scale the Meraki approach out over hundreds of thousands of APs. This is not to say that controller-based WLANs are going away anytime soon. They will be part of our infrastructure for the next several years. But soon, I think, you will see an increasing proliferation of cloud-based WLANs, and by 2015 they will become the norm.
What does it all mean to you? I can tell you what it means to me. I'm a traveler. I've been fortunate enough to have had experiences like spending days in the Amazon rainforest, spotting condors in the Andes, visiting a Berber camp in the lost city of Petra, hunting tigers from the back of an elephant in the jungles of Nepal and exploring tombs in the Valley of the Kings. But a few years ago I achieved a life goal of reaching the Base Camp of Mt. Everest. It was an arduous trip. Beijing to Xian to Chengdu to Lhasa and then two days in the back of a Land Cruiser getting to the base camp. It was worth it. Waking up in the morning to a cloud free view of the most magnificent mountain in the world is an experience I'll never forget. The downside was that I wasn't able to share it with my family. We were off the grid. In fact I was out of touch with them for a week.
The year after I made it to the base camp, Cisco installed a wireless network there. If I went back now, I'd be able to Facetime with my family on an iPad. They could see what I was seeing. But I still couldn't share the journey with them. I couldn't show them the ancient Buddhist monastery at Shigatse or the Potala Palace in Lhasa. I couldn't share adventures like being detained by Chinese authorities on suspicion of something or other or almost sliding off a 3000 foot cliff in the Himalayas because our driver wanted to save gas by not using 4-wheel drive. OK, maybe some things are best left unshared but you get the point.
Over the next couple of years that's going to change. You are accustomed to having a wireless client device in your laptop, tablet and phone. Now you're going to start seeing these devices and many others, including cars, becoming access points that can connect, via satellite, from anywhere in the world. There will be no more remote places. From the jungles of Borneo to the Arctic Sea the Internet will always be on.
About a year ago, MCPc introduced a concept called the anyplace workspace®. It isn't about a device or protocol –- it's about how we live and work. We saw then the rise of cloud architectures for both wired and wireless networks. There are many more changes coming that we can't foresee, but the anyplace workspace will be ready for them because it focuses on the end result of a simplified, connected, freer work life rather than specific solutions. Your anyplace workspace may be a ski mountain in Colorado or a beach in Mexico. As for me, I've got my eye on a trip to Patagonia next year. Maybe we can Facetime while I'm there.
* * *
Bill's original article can be found here.