As a result of the increasing demand for Wi-Fi, Revolution Wi-Fi provides the Capacity Planner tool for network administrators to successfully determine the best design for their network.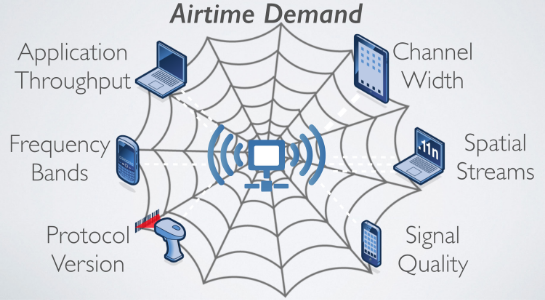 Since Wi-Fi can be an incredibly complex technology, having the right tool to help you deploy a successful Wi-Fi network can be essential. Revolution Wi-Fi's Capacity Planner can help network administrators predict the best design for their network based on the number of APs, client device types, channel width, client mix and applications on-the-fly currently being used (as seen in the image). The capacity planner is a spreadsheet-based tool with customizable worksheets that can help network admins optimize their network performance design from a signal strength level, based on their network infrastructures and design goals.
By following a simple process this Capacity Planner application, together with the RF planning tools, allow the administrator to design network that meets coverage and capacity requirements. The revolution Wi-Fi Capacity Planner tool forecasts WLAN capacity using multiple approaches, such as client airtime demand, association count, and maximum devices per-radio.
With the Capacity Planner for predictive WLAN design, the admin also has access to the detailed capacity results and breakdown and is trained on how best to scope his project, plan RFP proposals, analyze 'What-If' scenarios, and proceed to create a bill of materials (BOM). The secret to deploying a network succesfully as a network administrator is, not only to understand the network's environment, but also to understand what infrastructure its being configured for.
Image source: http://bit.ly/192qaLx
Related articles:
Real-time client statistics for your Wi-Fi network
How to pick the right channel for your WiFi network
Cloud Wi-Fi Could Become Key for Network Management