Connect with the Speed and accuracy of an Ubiquiti Bullet 2
The Ubiquiti Bullet 2 is a weatherproof WLAN radio system, developed by Ubiquiti Networks. It is rod-shaped and designed for simple and fast networking within the 2.4GHz WLAN-bandwidth.  The Bullet 2 is super small, but a powerful option for 100Mbps+ of REAL TCP/IP throughput over outdoor multi-km links that will make your wireless network a very stable environment.

Zero-Variable Wireless Infrastructure Deployment:
No radio card / host board issues
No RF cable quality concerns
No mechanical stability concerns
No enclosure mounting requirement

 
Just Plug and Go! Bullet ships standard with the powerful and intuitive AirOS by Ubiquiti Networks. It also is supported by a Linux SDK to encourage open source development.  The HP version of the Bullet 2 has over 33% higher power output than the standard model!
Specifications:  The Bullet 2 has an Atheros MIPS 4KC, 180MHz processor with 16MB SDRAM, 4MB Flash memory and 1 X 10/100 BASE-TX (Cat. 5, RJ-45) Ethernet Networking Interface.
| | |
| --- | --- |
| TX Power: | Max. 20dBm, +/-1dB |
| RX Sensitivity: | Min. -95dBm +/-1dB |
| | |
| Antenna: | N-Plug (male) for external antenna |
| Max Power Consumption: | Max. 4 Watts |
| Power Supply: | Recommend 12V, 1A (12 Watts), up to 24V possible |
| Power Method: | Passive Power over Ethernet (pairs 4,5+; 7,8 return) |
| Operating Temperature: | -20°C to +70°C |
It has an outdoor range of over 50 kilometers (antennae dependant).  The Bullet features a signal strength LED meter for antenna alignment, a low-loss integrated N-type RF connector, and a quick and robust weatherproof design.
Device Management:  Device Management is accomplished utilizing airOS.  AirOS is an advanced operating system that is capable of powerful wireless and routing features. AirOS is built upon a simple and intuitive user interface. AirOS allows you to maximize the performance of your Bullet 2.  To access the interface screen:
Launch your Web browser and type http://192.168.1.1 in the address field and press enter (PC) or return (Mac).
The login screen will appear. Enter ubnt in the Username and Password fields and click Login.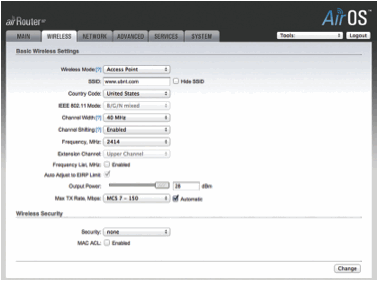 There are six tabs for use and proper management of airOS.  They are Main, Wireless, Network, Advanced, Services and System.
Wireless Security:  AirOS supports the following wireless security methods:
None (an open network without any security)
WEP (Wired Equivalent Privacy)
WPA (WiFi Protected Access)
WPA-TKIP (WiFi Protected Access) (Temporal Key Integrity Protocol)
WPA-AES (WiFi Protected Access) (Advanced Encryption Standard)
WPA2 (WiFi Protected Access 2)
WPA2-TKIP (WiFi Protected Access 2) (Temporal Key Integrity Protocol)
WPA2-AES (WiFi Protected Access 2) (Advanced Encryption Standard)
Device Operation Modes:  Access Point, Bridge, Client, WDS and Router.
Package Contents:
Ubiquiti Bullet2 (device)
AirOs Firmware
Attention: There is no power supply in the delivery content, this must be ordered separately. For example the Ubiquiti PoE-15.
Configuring the Access Point:
Follow steps 1 and 2 above under Device Management and then select the Wireless Tab.
The Wireless tab contains everything needed by the operator to set up the wireless part of the link. This includes device wireless mode, SSID, country settings, channel and frequency settings, data rates, and wireless security.
Cloud management and remote monitoring
Uniquiti Bullet 2 can be cloud managed thorugh Tanaza, thanks to a single centralized dashboard. Click here to know more.