Virgin America Airlines and Netflix partner to offer 'next generation entertainment' on board 10 VA Airbus A320 Aircrafts. As part of their in-flight entertainment, flyers can access high-speed WiFi, and have unlimited access to the entire Netflix catalogue through their personal devices.
Virgin America, known for its trendy lighting and expansive entertainment options, is the first airline to have partnered with Netflix to provide 'next generation entertainment' in-flight. This latest on board perk will allow user's to freely stream Netflix, and have unlimited access to the entire catalogue through their personal devices.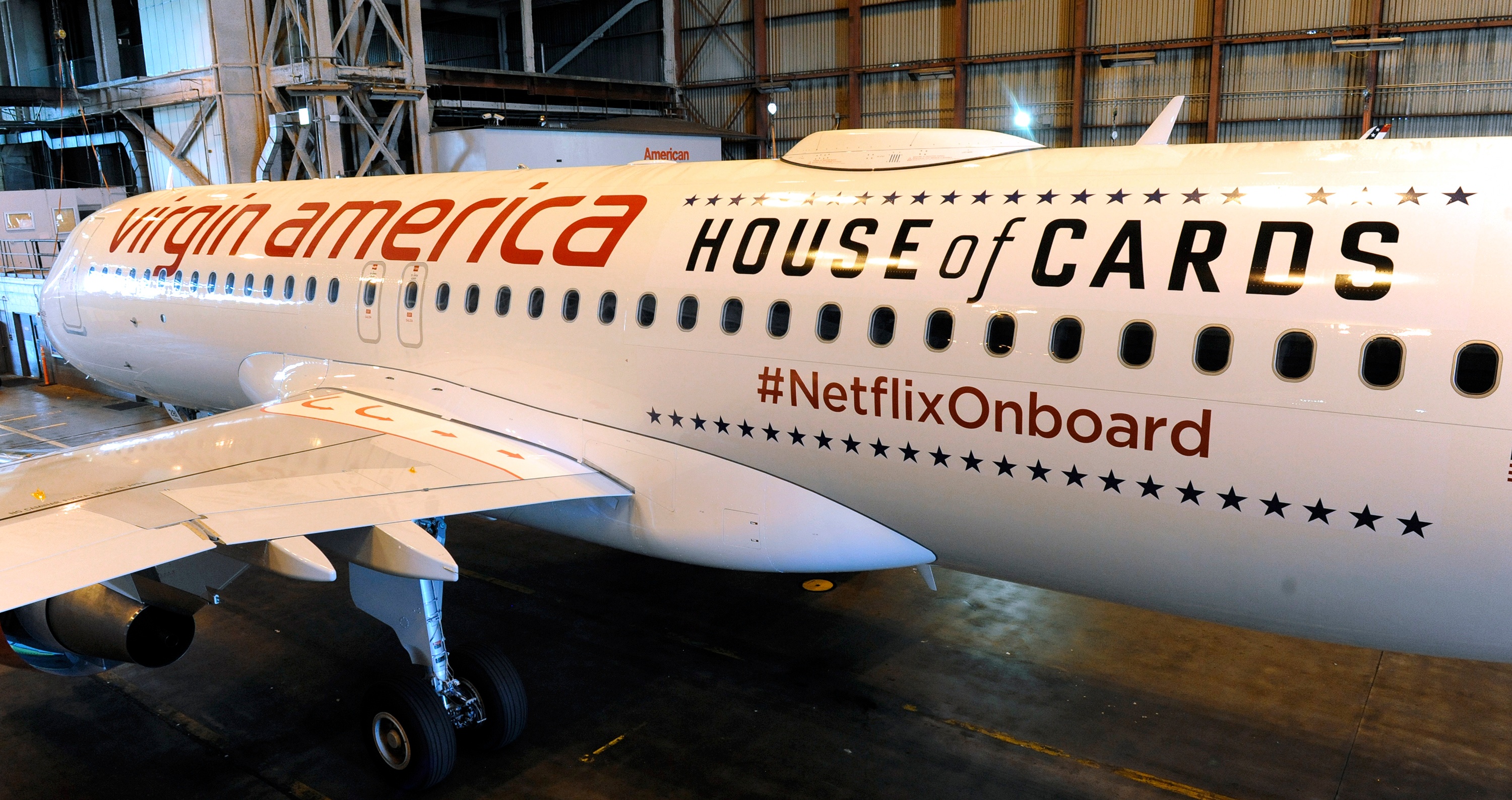 Starting September 2015, VA has installed satellite-based in-flight WiFi Internet provided by ViaSat and it can now offer WiFi upgrades, that allow for free Netflix streaming, on 10 of their new Airbus A320 aircrafts. For Netflix, this partnership is largely a branding initiative, starting with the 'House of Cards' emblazonment on the side of Virgin America and its #netflixonboard social media trend initiative. Passengers will also be prompted to log onto their existing Netflix accounts or sign up for the standard trial to gain access free of charge when they open a browser to connect to the airline's WiFi network. While this recent partnership is a great tactic for Netflix to grab the attention of consumers and also gain new subscribers, it is also an opportunity for Virgin America, who has been offering WiFi onboard their flights since 2009 through the Gogo Inflight network, to showcase their upgraded WiFi connection.

Virgin America's goal is to provide quality WiFi service to their customers and to achieve this they are facilitating consumer's binge-watching mania. The unlimited access to the entire Netflix catalog of movies and shows on the new ViaSat Wifi will be available until march 2nd, 2016, after which Internet fees will apply. "We are delighted to extend the joy of Netflix to our members at 35,000 feet," said Bill holmes, Virgin America's global head of business development. "For us, the future of streaming technology is about delivering an on-demand service that takes advantage of the expansion of Wi-Fi to public places, parks, and now airplanes."
This tactic was also put to the test earlier this year when Amazon announced a similar partnership with Jet Blue. Amazon Prime members were given free unlimited access to high-speed Wi-Fi, normally costing customers 9 dollars per hour, that allowed video streaming of the HD movie catalog on Amazon.
Related articles
In-flight Wi-Fi: Emirates, Norwegian Airlines, Delta, Virgin, Gogo
Lufthansa trials Deutsche Telekom & Inmarsat's in-flight 4G network
Ryanair will test movie streaming and WiFi on its flights