Tanaza Dashboard
The most powerful engagement tool ever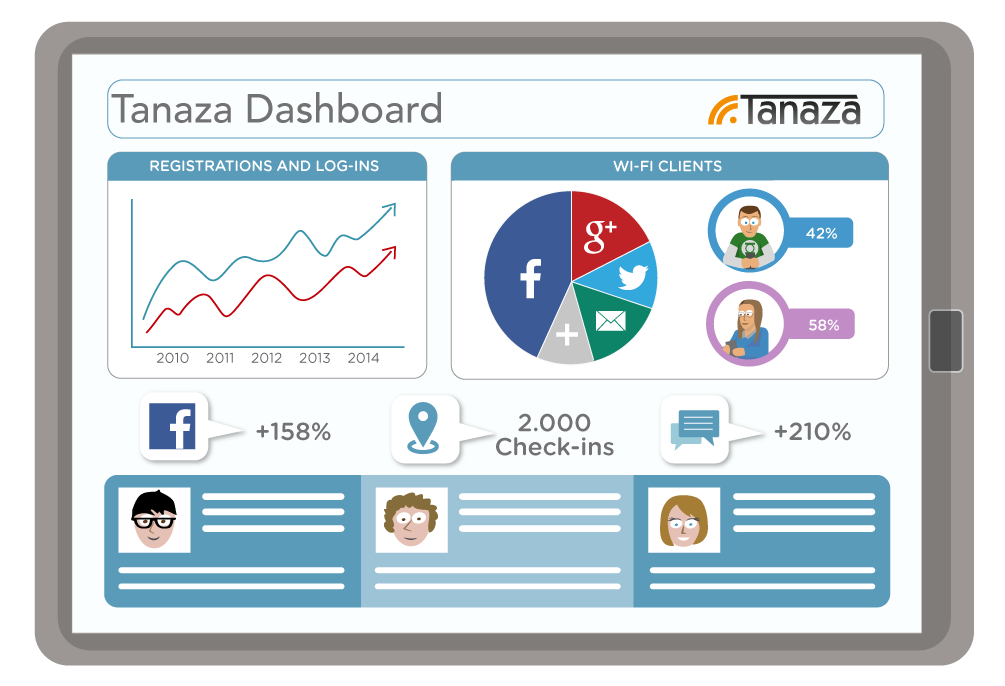 The Public Wi-Fi added value: data
Your customers want to see concrete results, a significant number or new registrations and returning users, happy and engaged customers.
The Tanaza Dashboard is the analytics tool that shows data captured through Wi-Fi. The Dashboard was designed by Tanaza to allow companies to analyze data and insights with a nice graphic interface, without being given permission to change Wi-Fi configurations.
The Tanaza Dashboard for Analytics
The social dashboard has a very user-friendly interface and makes Wi-Fi analytics very easy.
The user selects a time period (day/week/month/custom date range), then he sees both detailed and summarized data of his Wi-Fi hotspot.
Data can be exported via CSV (included in the Social Dashboard) or through API.
Summarized data
---
Top 5 users
New registrations (unique users)
Returning users
Trends of the week/the month/the year
Number of users that used a specific social network to login: trend, single day stats
Facebook check-ins
Gender and age
Location: world map or single country stats
Per user data
---
Name and surname
Age and birth date
E-mail address
Phone number (verified with SMS token)
Social network chosen to log in
Location
Number of connections to the Wi-Fi network
Date the user registered on
AP name and SSID used to connect
MAC address of the AP
IP Address and MAC address of the client
Advanced filters
---
Make simple and complex queries in the Social Dashboard and save your list of contacts in CSV or XLSX. Filters include:
Age or age range
Gender
Location (city and country)
Login flow
Date of registration
SSID