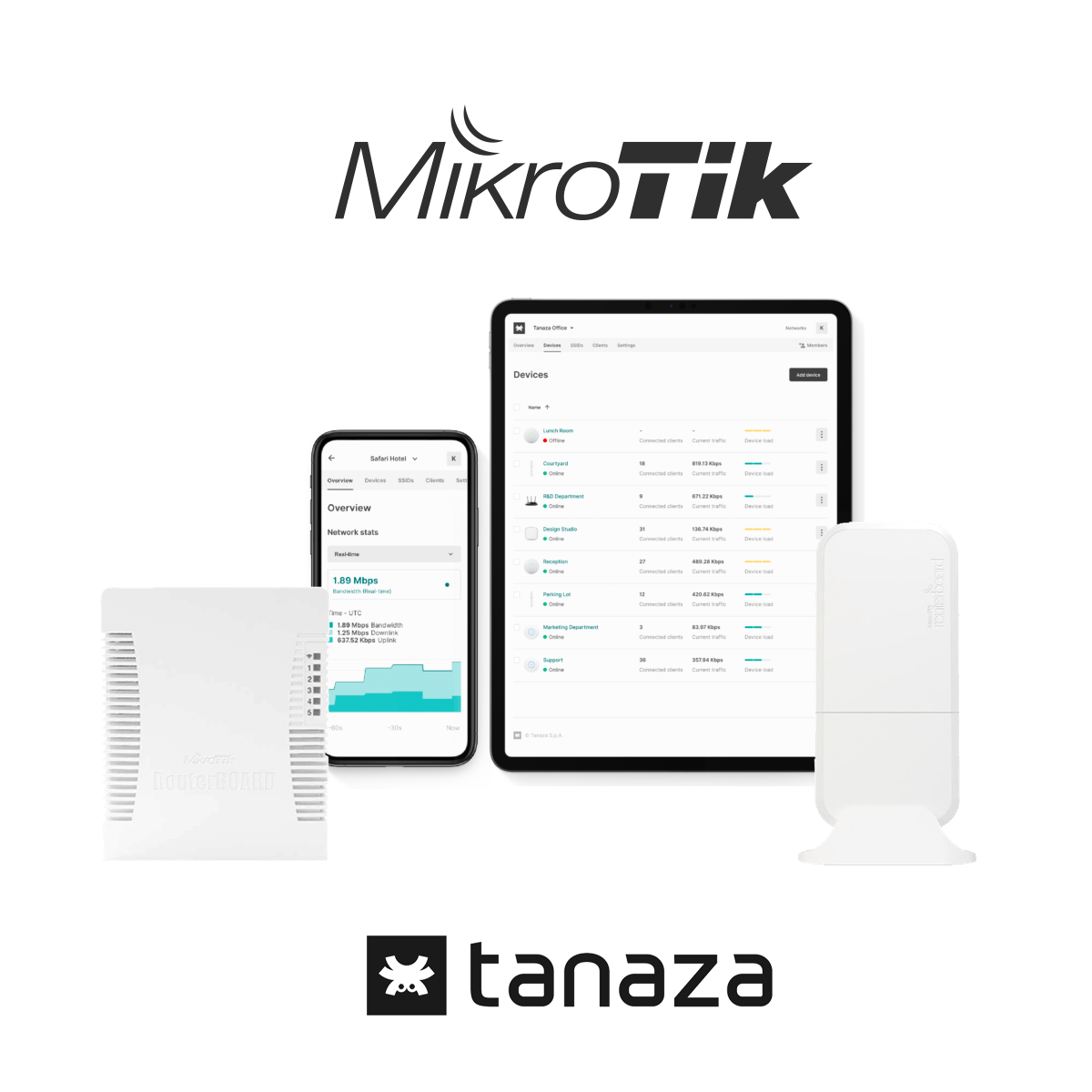 Manage MikroTik devices with Tanaza – Mikrotik Cloud Management
Do you need a Mikrotik cloud management platform?
Are you a MikroTik user?
Are you looking for an easy solution to manage your deployments and control devices remotely from the cloud?
You are in the right place then; keep reading the article to find out more about the most innovative alternative to manage your networks effortlessly.
MikroTik devices are incredibly flexible. They allow users to customize almost everything, but they also require a high level of technical skills to be correctly set. This sometimes results in quite complex configuration and management procedures.
The MikroTik management software, the Dude, allows you to customize a lot, but it can be hard to use if you're not an expert. It doesn't allow you to control everything from a single dashboard and to make changes quickly when you need to. On the soft side, the interface might not be that user-friendly at all.
However, Tanaza is the ideal solution to manage your MikroTik devices, mix and match other hardware vendors while still working everything from a single pane.
Mikrotik cloud management from a single platform
Tanaza is a WiFi cloud management platform for IT professionals to manage and operate remotely WiFi access points and networks. The Tanaza platform allows MikroTik users to quickly install, configure and monitor their access points via the cloud through an intuitive web interface accessible from computers, tablets, and mobile.
MikroTik users can install the TanazaOS firmware on their devices and cloud-managed them from a centralized dashboard. The advantage of Tanaza is that users can deploy unlimited networks seamlessly with zero-touch provisioning on the Tanaza platform in a few clicks.
Furthermore, Tanaza's vendor-agnostic capabilities allow users to mix and match access point brands. The platform works with the most popular networking brands like Ubiquiti, Mikrotik, TP-Link, and LigoWave. Thanks to partnerships with Hardware Manufacturers, users can buy selected Enterprise access points from Comfast, Amer Networks, Intelbras, and DCN, which comes with the Tanaza Operating System pre-installed, for a "plug&play" experience. With this high-performing line of devices, users can reduce the total cost of ownership by 80% compared to commercial enterprise devices.
Centralized network management for MikroTik users
Tanaza is ideal if you need a cloud-based system that lets you control remotely every aspect of your device configuration and network deployment, particularly when you need to deploy multiple access points in different locations from multi-vendors.
The Tanaza platform offers different features to facilitate the configuration and installation of small and medium to large and complex WiFi networks:
The Tanaza platform offers an intuitive and user-friendly interface: the deployment, configuration, and remote monitoring of WiFi networks become very easy and immediate, with no need for particular skills.
Centralized configuration of MikroTik access points
Users can increase efficiency with Tanaza by configuring, managing, and monitoring multiple organizations and networks, access points, SSIDs, and client devices from a single platform.
Tanaza lets users set the basic configurations of the network applied by default to all the same network access points. This feature ensures an issue-free, fast and easy provisioning of new access points, ideal for large-scale network deployments.
Additionally, in case of disconnection of an access point, the system will automatically restore the WiFi access point's last working settings to avoid disruptions in the network.
It's possible to monitor WiFi networks and control access points remotely. Tanaza enables users to monitor the WiFi network's performance indicators thanks to real-time statistics at the WiFi network and access point level.
You can control how many client devices are currently associated with an SSID and how much bandwidth they are consuming. Also, you can identify possible bottlenecks in bandwidth demand and oversee the access points' health status, mainly if the number of connections requested increases. Furthermore, with Tanaza, you can reboot WiFi access points at a specific hour and weekday or schedule WiFi network maintenance to minimize downtime and load peaks after a long uptime.
Tanaza represents the best alternative to the on-premises and hybrid-cloud deployments because there's no need for physical hardware controllers. It relies its cloud platform on the Amazon Web Services (AWS), guaranteeing the market's highest security levels while running on a robust cloud infrastructure.
Tanaza takes care of many operations, including server maintenance, backup, security patches, and fixes, to ensure the system's high availability for minimum downtime and productivity losses.
Network administrators can set the network's basic configurations applied by default to all the cloud-managed access points in that network remotely. Thanks to the zero-touch feature, access points can be sent pre-configured to the customer's site for installation.
Also, it is possible to reconfigure access points without rebooting them or restarting the services, all from the Tanaza dashboard.
Tanaza offers multi-tenant and role-based administration capabilities for Mikrotik cloud management. Tenants can monitor and manage multiple organizations and networks of access points based on their permission levels.
The role-based administration feature reduces the risk of malicious configuration and isolates other collaborators' parts of the network. Tanaza's multi-tenant structure allows an unlimited number of administrators and offers greater scalability and flexibility when managing multiple WiFi network deployments of hundreds of access points.
Tanaza keeps building its marketplace to offer a vast wide range of third-party software applications users can integrate with the platform for added-value services. You can enable any application at no extra cost.
The Tanaza platform integrates with the Classic Hotspot management system and Cloud4Wi to manage and monitor the guest WiFi experience and enable any captive portal on top of the platform.
Moreover, if you are a Service Provider deploying large networks in emerging countries, Express WiFi is ideal for generating revenues over WiFi. Tanaza is an Express WiFi Technology Partner. Therefore, the Tanaza WiFi cloud management software integrates seamlessly with the Express WiFi platform to enable Service Providers to use a fully integrated solution to manage their network deployments coupled with the best-in-class monetization tools offered by Express WiFi by Facebook. Learn more about Express WiFi to generate revenues over WiFi.