Update Tanaza's Firmware on Wireless Access Points
Press play to listen to the article.
Keeping the Tanaza firmware update on your WiFi Access Points has never been so important, and here's why!
In today's digital age, to run optimal WiFi networks, MSPs need to keep their WiFi devices updated with the latest firmware version to ensure excellent network performance.
In networking terms, the firmware is the software embedded into an access point, switch, controller, or router, which allows controlling the device. As a result, all the operating devices within a network should always be updated with the latest firmware. Consequently, these updates provide the devices with instant functionality improvements, which enhance the overall user experience.
What are the benefits of a firmware update on WIFi devices?
Continuously, Tanaza rolls out enhanced new features in the TanazaOS operating system to improve the platform. Users can enjoy these new features only after updating their firmware with the latest TanazaOS version available. Therefore, to achieve maximum efficiency with the Tanaza platform, we recommend our customers to keep their access points firmware updated. 
Tanaza firmware updates also protect your access points from vulnerabilities with our security patches, driving security and stability within your WiFi networks. Further, the firmware update allows the TanazaOS system to be more efficient, which leads to an increase in performance and speed.
Update the Tanaza firmware efficiently in no time
Manually logging into each access point to update all your network devices with the latest firmware is a time-consuming task. To prevent this scenario, Tanaza has created an enhanced version of this feature, which allows users to apply Tanaza firmware updates on their access points, remotely and at a network or organization level. 
Users can update some or all the devices within multiple networks or in inventory at the same time. Then, users can select which access points or networks would like to update with the latest firmware version. Afterwards, the update can be executed in bulk in just one-click. 
As a result, users can save time by updating multiple devices at once. More importantly, users can avoid onsite travels as the firmware update can be done remotely, kind of crucial these days given the current situation. 
Lastly, to provide users with an extra layer of security, the new Tanaza firmware update can be downloaded from our servers through a secure connection. If you would like to learn more about how to execute a firmware update in multiple devices powered by Tanaza, read this article "TanazaOS update."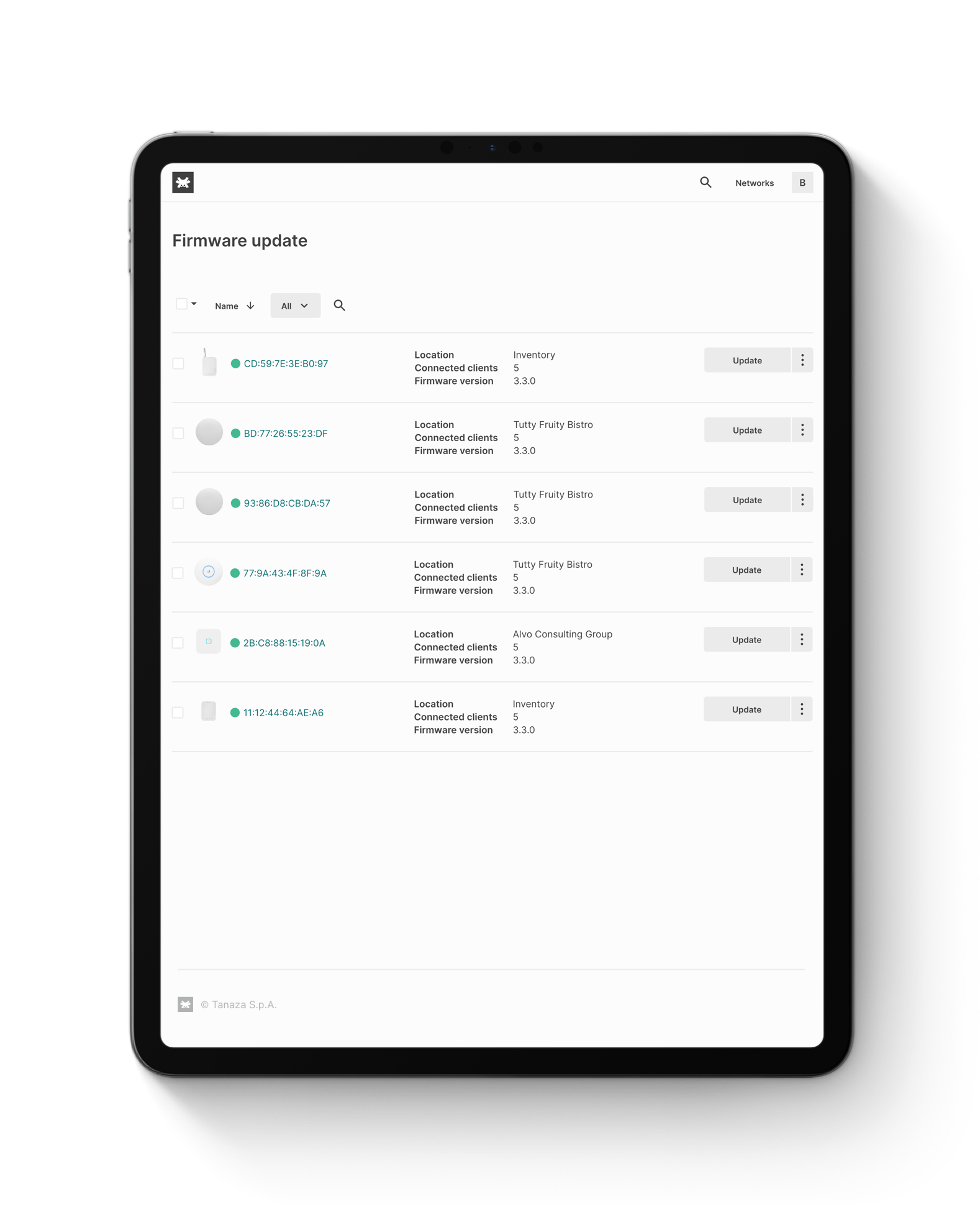 Where to find the latest Tanaza firmware?
Users can browse the available firmware version in the 'Firmware Update' page available on Tanaza's account user menu. We recommend users to install the firmware update as soon as it's released. 
Don't wait too long to start enjoying new enhanced features with each Tanaza firmware update.
Now would be a good idea also to check Tanaza's blog. We always communicate the latest firmware and feature releases of our platform in our blog. Also, users can read relevant content that can help maximize WiFi network performance and manage network deployments more efficiently.
Why is it so important to update the Tanaza firmware?
Firmware updates play a vital role in the functionality of your access points. After updating the firmware, the user experience is similar to a new product. It does not only enhance your experience with the Tanaza platform and your network's performance, but it also protects your access points from vulnerabilities and fixes existing bugs.
Still not using the Tanaza WiFi cloud management software?
Discover the Tanaza platform's features in a short personalized demo with one of our experts. Experience the Tanaza platform and learn more about all the features that will allow you to manage WiFi networks like a champ.
Book your Guided Demo today!
This guided demo will help you understand how to use the different features the Tanaza platform offers. Speak directly with one of our experts.
✔︎ No credit card required ✔︎ 15-day free trial