World WiFi Day 2022 – 20th June 2022
20th June, Tanaza celebrates World WiFi Day 2022. The global event is organized every year by Wireless Broadband Alliance under the leadership of Connected Community Forum (CCF). This recurrent event of the networking industry aims to encourage not only cities and government parties but also operators, service providers, MSPs, ISPs, tech vendors, and internet dealers, to come together to deliver connectivity to everyone, everywhere.
"Let's bridge the Digital Divide"
Wireless Broadband Alliance
Every 20th of June, the world celebrates the phenomenal role that Wi-Fi plays in our life by connecting people & things.
World WiFi Day 2022 celebrates innovations and new projects that help bridge the digital divide worldwide. The goal is to improve consumer access in broadband-deprived areas in both developed and developing countries. Although the number of urban unconnected is highest in the Middle East and the Asia Pacific regions, connectivity remains an essential concern in Europe and North America as well. The need for urban connectivity can be due to several technological issues, often discussed by local and national political entities.
Data and facts about WIFi in 2022
The global economic value of WiFi is estimated to be $3.5 trillion in 2022 and that there are more than 18 billion Wi-Fi devices currently in use today.
And this is not the limit. New access to the 6 GHz band, additional unlicensed spectrum and the arrival of WiFi6, WiFi6E and soon of the revolutionary WiFi7 will allow a further growth for the economic value of wireless technology.
We suggest to read our guide for MSPs, ISPs and SPs, about the future of WiFi.

Facts About Wi-Fi Impacts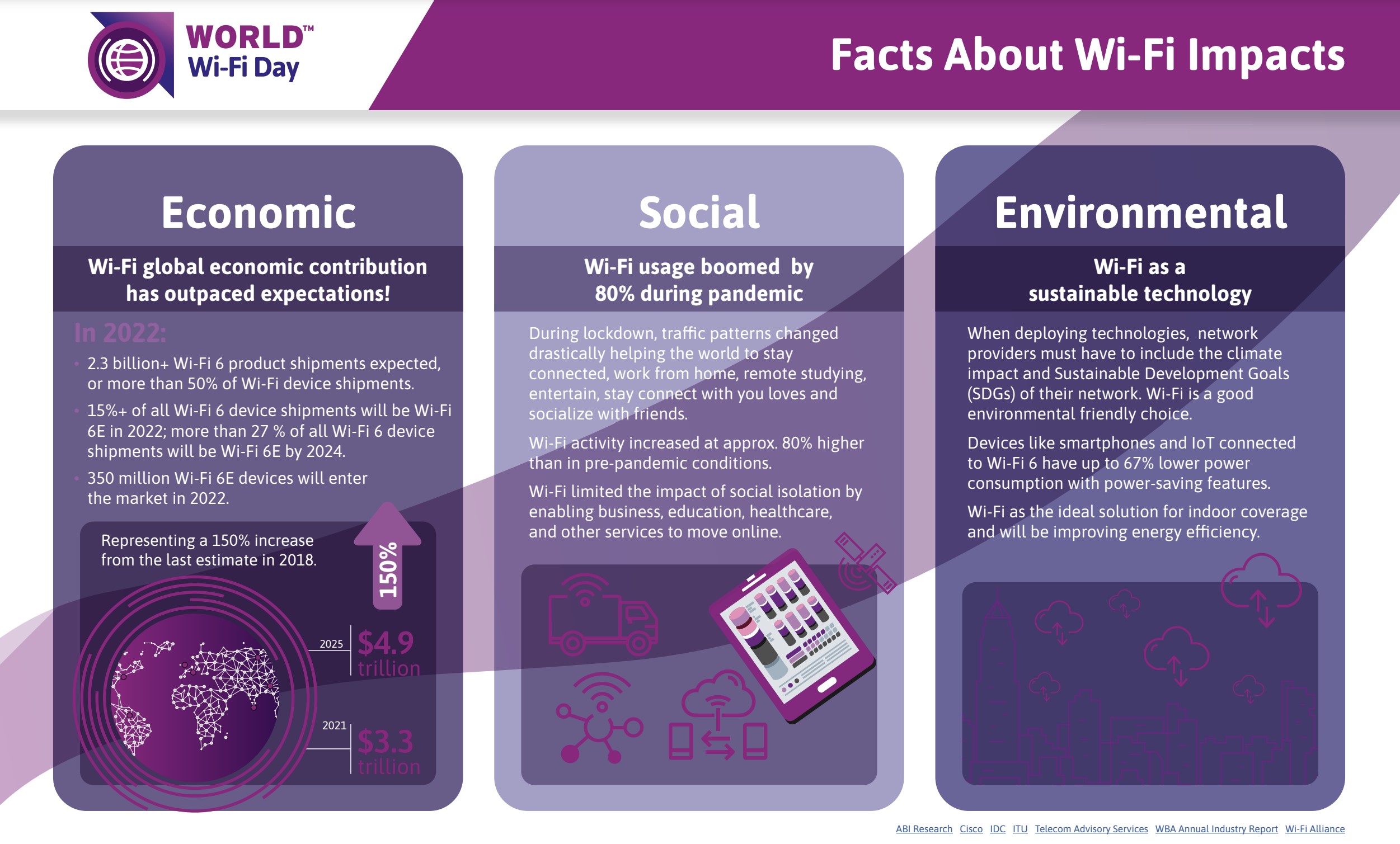 Digital Divide – Key Facts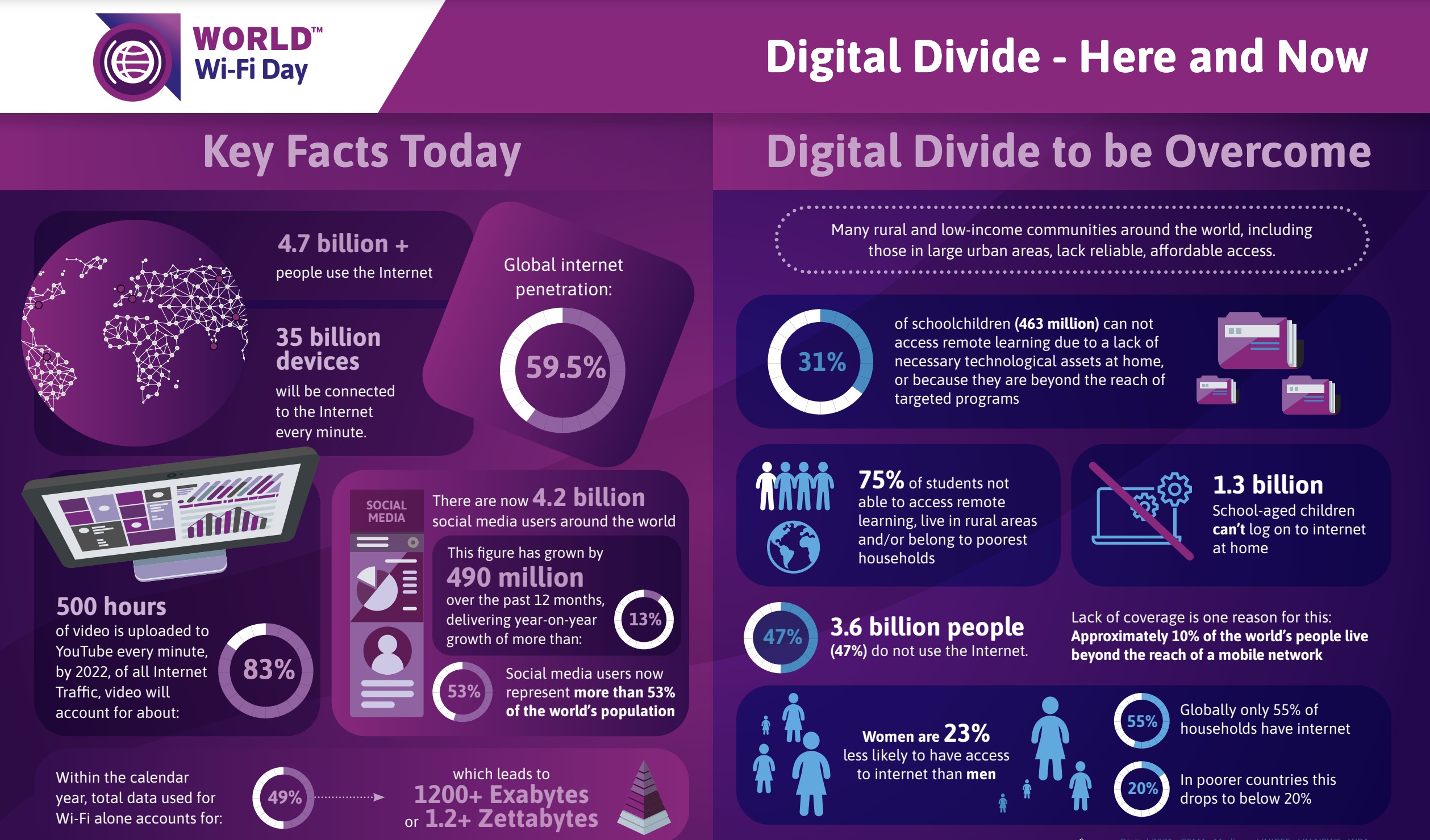 Why do we support World WiFi Day every year
Tanaza supports the initiatives aimed at disrupting the WiFi market since the beginning. Our mission is to increase the availability, affordability, and awareness of high-quality internet access to make Wi-Fi more accessible. Tanaza creates value by freeing operators from locked-in vertical solutions that impose a software and hardware bundle.
Tanaza leverages the software and hardware disaggregation paradigm, allowing users to upgrade to TanazaOS multiple devices from different vendors. We believe that today's market is a breeding ground for the disaggregation of software and hardware to be shared also in the WiFi networking market.
Tanaza is continuously committed, through projects and partnerships, to transforming hardware and software unbundling in WiFi into reality.
Tanaza strives to provide high-quality network services to underserved areas that have not had access due to a lack of infrastructure or high costs. Tanaza is a member of the Telecom Infra Project (TIP), a collaborative community among telecom companies that work to improve the infrastructure behind global connectivity. From 2019, it continues to contribute to the project, to accelerate innovation in telecommunication networks, through standardized, open-source, and disaggregated network solutions. In particular, Tanaza launched the Open Wi-Fi System project, giving proof of the compatibility of the Wi-Fi management cloud platform with TIP's open-AP stack software, including the OpenSync™ open-source framework.
In 2020, Tanaza joined Facebook Connectivity's Express Wi-Fi Technology Partner Program, which facilitates network equipment operators to produce network hardware and software that is compatible with Express Wi-Fi by Facebook. This project is part of Facebook Connectivity, a collection of programs, technologies, and partnerships designed to increase the availability, affordability, and awareness of high-quality internet access. Program members are currently collaborating to connect underserved communities around the world and bring more people online to faster internet access.
Over the years, Tanaza has won numerous awards, both general and sectoral (including IDC Innovator; Wi-Fi Now Best Enterprise Software; Seal of Excellence of the European Commission, Capterra Shortlist Emerging Favorite 2022, Software Advice Frontrunners 2022, Software Advice Frontrunners 2022), and has received funding under the Horizon2020 project for the TanazaOS project.