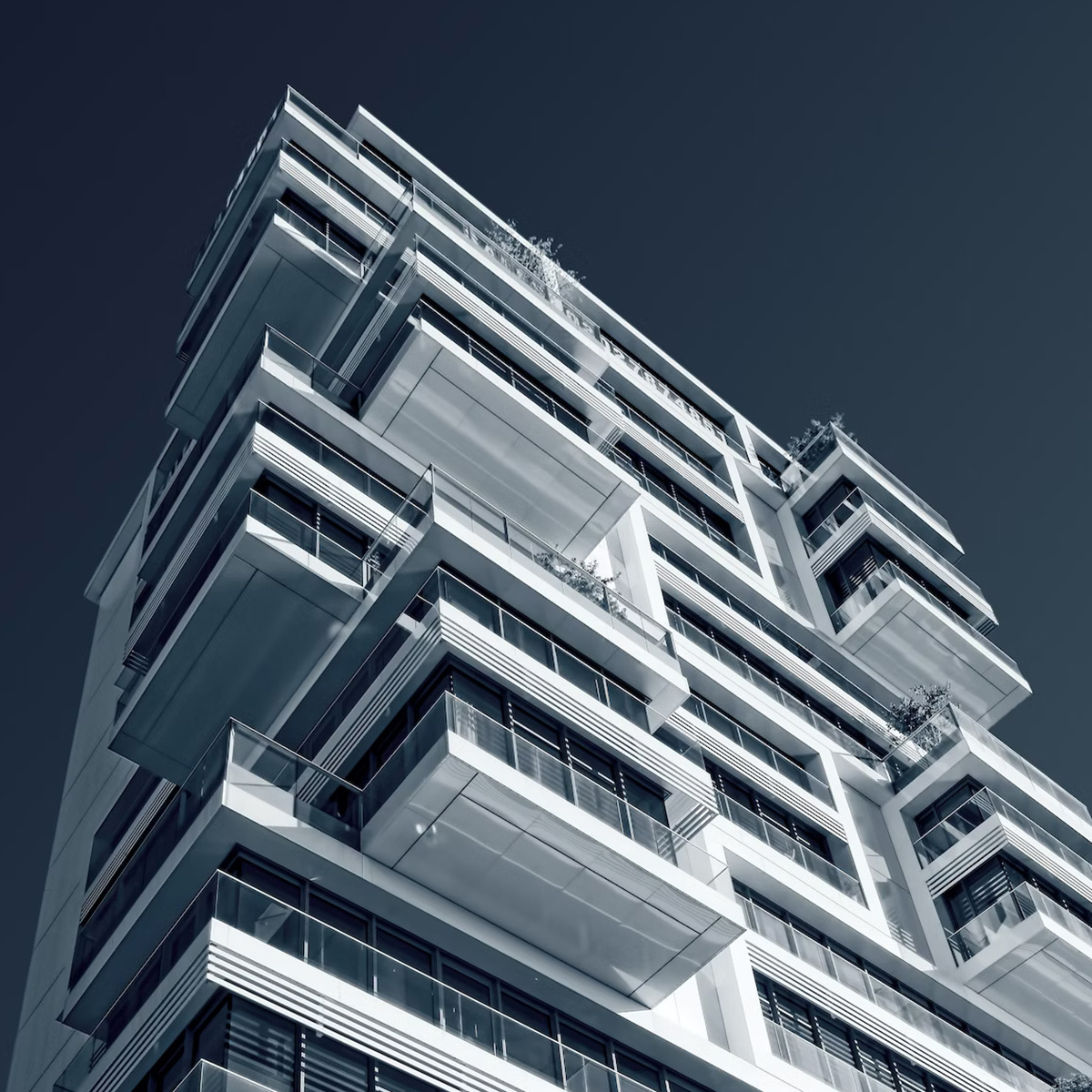 How to troubleshoot MDU Wi-Fi networks with Tanaza
The demand for managed MDUs Wi-Fi is on the rise across the world. In 2023, a study by Parks Associates (well-known market research and consulting firm) showed that 31% of the US population lives in MDUs (Multiple Dwelling Unit Wi-Fi), and 50% report Wi-Fi issues. Multiple Dwelling Unit Wi-Fi represents a sizable business opportunity for MSPs that offer managed WLAN connectivity services for apartments, condos, multi-family homes, townhomes, and other high-density living spaces. Continue to read why and how Tanaza can help network administrators to troubleshoot common network coverage and speed issues.
What is a MDU Wi-Fi (Multiple Dwelling Unit Wi-Fi)?
MDU Wi-Fi refers to WLAN wireless networks that serve multiple residential units within buildings or complexes. MDU Wi-Fi networks are designed to provide secure and ubiquitous internet connectivity and managed services to tenants living in apartment buildings, condominiums, student housing, assisted living facilities, and other types of multi-unit dwellings.
In some cases, MDU Wi-Fi networks are managed by a single MSP or SP, who manages the deployment and operation of comprehensive Wi-Fi services for the properties.
MDU Wi-Fi market provides significant opportunities for MSPs and SPs that serve building owners and property managers. Benefits can include:
– Revenue Generation: Building owners or property managers can generate additional revenue streams by offering Wi-Fi services to tenants as value-added facilities for residentials. They can charge a monthly fee for the service or include it in the rent.
According to a report by Grand View Research, the global MDU market size was valued at USD 158.5 billion in 2020 and may grow at a compound annual growth rate (CAGR) of 7.6% from 2021 to 2028.
– Competitive Advantage: Offering high-quality Wi-Fi service can be a competitive advantage for property owners or managers in attracting and retaining tenants. Thanks to Wi-Fi analytics integrations such as My Wi-Fi Networks and Social Wi-Fi, network administrators can analyze the residents' preferences and offer tailored guest Wi-Fi experiences.
– Improved Resident Satisfaction: Providing reliable and fast Wi-Fi service can improve resident satisfaction and reduce complaints about connectivity issues. Wi-Fi troubleshooting tools can help network administrators to fix the most common connectivity problems related to the speed of connection and coverage. 
– Enhanced Security and Privacy: A shared Wi-Fi network can be designed with advanced security features to protect users' privacy and prevent unauthorized access. 
– Remote Monitoring and Maintenance: MDU Wi-Fi networks can be remotely monitored and maintained by service providers, reducing the need for on-site visits and minimizing downtime.
– Marketing and Analytics: Wi-Fi networks can be used to gather data on users' preferences and behavior, which can be used for targeted marketing or to improve operational efficiency. ADS4Wi-Fi is a Tanaza integration to monetize MDU networks, through targeted ADS managed by an easy-to-use advertising management and campaign delivery platform.
– Smart Building Integration: MDU Wi-Fi networks can be integrated with smart building systems to enable automated control of building functions and services, such as lighting, heating, and security. Visit the Tanaza Marketplace to stay tuned for the latest IoT integrations.
What are the main network issues that MDU WiFi have to face? And how MSPs and SPs can use Tanaza to troubleshoot them?
Park Associates listed the common MDU network technical problems by residence type.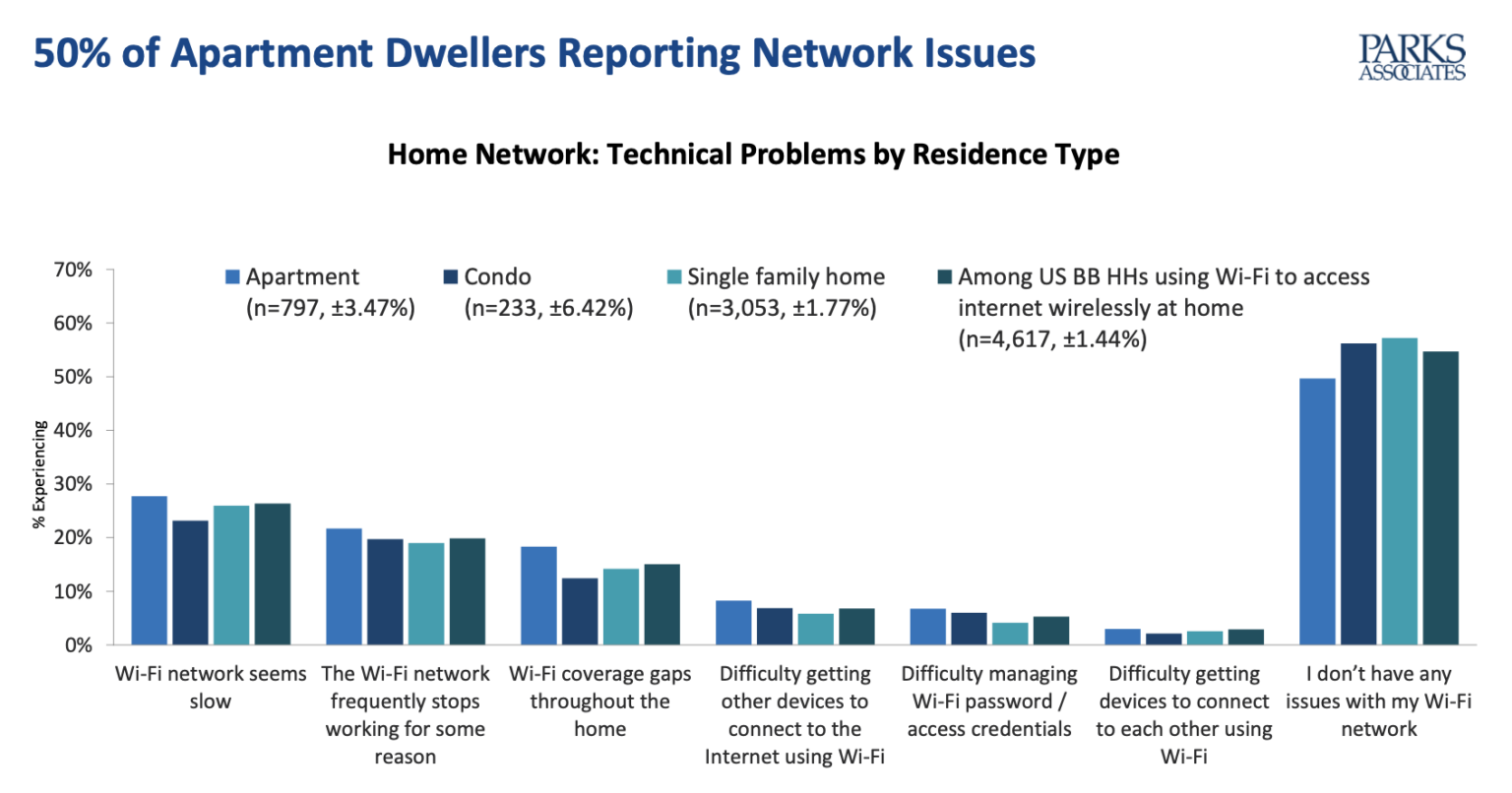 As shown from the precedent graphic, the main issues are related to two main topics: speed connection and coverage.
How to solve MDU Wi-Fi speed connection issues with Tanaza?
In case of congestion, the Tanaza Overview dashboard is an all-in-one network observability tool to monitor the entire network architecture stats. 
The network administrator can intuitively check the global or granular bandwidth at different moments, identify what AP devices are affected, and if a specific client is causing the slowdown. 
After a first overview analysis, network administrators can manage SSID advanced options and radio settings:
– testing real-time speed values with the integrated Ping Tool (read more about it)
– limiting the Max N. of clients 
– selecting the freest band frequencies (2.4GHz or 5GHz or dual-band – soon 6GHz) at AP or SSID level
– enabling client isolation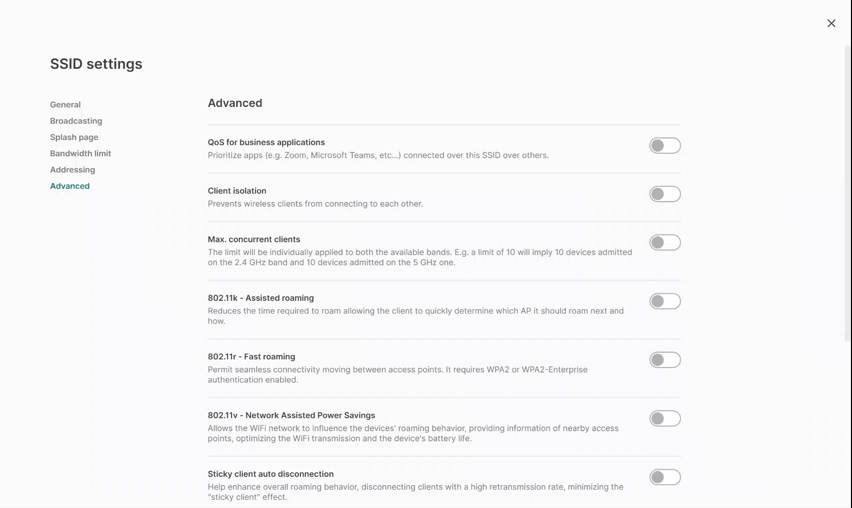 The Tanaza Marketplace includes the Historical Statistics add-on. By enabling historical statistics, MDU network administrators can keep track of historical data related to the status of their devices and learn more about when congestion happened. Data is stored for 30 days and it's possible to see what happened daily. In the last 24 hours, it's also possible to see the details on an hourly basis.
In case of interference, the radio options at the AP level can help network administrators to switch to the best RX frequency to improve the quality of the signal. In the MDU Wi-Fi networks, it is common to have multiple adjacent APs that operate in adjacent channels. Due to wrong AP positioning in the environment, the channel overlapping can cause adjacent channel interference.
Let's assume that three residents complain frequently of slow connection caused by APs placed adjacently in the three nearby apartments that use sequentially channels 3 (2422MHz), 4 (2427MHz), and 5 (2432MHz). To troubleshoot this issue, the network administrator can decrease the TX power levels of all the APs to prevent their transmissions from overlapping. In addition, he could increase the channel width to 40MHz on 2.4GHz frequency and gradually switch to 5GHz to have a certain safety margin.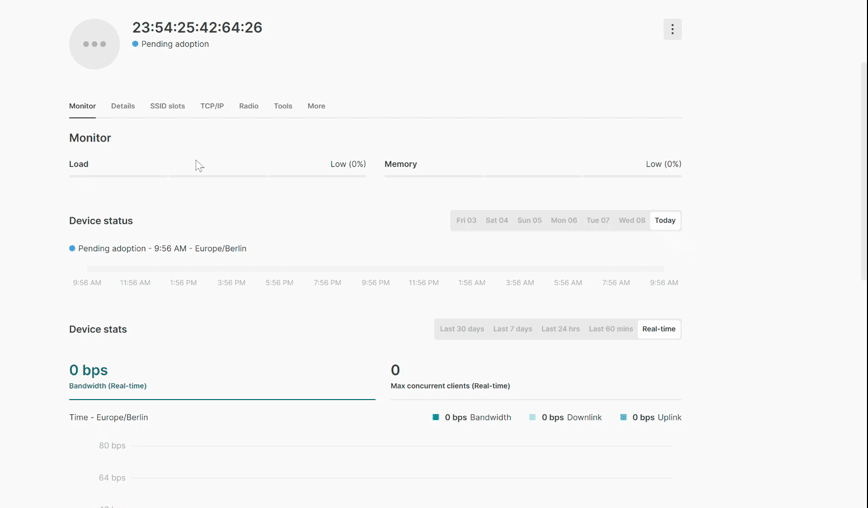 In case of bandwidth limits, network administrators can operate at the SSID level, limiting or improving the speed of connection values for download and upload. This tool is perfect to ensure that the internet connection is available to all connected devices equally or to limit bandwidth consumption by some devices that may cause network congestion.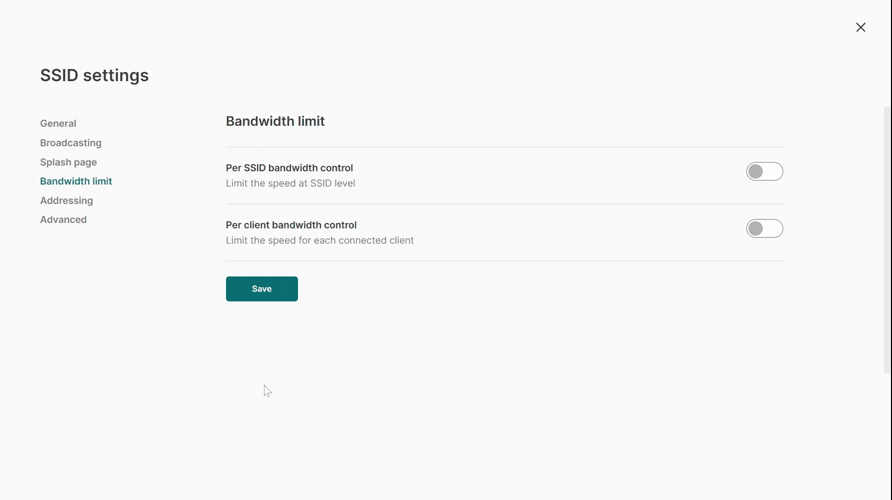 How to solve MDU Wi-Fi coverage issues with Tanaza?
Excluding structural interference caused by incorrect network design, network overload, wrong roaming setup, multipath fading, congestion, and interference can represent some of the most common causes of coverage issues.
In case of network overload, too many devices attempting to connect to the same network at the same time, the available bandwidth shared among all connected devices can be spread too thinly, causing slowdowns or even disconnections. This is a common issue in apartments and small condos where typically a single AP has to manage simultaneously time laptops, smartphones, IoTs, and other devices.
When it happens, network administrators can regulate the max. n. of concurrent clients or increase the MHz of the channel width, paying particular attention to not causing further adjacent channel interferences.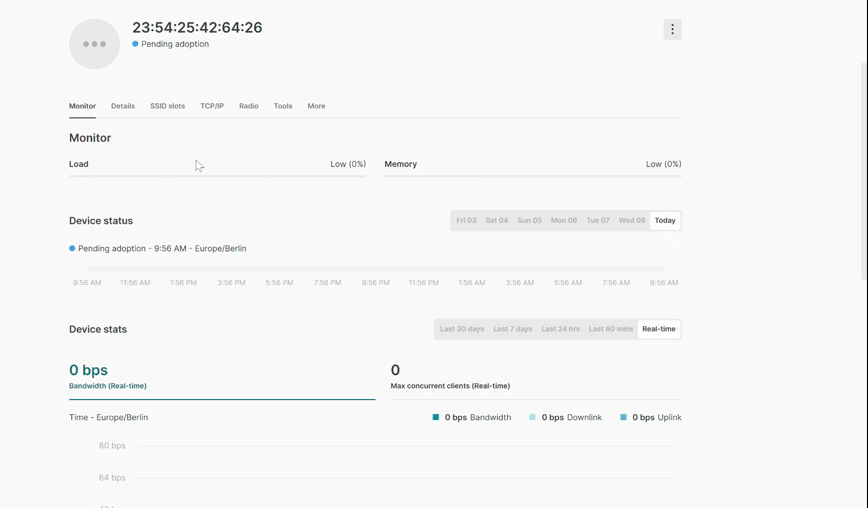 Performing Wi-Fi roaming is fundamental. MDUs Wi-Fi networks have to guarantee that clients can automatically switch from a Wi-Fi network with a weak signal to one with a stronger signal without friction. Inconsistent manual network configuration and proximity interferences are the main causes that afflict the roaming feature. To improve a fluent transition to both SSIDs, network administrators can enable 802.11k, 802.11r, and Sticky client auto disconnection. Read more about how the Wi-Fi Fast Roaming feature works.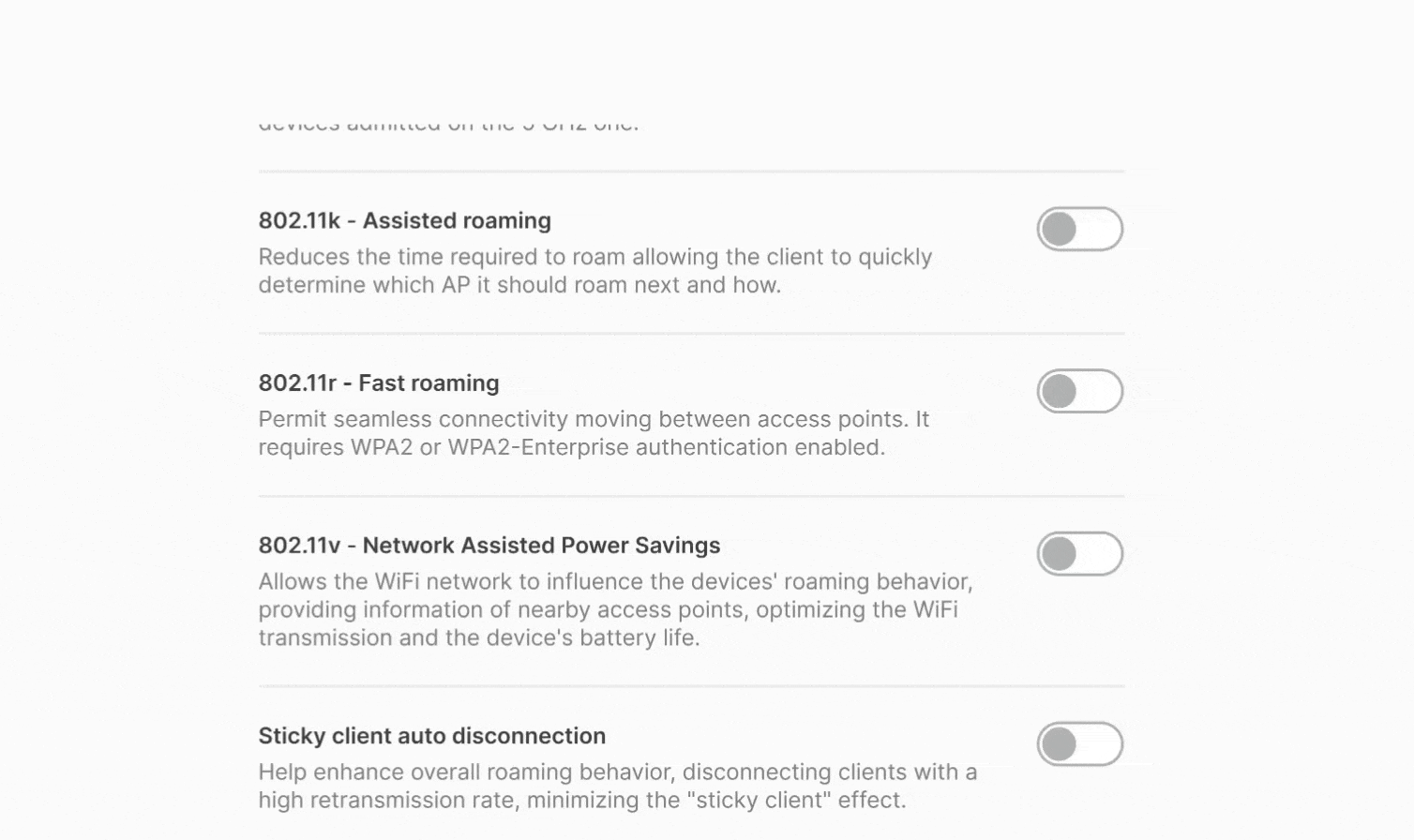 Multipath fading is a phenomenon that occurs in wireless communication when radio signals travel from a transmitter to a receiver by multiple paths, which can result in signal distortion and cancellation. Multipath fading can be flat fading or selective fading. Selective fading is more common in MDU apartments and condos due to architectural obstacles and more objects that can reflect and spread irregular signals.
Beamforming technology can solve this issue, directing the Wi-Fi signal exactly toward the targeted direction of a specific client. Beamforming sends the same spatial stream on multiple antennas with determined timing offsets, thus increasing range.
Tanaza Compatible Devices and Tanaza Powered Devices APs with MU-MIMO integrated can mitigate the multipath selective fading phenomenon.
The Tanaza Powered Device Edgecore EAP102-T can be a good choice for MDU Wi-Fi networks in luxury or top-end apartments with IoT architectures. The model is a high-performing Wi-Fi 6 concurrent dual-band 802.11ax indoor access point that supports 4×4:4 uplink and downlink MU-MIMO between the device and multiple clients, with up to 2.9 Gbps aggregate data rate. It's perfect to avoid coverage issues in complex network ecosystems where multiple clients require a constant flux of connections.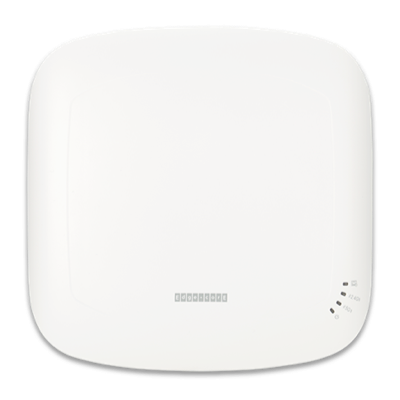 Several types of interference can impact the coverage of a Wi-Fi architecture. MDU apartments and condos are generally spaces with many adjacent devices and networks. These types of interference are most common on the 2.4GHz. The Tanaza radio options at the AP level can help network administrators to switch to free RX frequency to improve the quality of the signal, setting channel width, channels, and TX power.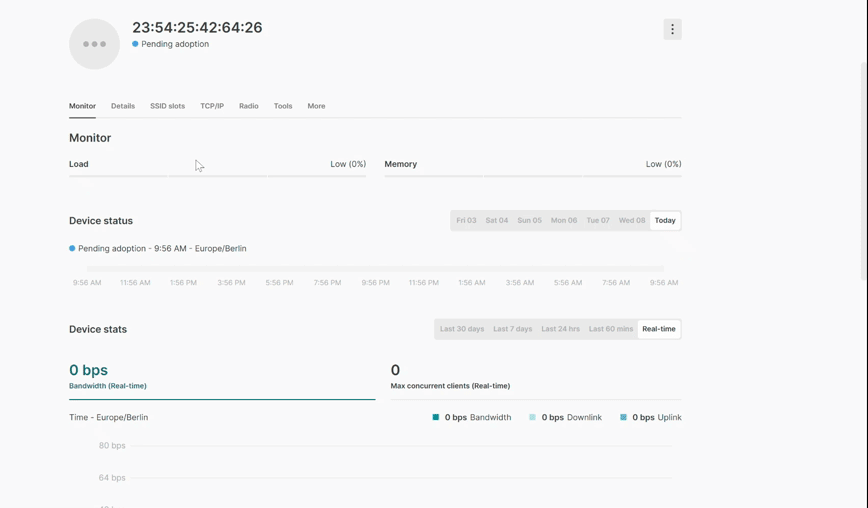 Are you an MSP or an SP focused on the MDU market?
Tanaza helps network administrators to configure, monitor, and troubleshoot MDUs networks of any size and add 3-rd party services on top to offer the best guest Wi-Fi experience to residents of apartments, condos, multi-family homes, townhomes, and other high-density living spaces.
The intuitive all-in-one Tanaza dashboard allows total control of the MDU Wi-Fi infrastructure and converts them into valuable assets.
Reduce the issues in MDU Wi-Fi networks thanks to a stack of intuitive features manageble from a single dashboard.
✔︎ No credit card required ✔︎ Free up to 3 APs