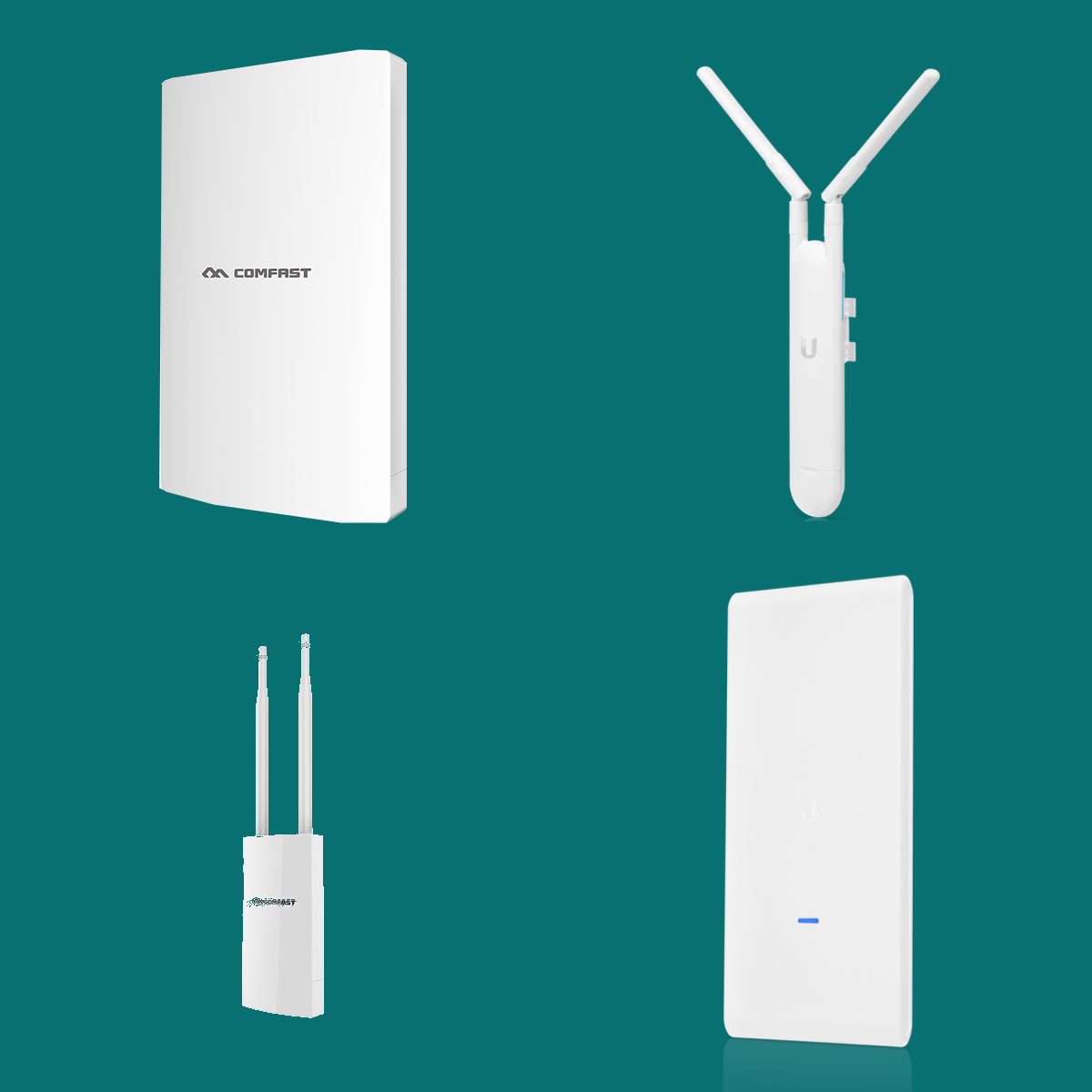 How to deploy an Outdoor WiFi network for your venue
There can be multiple reasons why you need to deploy an outdoor WiFi network for your area. Maybe you want your guest WiFi network to extend outside to keep your guests connected on your network at all times.
Nowadays, many businesses offer complimentary WiFi for their guests/customers. One of the most primary and biggest reasons to provide free WiFi is that it increases on-premises time. Many surveys suggest that consumers stay longer when they are connected to public WiFi. It is also seen that businesses offering free WiFi have seen a comparatively high success rate. No matter how large or small your business is, offering free WiFi will always benefit your business in one way or another. Consider this as an investment, and you will feel the growth in your company.
5 key things to take into consideration before deploying an outdoor WiFi network
Before deploying an outdoor WiFi network, there are few things that you must take into consideration. Like an indoor WiFi network, the outdoor WiFi network also needs to be planned before deploying the access points. It's essential to map out every access point and the extent to which the outdoor network will reach.
Remember, the outside areas you want to expand coverage to should be where you expect the most traffic. You need to ensure that throughout the installation of your outdoor network, the same network management configuration and solutions are being followed as your other networks.
With time, we have gotten access to tools to determine where we should place our access points and how high we should place them to broadcast the best signal. Choosing the right equipment is vital as everything depends on it. Apart from the access points, there are multiple things that you need to consider, such as firewalls, switches, network interface controllers, and so much more. Your equipment must work seamlessly and not create any limitations for you from a speed or usability standpoint. By positioning your equipment correctly, you will distribute the wireless signal to cover a large area. Configuring your equipment will provide the best performance in the environment you have set up your network.
Estimate bandwidth needs for outdoor WiFi
When building infrastructure, it is crucial to detect how much bandwidth do you require carefully. It is fundamental to consider and adequately calculate the bandwidth requirements of the WiFi network. As we all know, bandwidth is referred to as the channel's capacity to transmit data. Data is sent in a binary system (0 or 1), each of which is called a bit.
Network bandwidth plays a significant role in designing and maintaining a functional wireless network. Now, it is essential to calculate network bandwidth requirements before deploying them onto a network because the more bandwidth the data connection has, the more data it can send and receive at one time.
However, every kind of deployment location has certain types of bandwidth limits. This means that there is a constraint to space for the data to flow. Some devices require more bandwidth than others. If you wish to maintain proper speeds on each device, then greater bandwidth is a must.
Before you start deploying your WiFi network, you must estimate how many devices will be connected to your WiFi network simultaneously. The more bandwidth you deliver, the faster the devices will run. The usage level for Social Networks, Emails, VOIP, and video streaming ranges from medium to heavy, so be aware of it.
Select the best outdoor access points for outdoor WiFi
Tanaza works with a wide range of access points to suit almost all scenarios and maintain the network's reliability. Knowing your internet usage is necessary to choose the right access point.
There are many expectations from a particular access point ranging from speed performance, ease of installation, cloud manageability, and software stability. Nowadays, access points with cloud-based management features are a must for any business. It will let network administrators control the devices and customize bandwidth while monitoring the overall network performance and security issues.
These are our favorite access points for outdoor WiFi networks.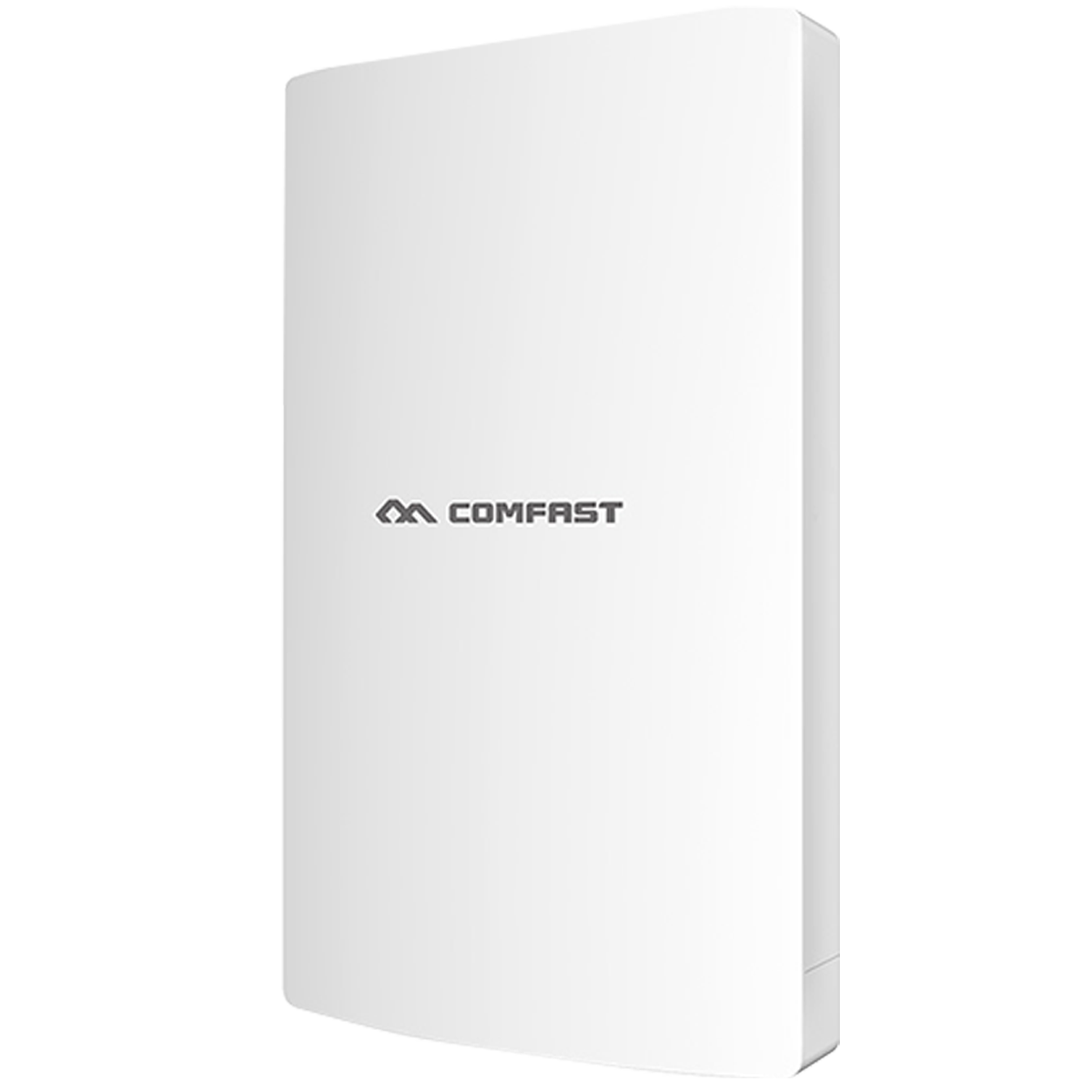 This high-power access point is ideal for outdoor long-distance transmission signals. Multiple concurrent users can connect online thanks to directional dual-polarized antennas and a powerful transmit power of up to 500mW. As a result, there is an increased terminal throughput and a much better user experience. It supports dual-frequency on 2.4Ghz and 5.8Ghz. An estimated 50 users can access the Internet on the 2.4Ghz band and 110 users on the 5.8Ghz. Furthermore, the 1300 Mbps high-speed wireless transmission rate of the CF-WA350 makes WiFi signals stronger and more efficient. On the other hand, the two gigabit ports support higher bandwidth while transmitting data in an agile and smooth manner. This access point is available with the Tanaza Operating System out of the box.

The Comfast CF-WA350 is an 802.11ac Wave 2 MU-MIMO. This technology allows multiple concurrent users.
Outdoor. The AP is ideal for residential areas, parks, schools, factories, commercial streets, villages, scenic spots, and more.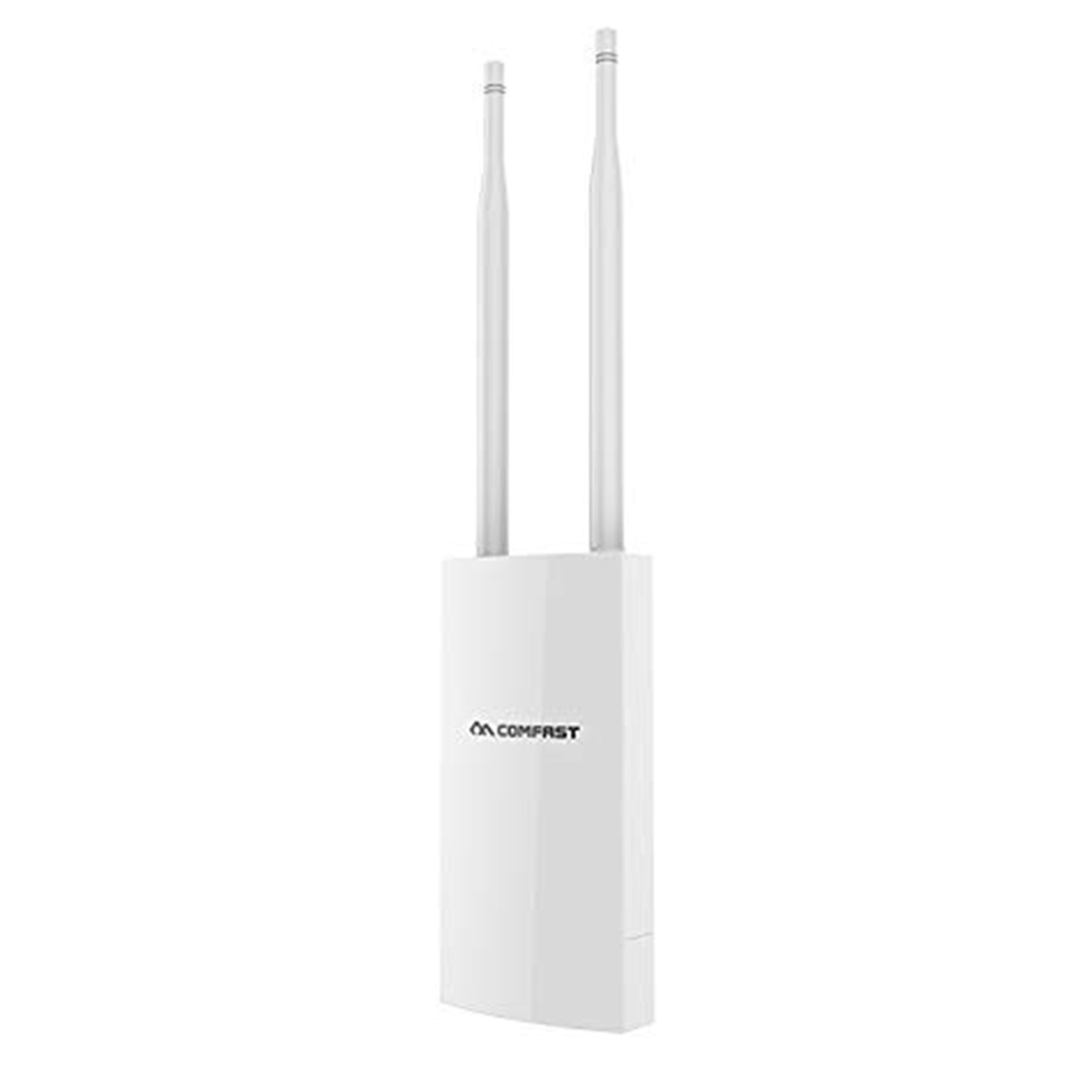 This high-power access point is suitable for outdoor areas. It hosts 50 concurrent users. Its two oxygen-free copper antennas with 360° omnidirectional WiFi coverage meets the needs of different situations. It also features a SE2576L power amplifier, improving wireless network reception and the transmission function. This access point is available with the Tanaza Operating System out of the box. 
The Comfast CF-EW71 has a single-band and cloud-managed SU-MIMO 802.11n. It delivers a 300 Mbps aggregate frame rate with 2.4GHz radio.
Outdoor. The Comfast CF-EW71 stands up in severe environments, thanks to its outdoor IP66 rating that provides the ability to handle different kinds of rugged environments: lightning protection, waterproof, dustproof, antifreeze, high-temperature resistance, and it's antioxidant.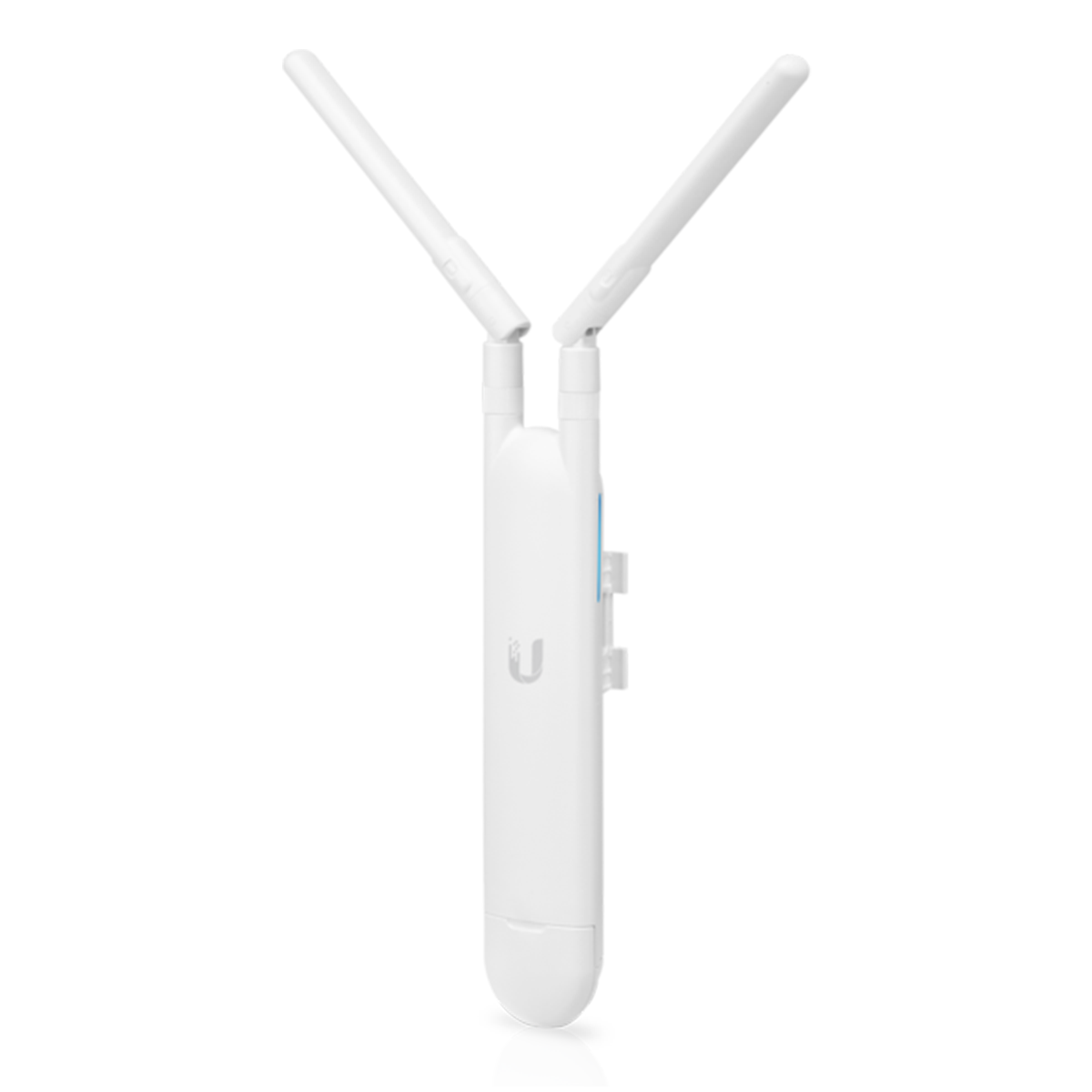 The UniFi AC Mesh Ubiquiti includes adjustable dual-band Omni antennas. You have the option to use a 5 GHz Omni antenna1 for spot-beam coverage in high-density locations with numerous APs and clients, like a conference hall or event center. The UAP-AC-M discreetly integrates into any environment. The UniFi AC Mesh Ubiquiti is versatile. You have the option to use a 5 GHz sector antenna (wide beam in the azimuth plane and narrow in the elevation plane) for broad outdoor coverage. The AP is compatible with 802.3af PoE Alternative A and 24V passive PoE. 
The UniFi AC Mesh Ubiquiti model features 2x2 MIMO technology available in single and five packs. It can be used for indoors or outdoors deployments.
Indoor and outdoor. The UniFi AC Mesh Ubiquiti can be mounted on a wall, pole or can be fast-mounted on an optional Ubiquiti high-gain antenna. The antenna options on this access point include Omni antennas or the fast-mount adapter to install the AP on the optionally connected antenna.
UniFi AC Mesh Ubiquiti PRO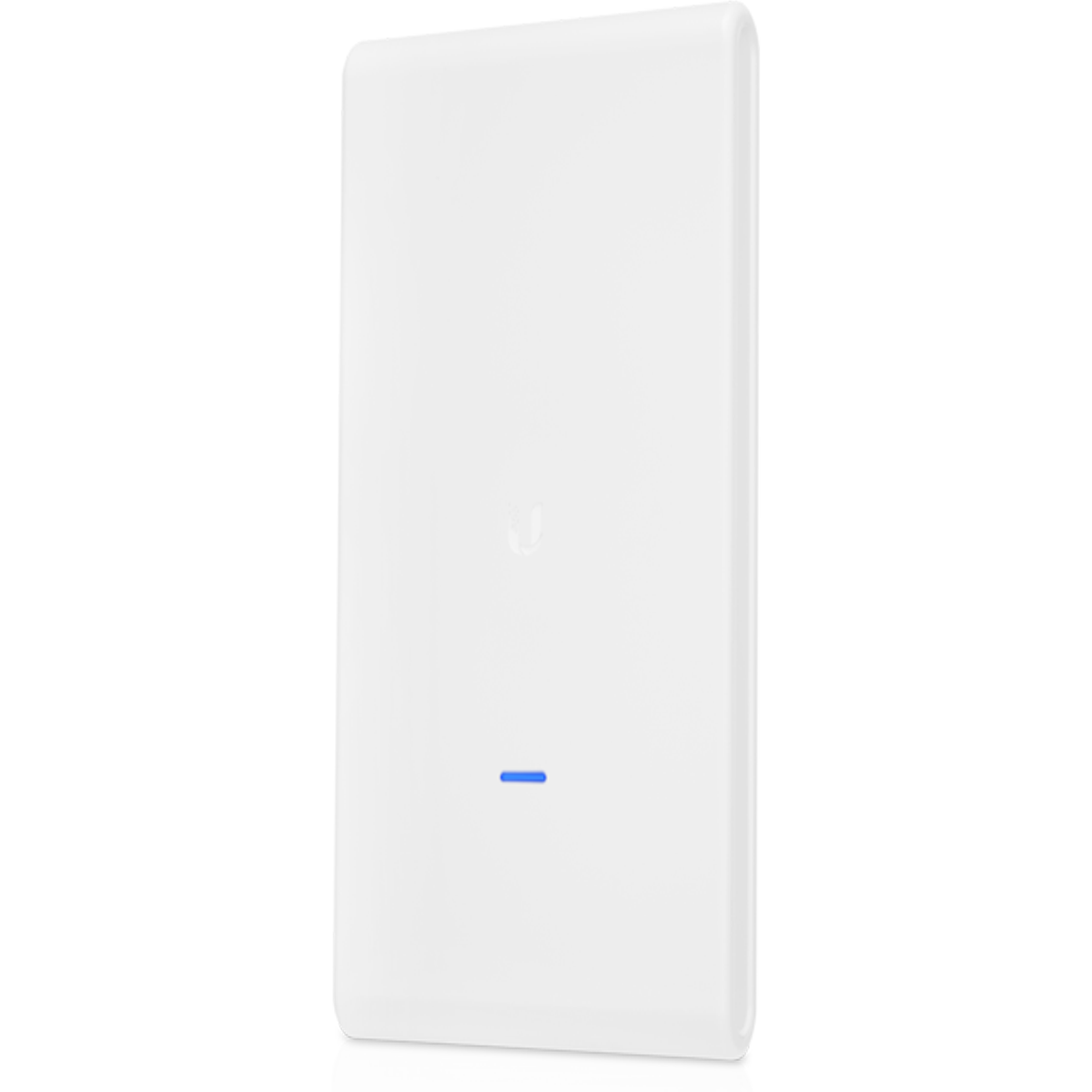 The UAP-AC-M-PRO is ideal for applications requiring 3×3 MIMO data rates for close-in Omni coverage. It has simultaneous dual-band, 3×3 MIMO technology and is available in single-and five packs. This access point has built-in dual-band omnidirectional antennas that deliver expanded range coverage outdoors. The primary port is for data and PoE; the secondary port is for bridging. 
The enclosure of this access point is designed to withstand the elements, which makes it the ideal choice for outdoor deployment.
Outdoor. The access point can be mounted on a wall or pole.
Maximize WiFi Performance
To maximize your WiFi's performance, there are multiple ways that you can opt for. With Tanaza, network admins can set a per-user guest WiFi bandwidth limit. The platform allows limiting bandwidth both per SSID and per user too at the same time. After surveying your network connectivity, you can decide to choose a suitable WiFi access point antenna. Directional antennas are considered a better option as they send a signal in one specific direction. 
You can improve your network connectivity by pointing your antenna in the direction where the signal lacks. You can also use additional antennas to maximize your WiFi network's performance and increase the access point's power. You can use them to make your WiFi signal stronger in a specific area, such as an open-air restaurant or the swimming pool.
Understand the power gain with the Rule of 10s and 3s
Your device's radio power describes how well the transmitting antenna converts the input power into radio waves, known as 'power gain.' The power of the access point is the intensity of its wireless signal. The change in intensity is called gain. It represents the increase of power, which is the ratio between input power and output power. 
The gain of the antennas is expressed in decibels (dB). The power input and output are in milliWatts (mW) in the wireless communication sector. To understand the power gain, simply let us explain the Rule of 10s and 3s. For every loss or gain of 3dBm, divide or multiply the power in mW by 2. Whereas for every loss or gain of 10dBm, multiply the power in mW by 10.
Improve user engagement with a captive portal
Tanaza integrates with the Classic Hotspot platform that allows network managers to personalize how WiFi users log into the network. The platform provides you with various login modes that will enable you to gather different types of information regarding your customers. 
Apart from the basic login modes via email, phone number, and password, users can opt for social login. We suggest you opt for social login as it is the optimal login mode from the marketing point of view. To increase user engagement on your page, you can advertise products and services to your customers to increase their engagement. Allowing social login on your captive portal is an excellent option to collect customer's insights. This data is a great tool to drive marketing campaigns and target the right audience for a network administrator. 
Discover more about Classic Hotspot by Tanaza
The outdoor WiFi has the same amount of benefits as the indoor WiFi, but there is a slight difference in setting up the two. You need to choose the right access point that satisfies your bandwidth requirements to provide optimal connectivity. It is good for your business growth and enhances your overall guest user experience. 
Furthermore, it is also crucial to have a unique network management system that enables you to manage the networks and WiFi access points regardless of the brand. Tanaza is the most innovative alternative for network management in the cloud.