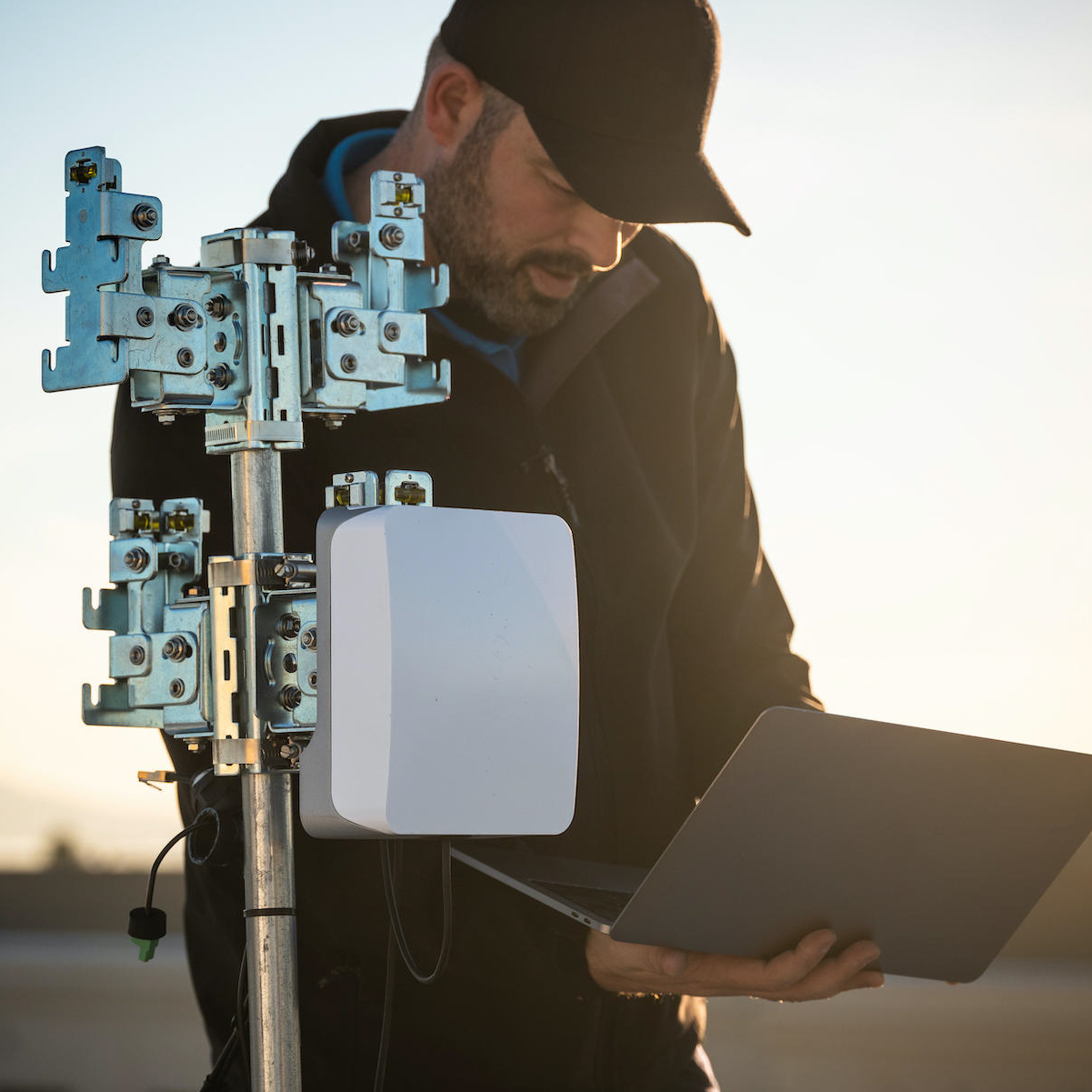 Service Providers G
enerate Revenue
with Express Wi-Fi and Tanaza
Press play to listen to the article.
Wi-Fi is a powerful reality that is helping to generate revenue in emerging countries.
The ever increasing demand for more IoT devices and content like streaming videos and VR experiences is putting a strain on network infrastructures worldwide. However, access to the Internet in low-income countries remains a luxury.
In fact, high-quality Internet access creates new opportunities to connect people across communities. Furthermore, it generates new business opportunities to maximize revenues and reduce the digital gap between the connected and the unconnected.
Express Wi-Fi by Facebook and Tanaza allow Service Providers to bring connectivity in emerging countries while generating revenues over Wi-Fi. So, if you are a Service Provider keep reading and discover how to make the most out of this initiative.
Generate Revenue over WiFi
What is Tanaza?
Tanaza is an Italian company with over ten years in the Wi-Fi industry. It has developed an intuitive cloud-based platform for IT professionals to manage Wi-Fi networks and access points from a centralized dashboard. At the core of Tanaza's technology is TanazaOS, a powerful Linux-based Operating System compatible with multiple hardware Wi-Fi access points.
What is Express Wi-Fi by Facebook?
A best in class SaaS platform that helps Service Providers (SPs) build, operate, grow, and monetize Internet access over Wi-Fi. The Express Wi-Fi platform comes with an innovative monetization portfolio, which helps launch and manage sustainable, high-quality Wi-Fi networks in emerging markets.
With Express Wi-Fi SPs can empower people around the world to connect to a faster, higher-quality, and more affordable Internet. Furthermore, it facilitates the user onboarding process through an app, available for iOS and Android, allowing end-users to buy data plans on-the-go.
For instance, Express Wi-Fi provides solutions for:
4G Coverage Gaps. In high-density population areas, Express Wi-Fi helps partners identify, deploy, and manage their footprint to complement their mobile offering.
Areas with Low 4G Adoption. While some people can connect, many cannot do so for diverse reasons. Express Wi-Fi offers different business and incentive features to help partners overcome this challenge.
Areas with 4G Congestion. By allowing for seamless roaming on a partner network, end-users will benefit from an always-connected state. As a result, the partner's business will be able to better manage congested areas due to a better WiFi platform.
How can SPs generate revenue with Express Wi-Fi?
Express Wi-Fi is ideal for SPs looking to invest and scale their Wi-Fi portfolio to bring great Wi-Fi to people when and how they want it. Most importantly, Express Wi-Fi has the intelligence to help Wi-Fi operators to understand business performance, identify new segments, and execute sales initiatives for growth. 
Furthermore, Express Wi-Fi provides consumer-facing tools that allow SPs to engage with customers by leveraging a monetization lever portfolio to generate revenues over Wi-Fi. As a result, it brings maximum flexibility and optionality to SPs.
The Express Wi-Fi approach to generate revenue
There are two broad categories to generate revenue for Service Providers:
Direct:
the end-user, customer, or subscriber pays when buying Internet data packs from the distribution channel, i.e.retailers.
Home and SMBs,

offering Wi-Fi data plans for homes and small businesses in fixed locations.

Prepaid data packs. Service providers can introduce volume and time-based data packs and sell those to their subscribers.
Indirect:
when a network is monetized by 3rd party options like Ads or sponsored Internet Access
Recharge API and Vouchers

. When end-users don't have to pay for Internet access, recharge APIs and vouchers, provide bulk provisioning and distribution of datapacks. Ideal for Doctor's clinics, youth hostels, coffee shops.

Sponsored Hotspots

. It provides customized, branded captive portals ideal for businesses to improve brand visibility and rollout marketing campaigns.

Ads. Express Wi-Fi provides ad-sponsored networks via banner and video ads, a popular monetization method in public networks.
Key Benefits of Express Wi-Fi
Achieve better utilization and profitability from a portfolio of monetization levers

Leverage Machine Learning and advanced analytics for optimal network deployment

Integrate with existing networks, thanks to Technology Partners like Tanaza

Reduced footprint thanks to the cloud-based SaaS model, and thus faster time to market.

Lastly, access to a broad ecosystem of 'off-the-shelf' access points thanks to Partners' multi-vendor compatibility like Tanaza.
Partners (Service Providers)
Through the Partner portal, Service Providers –known to Express Wi-Fi as partners, are enabled to perform end-to-end management of retailers, distributors, sales representatives, and brand ambassadors. Also, the insights tab displays business metrics data of crucial elements within the platform to improve hotspots' performance.
In addition, have full control over revenue generation. For instance, the monetization feature displays insights about the revenue data from different monetization tools and provides SPs with opportunities to maximize revenue where and when it is needed.
Express Wi-Fi Partner's portal
Image courtesy of Express Wi-Fi by Facebook
Retailers
Express Wi-Fi also relies on local business owners operating Wi-Fi hotspots that customers (end-users) nearby can pay to access higher-speed bandwidth using local SPs. 
In fact, Retailers are the partners' local representatives and are the point of contact for end-users to buy data and learn about the service. As a result, Service Providers can manage Express Wi-Fi retailers, distributors, sales reps, and brand ambassadors. Also, view their details and information, and perform actions such as adding new retailers, managing their balance, and editing their location information.
Retailers have a different interface that enables them to manage their Express Wi-Fi account, sell data packs to new or recurring customers, keep track of transactions, and perform top-ups.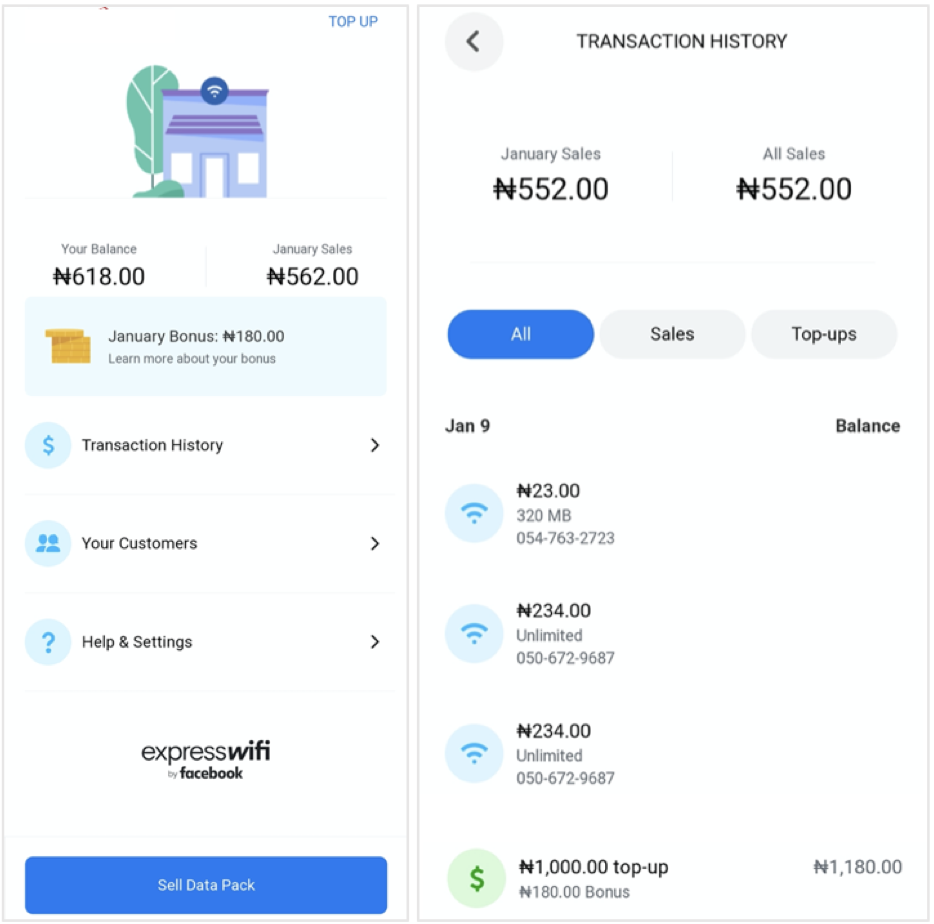 Express Wi-Fi Retailer's portal
Image courtesy of Express Wi-Fi by Facebook
Customers (end-user)
Customers or end-users are the ones who purchase or get access to the Internet service offered by the Express Wi-Fi partner. 
Service Providers can manage Express Wi-Fi customers, invite customers, view their details and information, reply to customer data requests, apply vouchers and send messages. 
Actually, Customers need to download the Express Wi-Fi app (available for iOS and Android) to buy data packs and find nearby hotspots more easily. The App enables customers to purchase data packs or view their purchase history. In addition, Customers can perform actions like watching ads or invite friends to join Express Wi-Fi to earn free data and locate Wi-Fi zones.
Typically, Customers access Express Wi-Fi hotspots by signing up with a participating retailer and purchasing a prepaid data pack. Therefore, by using Express Wi-Fi hotspots, Partners can quickly expand their services and provide faster, more affordable connectivity to rural and urban areas.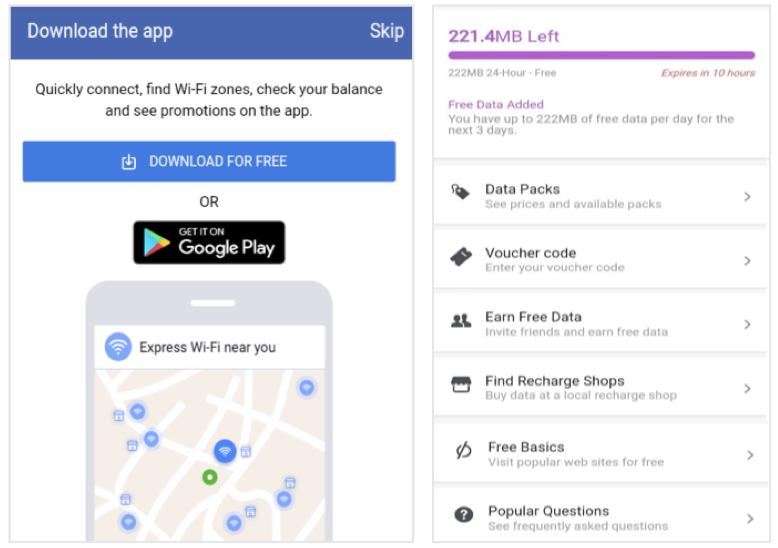 Express Wi-Fi Customer's portal
Image courtesy of Express Wi-Fi by Facebook
Where is Express Wi-Fi available?
Tanaza, a Technology Partner of Express Wi-Fi
Tanaza integrates
seamlessly
with Express Wi-Fi allowing SPs to have a full overview and management of APs while generating revenues with the Express Wi-Fi platform. 
Certainly, this partnership empowers Service Providers to configure, manage and troubleshoot unlimited access points and networks for Express Wi-Fi deployments. In short, is a win-win partnership.
The Tanaza Wi-Fi cloud infrastructure has 99.99% reliability. In fact, its technology is based on the Linux-based TanazaOS™ operating system, which is compatible with various brands' access points. As a result, TanazaOS supports a wide range of chipsets, such as Qualcomm Atheros and Mediatek, based on ARM and MIPS CPUs. 
Most importantly, Tanaza's multi compatibility gives SPs the freedom to choose the device of preference from our compatible list. 
Alternatively, when deploying new Wi-Fi networks, SPs have at their disposition the line of performing and cost-effective Tanaza Powered Devices. In addition, these devices come with the TanazaOS firmware already installed for a plug and play experience, guaranteeing high-efficiency levels and a considerable reduction of TCO.
Tanaza enables Service Providers to deploy Express Wi-Fi in emerging countries and connect rural areas while generating extra revenues over Wi-Fi networks.
First of all, Tanaza's communication architecture and protocols have been designed to ensure the highest levels of security and reliability. As a result, the traffic coming from client devices and access point management, which passes through a 256-bit SSL encrypted tunnel, are entirely separated for safety. Furthermore, Tanaza domains are certified, and the platform is hosted on Amazon Web Services to ensure the highest levels of reliability in the market.
Manage your networks with Tanaza and generate revenue with Express Wi-Fi
In conclusion, Tanaza allows SPs to make substantial savings due to the elimination of expensive hardware controllers in the architecture. Also, it significantly reduces on-site maintenance interventions. Besides, compared to other professional solutions available in the market, Tanaza's flexible licensing system allows you to reduce CAPEX significantly. 
Above all, the Tanaza platform is a SaaS that empowers SPs to manage networks from a centralized dashboard. Furthermore, the zero-touch provisioning feature allows remotely installing and configuring multiple APs. As a result, it ensures that the setup procedure is the same for all access points, regardless of the hardware brand.
In addition, Tanaza's platform is user-friendly and intuitive; thus, no expertise is needed. The configuration and simplicity of Tanaza allow SPs to scale how and when they need it unlimitedly. 
Thanks to Express Wi-Fi Partners like Tanaza, Service Providers can offer better connectivity experiences to shops and businesses run by local entrepreneurs, with a broader range of compatible devices to choose from. So, SPs can generate extra revenues over WiFi in multiple ways.
Are you interested in Express WiFi?
If you are a Service Provider looking to expand your WiFi portfolio and monetize medium and large WiFi deployments with Express Wi-Fi in emerging markets, get in touch with us.