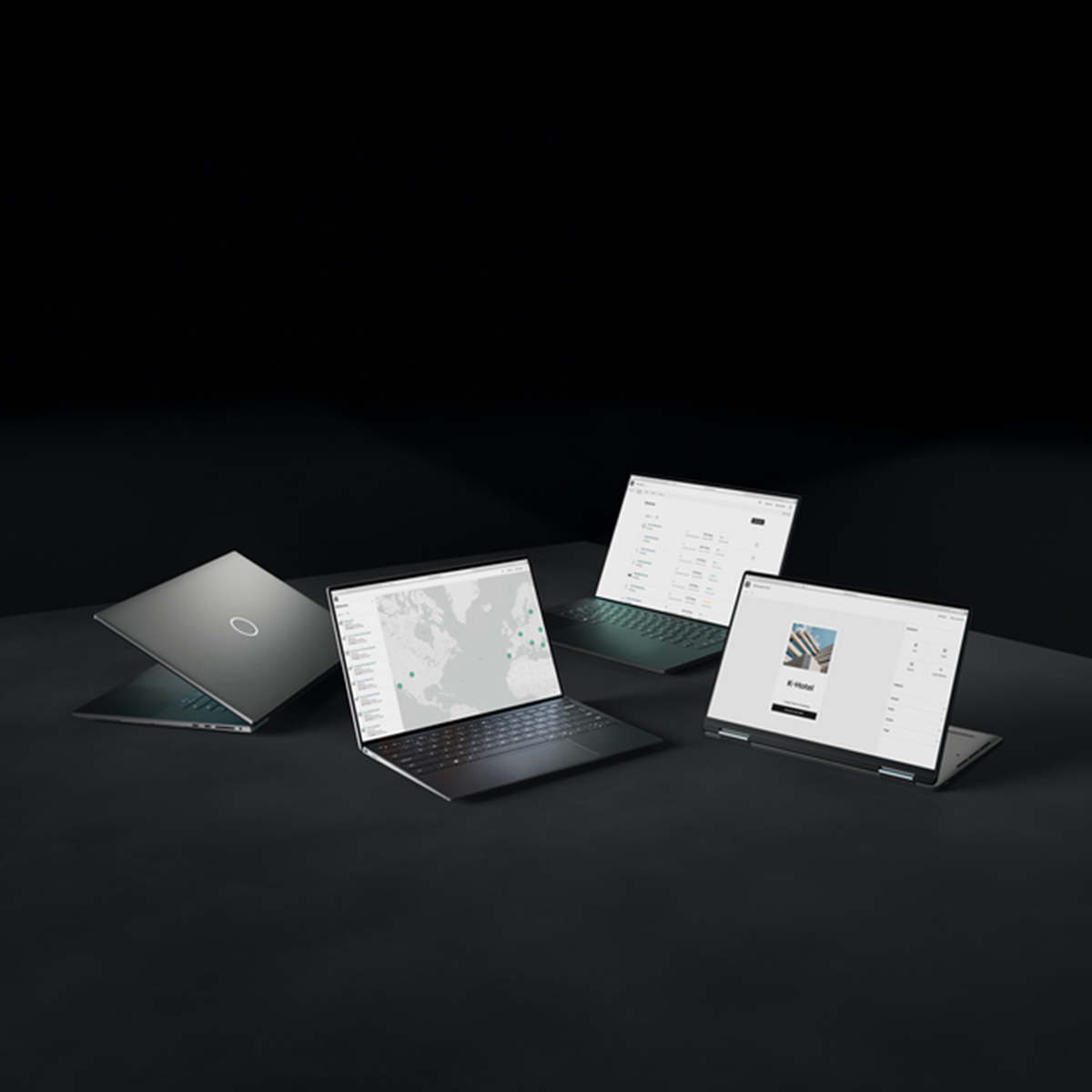 5 best network monitoring tools for 2023
Choosing the best network monitoring software is a daunting task. As an MSP knowing the state and overall health of your clients' networks is quite important as if you are unaware of it, you are headed for a disaster. With the technological advancements, there is an ample offer of network monitoring software in the market. 
These software have functionalities such as discovering devices, identifying network trends and traffic, graphically representing monitoring results, backing up network and device configurations, and primarily monitoring network equipment, servers, and applications. 
When it comes to choosing the right monitoring software to manage and operate your customers' networks there are quite a few things you need to factor in like number of devices to manage, on premises or cloud deployments, co-managed IT, location of the deployment and of course budget. 
But before tapping into more details on how to choose the network monitoring software adapted to your needs, let's agree on the basic terminology first, so we are all on the same page.
What is network monitoring tool?
Network monitoring tools are designed to monitor and manage the network traffic flow over a network. This tool is used mainly by network administrators and security staff as they monitor network deployments. This software automates most of the network monitoring processes and workflows. 
So you might be wondering what exactly it does? Well, this software monitors the network's uptime, availability, and response time. It can also monitor unusual activity and alert the network administrator when something suspicious or malicious is detected over the network. The network monitoring process can be for a physical/wireless LAN, WAN, or both. 
Best network monitoring tools provides information such as Active devices and equipment on a certain network and IP addressing schemes. It routinely reviews the network for availability and generates an alert and notification when a problem or issue occurs. For instance, it will alert you when an access point goes offline, or any suspicious packet is detected. 
Network monitoring must be proactive, which is a necessity and its most important aspect. It is a process in which all the networking components such as routers, switches, firewalls, servers, and VMs are monitored for fault and performance and evaluated continuously to maintain and optimize their availability.
How to choose the best network monitoring tools?
Choosing the right network monitoring system makes all the difference in how accurately your customers' digital infrastructure will work. The network monitoring tool is the most fundamental technology available for MSPs. With its wide range of capabilities and features on offer, you can select the best network monitoring software that will track network processes end to end. The tool ingests a vast array of performance metrics to discover, assess, optimize, and troubleshoot individual devices and keep cybersecurity threats at bay. Before selecting any monitoring software, it is essential to have a few things in consideration.
Firstly you need to check whether the network deployment is small, medium, or large. Usually, these tools are specifically designed for either small, medium, or large deployments. Also, depending on the type of deployment your customer wants: on-premise, hybrid or cloud-based. 
A lot of things matter while deploying a WiFi network and choosing an optimal monitoring tool. Generally, the small and medium businesses must select the tool that is easy to use and works with minimal configuration, so in the case of a co-managed infrastructure, both the MSP and the SMB can have peace of mind. 
The larger network deployments need a monitoring system that is more feature-rich and scalable. Businesses must have a dedicated team of professionals to manage the IT infrastructure to ensure its functionality. Hence, MSPs managing network deployments of any size should ensure that whatever tool they choose must include node and device inventorying, autodiscovery, automatic and configurable trouble alerts, warnings, and a web-based centralized management interface. 
Before selecting, it's also recommended to understand your customer's budget and see whether they would want high-performance or cost-effective devices to run the network. Thus, MSPs need to have a wide range of software tools within their portfolio to address each segment's needs. For large network deployments, MSPs should opt for details over convenience, while small and medium deployments will want to prioritize user-friendliness. It is important to foresee that your customer's network can potentially grow to choose a sustainable solution that can help you to help your customer scale when it's needed.
An honest list of networking monitoring software
What are the best network monitoring tools for 2023? Here you have a list of 5 useful cloud solution for network management:
Manage Engine OPManager
PRTG (Paid Network Monitoring Solutions)
Tanaza
EventSentry
SpiceWorks
It is important to consider the amount of virtualization in your network while choosing a network monitoring tool. The network performance monitors differ in their ability to provide visibility within the virtualized environment. Before choosing software, it is important to find out which would be the best network monitoring software to handle the consistent and disruptive problems that your customer's network will encounter.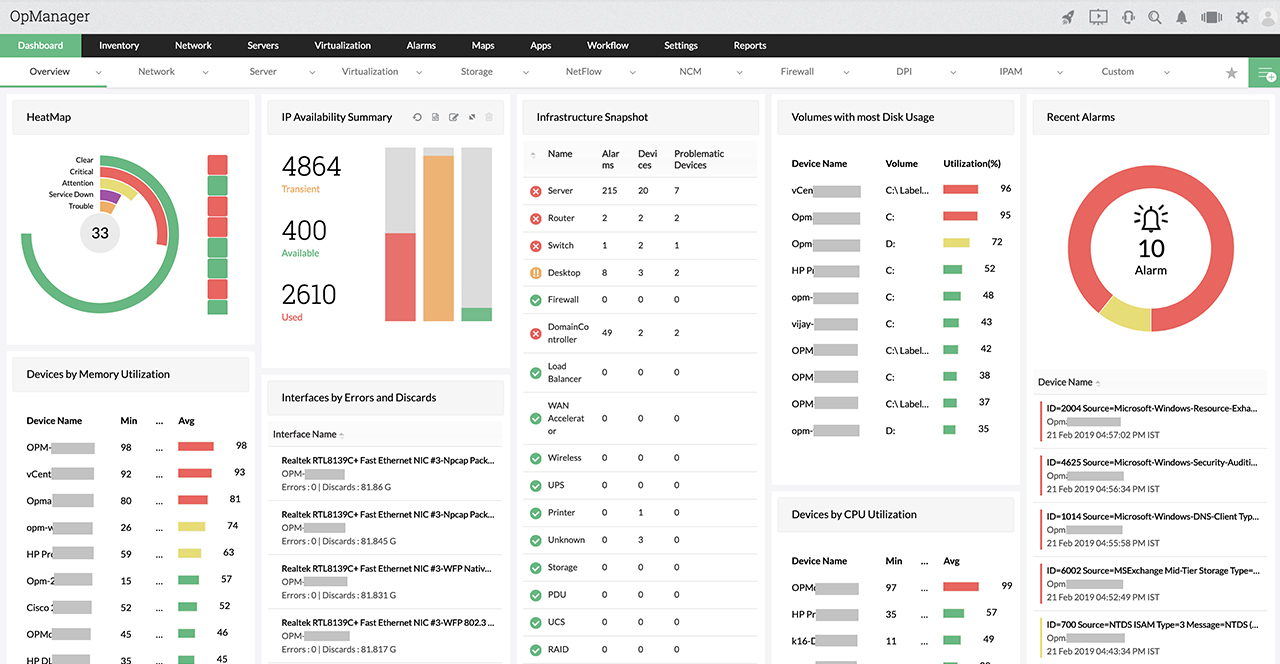 One of the famous network monitoring tools, Manage Engine OPManager, monitors SNMP devices, switches, servers, and virtualized network services. It features over 200 customizable widgets to build unique dashboards and reports. For numerous alerting channels, this monitoring tool supports email, SMS, and webhook. It uses intelligent alerting to reduce false positives by eliminating alert fatigue across larger networks. The only disadvantage of this tool is that it is time-consuming to learn. Being a feature-rich tool, it requires time to go through all the aspects and configuration settings. Also, it integrates well in the ManageEngine ecosystem with its other products. This tool is best recommended for users that want a simple infrastructure monitoring tool.
PRTG (Paid Network Monitoring Solutions)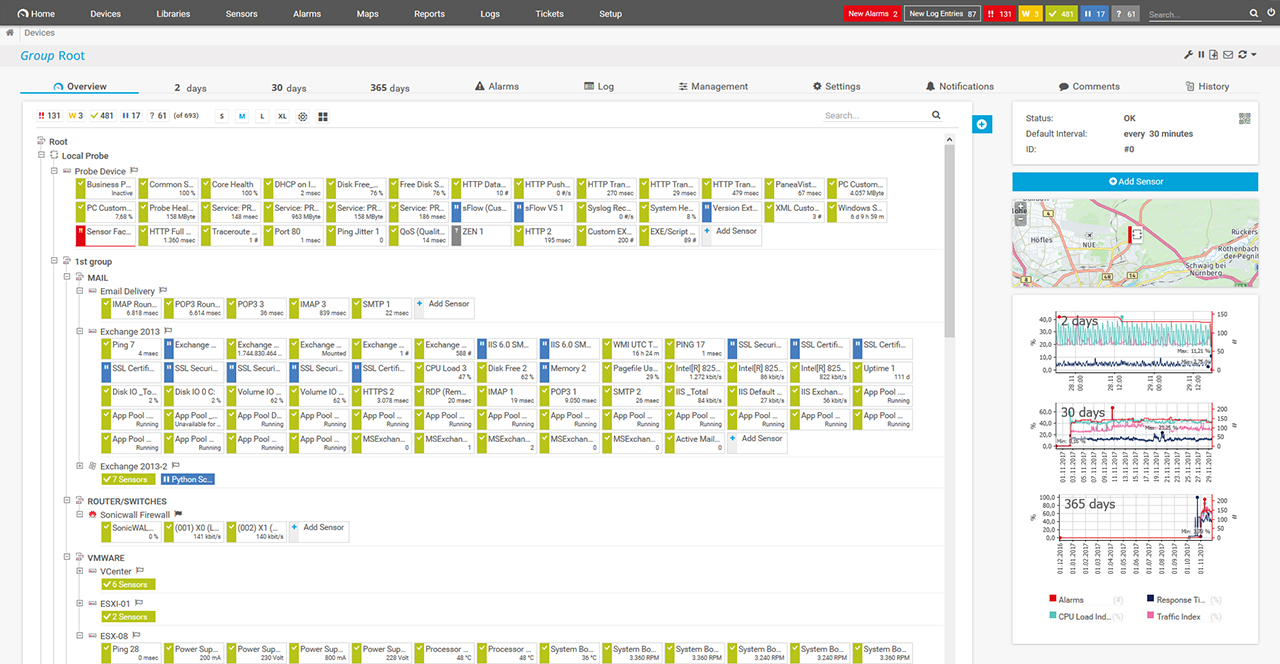 The Paessler PRTG network monitoring tool is an integrated solution suitable for both small and enterprise environments. This monitoring software is more than just a server monitoring system. It is made to monitor any IT-related resources that connect to your network, including your firewalls, switches, servers, routers, databases, websites, and even USPs. 
This setup is dynamic, so its monitoring capabilities can grow or shrink with the business size or other requirements of your organization. This monitoring software is a windows program that can be installed on a server with shared access. PRTGs can also send email and SMS alerts based on your custom threshold levels so that network admins can get more frequent warnings from critical servers with shared access. 
This application can monitor everything you need to know about your servers, such as CPU load, hard disk capacity and performance, RAM utilization, and bandwidth monitoring. The primary benefit of this system is that it has a simple and clear user interface with functional elements conveniently located in in-built places. Some of the other key features of the system include multiple user interfaces to choose from, failover tolerant monitoring, and distributed monitoring. PRTG is free for 100 sensors, so it is considered great if you have a small network or are looking for a paid solution.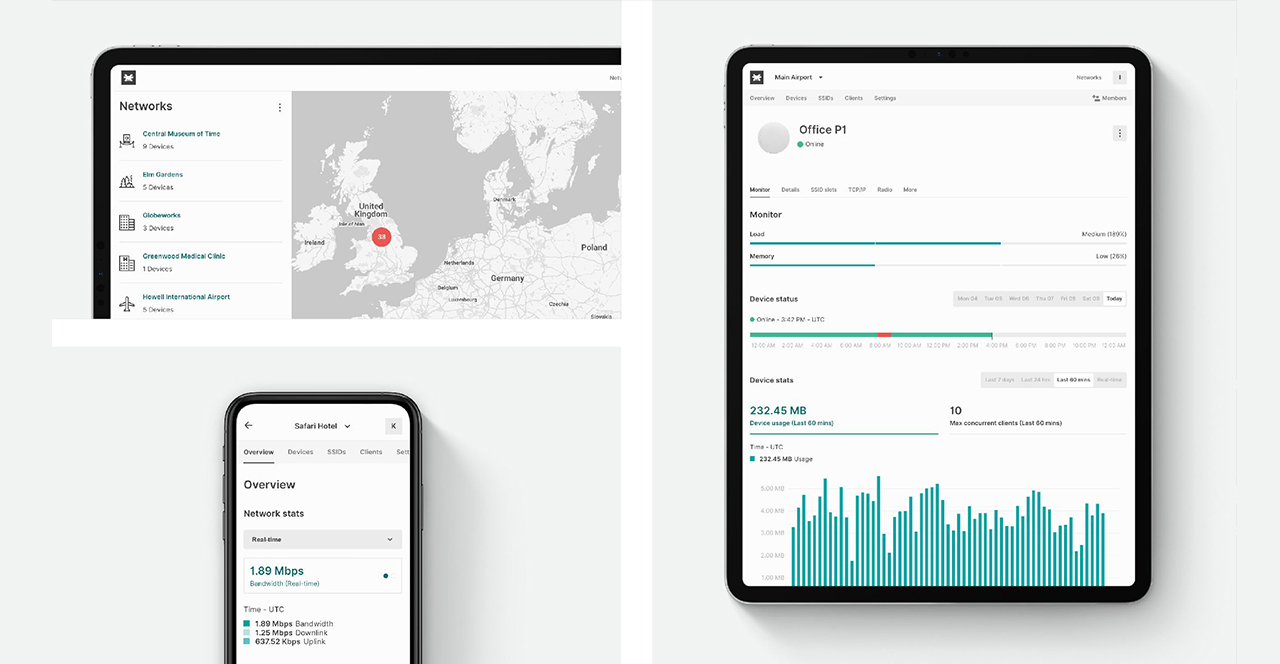 Among all, Tanaza is an ideal solution for the best network monitoring software. It is considered best for MSPs serving small and medium businesses and enterprises or SMEs with in-house IT teams. We all know that businesses rely on networks for all operations. In today's era, networks have to span globally, so network monitoring is crucial for any business. Being a subset of network management, a good network monitoring tool is required. Businesses are under quite pressure and need to manage affordable and straightforward IT infrastructure that works. Currently, the offers from famous network vendors such as Cisco Meraki, Ubiquiti or Aruba compel users to pay for expensive and non-flexible hardware. This hardware doesn't allow other multi-vendor networking devices within the same network seamlessly due to lock-in constraints.
Tanaza's operating system is the most reliable software as it delivers security layers that protect hardware from cyber attacks. Tanaza also delivers a scalable freemium model and a comprehensive marketplace that enables third-party software applications to offer added-value services for customers. It is the only single platform delivering world-class operational efficiency in IT operations. 
Tanaza allows you to manage remote access points, networks, and SSIDs. Furthermore, the zero-touch provisioning allows you to configure remotely any amount of devices and send them to the customer's location only for installation. Once the device is ON it connects automatically to the platform and features all the configuration set up.
Tanaza has an intuitive interface and features multi-tenancy capabilities so you don't have to share your credentials with any colleague. Each tenant can have their own and have different permission levels to the network. Furthermore, it's the only software compatible with multi-vendor access points. MSPs can manage thousands of networks and access points in the cloud from different vendors from a single control plane. No other network monitoring software delivers the same.
In terms of monitoring and network management, Tanaza allows MSPs to have a global overview of all the networks, and detailed information about:
the number of client devices connected in real-time;
uplink and downlink data rates;
SSIDs in a network;
devices' load;
bandwidth consumption for each access point;
list of channels used by each access point;
historical devices status;
map display and much more.
Tanaza provides liability to SMEs/SMBs to choose from the hardware of their choice. They can select among cost-effective enterprise gear by saving on CapEx and OpEx as they can reuse their existing networking infrastructure and scale their networks.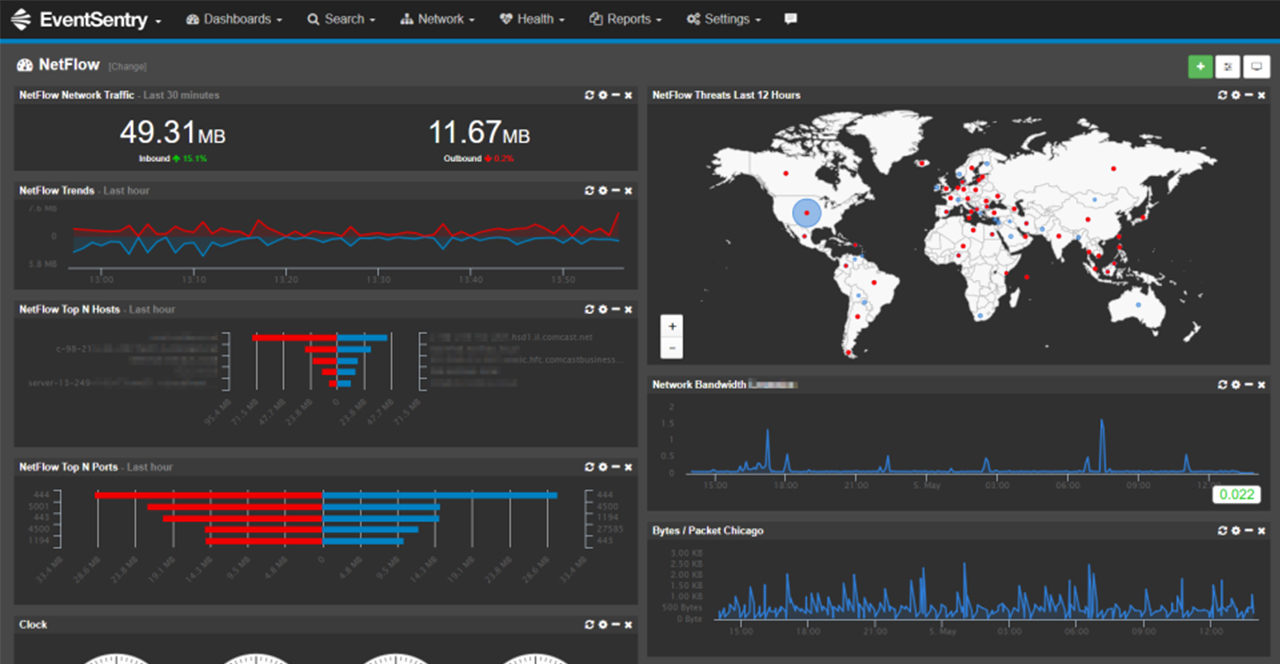 EventSentry is an on-premise network monitoring software that is owned by NETIKUS.NET Ltd. It enables businesses to monitor their IP-based devices performances. The primary functionalities of this tool include monitoring server health and network performance by managing logs and compliances. 
It has a wide range of features such as heartbeat monitoring, SNMP, and Syslog monitoring. The only drawback of it is limiting false positives that become challenging at times. However, it is a good network monitoring tool that enables your business to comply with government and industry regulations such as HIPAA, PCL, and SOX.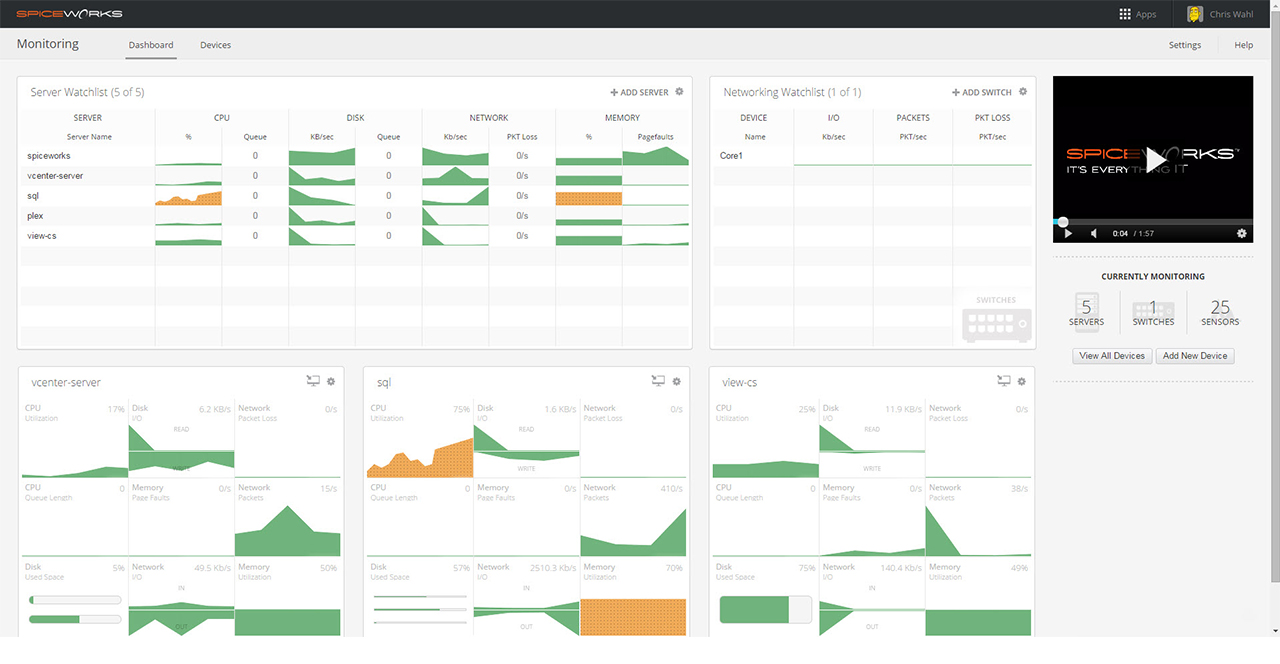 It is one of the open-source network monitoring software that is known for its scalability and flexibility. It is a great solution for granular monitoring of memory, disk activity, and more. The primary benefit of using this tool is that it is quick and also easy to implement. It allows independent thresholds per system or device. SpiceWorks tracks infrastructure devices such as switches and routers for input/output rate, packets per second, and packet loss. Though this tool provides excellent monitoring, it does not support SNMP version 3. It means that it does not reconcile systems that are going down. Also, its user interface is comparatively slow.
Among the top 5 best network monitoring software, it is up to the requirements of network admins to choose according to their IT infrastructure and business size. Tanaza represents itself as a comprehensive, affordable and flexible SaaS platform for IT professionals to manage WiFi networks in the cloud. Being the only software in the market that works with multi-vendor networking hardware.