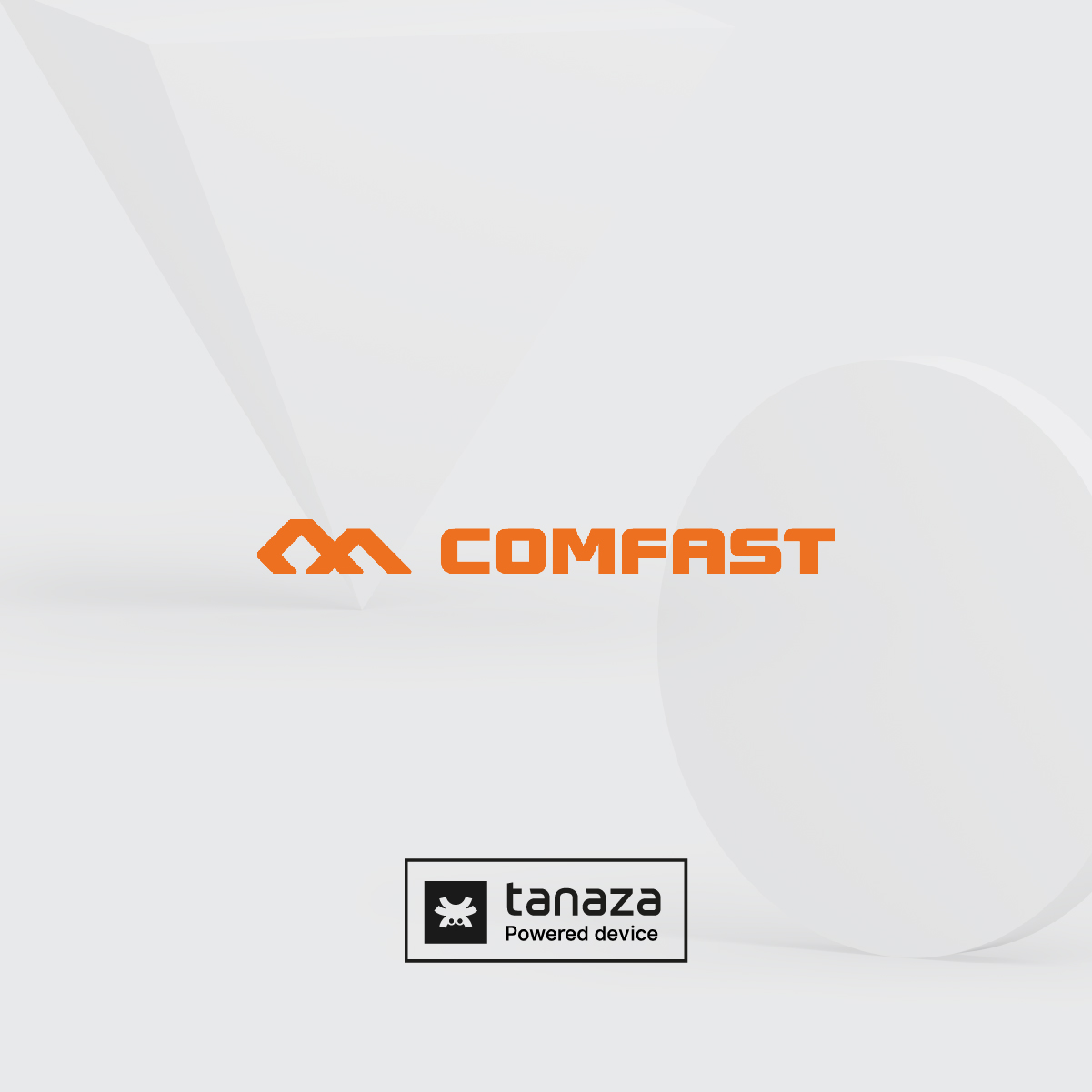 Comfast joins the Tanaza Powered Device family with cloud management 'out-of-the-box'
Tanaza and Comfast have partnered to bring a new cloud-managed solution to the networking industry. The Tanaza software running over Comfast hardware 'out-of-the-box' provides the networking market with a smart alternative to cloud-based networking for a 'plug and play' experience. This partnership offers IT professionals a networking solution to provision, manage and deploy over thousands of WiFi access points from a single cloud-based platform.
This year, Tanaza is closing multiple partnerships with OEMs in the networking industry to bring a compelling alternative to network management. The operational model that Tanaza proposes offers a cost-effective, easy-to-use, and scalable solution on the market with unprecedented levels of flexibility and efficiency.
Tanaza's modular software layer integrates on top with third-party applications to offer added-value services to suit specific customers' needs. From Wi-Fi monetization applications like Express Wi-Fi by Facebook to Hotspot management, Tanaza can enable integrations seamlessly on any Comfast device powered by Tanaza.
The Comfast devices models powered by Tanaza
Comfast CF-EW71
Product specifications
The Comfast CF-EW71 is an 802.11b/g/n 360-degree omnidirectional outdoor high-power WiFi coverage AP. It's mostly suitable for spaces like schools, parks, shopping malls, and villages.
The outdoor IP66 rating provides the ability to handle severe outdoor environments. It is waterproof, dustproof, antifreeze, high-temperature resistant, and lighting-protected. Still,it also suits indoor wide range coverage.
It has a speed wireless transmission rate of 300 Mbps. Furthermore, CF-EW71 supports a 2.4Ghz frequency, 48V PoE, and can be wall or pole mounted. A single AP can handle 50 concurrent wireless devices and assures a stable, lag-free network experience.
Comfast CF-E320N V2
Product specifications
The Comfast CF-E320N V2 is an 802.11b/g/n wireless access point. It is suitable for high-density indoor long-range environments, like restaurants, hotels, exhibition centers, meeting rooms, and shopping malls. It can be ceiling or wall-mounted.
Speed wireless transmission rate is 300 Mbps, perfect for multi-user simultaneous access. In this way, it will be easier to avoid connectivity interruptions and breakdowns. CF-E320N V2 uses the typical power consumption and supports a 2.4Ghz frequency. Anti-thunder 365 days stabilization guaranteed. Additionally, It supports roaming seamlessly, and clients can move without any packet loss.
Comfast CF-EW72
Product specifications
The Comfast EW72 is an 802.11b/g/n long-range outdoor AP. It is designed to provide WISP, CPE solutions, and long-range wireless network solutions for video surveillance and transmission. It provides a compelling performance solution with two omnidirectional antennas and strong transmit power of up to 500mW to deliver long-range coverage.
Ideal for small and growing businesses, it also provides an efficient way to pick up and maintain a stable signal for a wireless network connection from a long distance.
It supports dual-band speed up to 2.4GHz 300Mbps and 5GHz 867Mbps. Furthermore, EW72 has an IP66-rated weatherproof housing that ensures continued operation in harsh outdoor environments or climates of extreme cold, heat, or continuous moisture.
Comfast CF-E375AC V2
Product specifications
The Comfast CF-E375AC V2 is an 802.11ac Wave 2 wireless ceiling AP, which supports dual bands 2.4/5.8Ghz simultaneously. Also, it has a built-in dual-band anti-interference technology. It is ideal for high-density indoor environments like hotels, auditoriums, schools, convention halls, restaurants, and offices.
It supports MU-MIMO technology that allows optimizing the antenna array. The 2.4 GHz supports 3×3, which offers three spatial streams. A maximum of three clients can be simultaneously connected to the AP. The 5.8Ghz has 2×2, offering two spatial streams of wirelessly transmitting and receiving data on the same channel or frequency. A maximum of two clients can be simultaneously connected to the AP.
Comfast CF-WA350
Product specifications
The Comfast CF-WA350 is an 802.11ac Wave 2 MU-MIMO, high power access point, ideal for outdoor long-distance transmission signals. Multiple concurrent users can connect online thanks to directional dual-polarized antennas and a powerful transmit power of up to 500mW. The AP is ideal for residential areas, parks, schools, commercial streets, villages, and more.
The CF-WA350 supports dual-frequency on 2.4/5.8Ghz. Thanks to it, 160 users can go online simultaneously. An estimated 50 users can access the Internet on the 2.4Ghz band and 110 users on the 5.8Ghz. Remember that the environment, the network, and any interference can influence the number of concurrent users.
Furthermore, the 1300 Mbps high-speed wireless transmission rate of the CF-WA350 makes WiFi signals stronger and more efficient. On the other hand, the two-gigabit ports support higher bandwidth while transmitting data in a more agile and smooth way.
The AP features an IP67-rated weatherproof enclosure to ensure continuous operation in harsh outdoor environments with extreme cold, hot, or humidity.
Comfast CF-WA700
Product specifications
The Comfast CF-WA700 is an 802.11b/g/n high-power outdoor AP with 500W Engineering Signal Amplifier WiFi Signal Booster omnidirectional CPE. It is a larger area wifi coverage AP, particularly suitable for outdoor environments, like parks, schools, and squares.
It supports 48V PoE, ideal for outdoor power consumption, and a 2.4Ghz frequency, with a speed wireless transmission rate of up to 300 Mbps.
Tanaza, a compelling alternative solution for cloud-based network management
The Tanaza platform enables MSPs, ISPs, System Integrators, and Network Operators to enhance their networks' performance by allowing them to manage all WiFi networks, access points, SSIDs, and clients from one single dashboard in the cloud.
The Tanaza platform also features:
Auto rollback: when a wrong configuration is applied, the system restores the previous one
A scheduled reboot of APs
Enabling and disabling the hardware reset button
Automatic channel distribution
Centralized SSIDs, with up to 8 SSIDs per access point
Client isolation
Maximum concurrent clients
Band selection
Built-in Hotspot
Per SSID and client bandwidth control
802.11r, 802.11k 802.11v support
Integration with third-party applications like Express Wi-Fi by Facebook, Cloud4Wi, Social WiFi and Classic Hotspot by Tanaza.
Tanaza represents a smart alternative to manage network deployments from the cloud. The Comfast Tanaza Powered Devices can be deployed remotely with zero-touch provisioning thanks to the Tanaza WiFi cloud management platform. IT professionals can now access cost-effective, high-performing devices cloud-managed with Tanaza 'out-of-the-box'.
Comfast + Tanaza = 'plug & play
' experience 
Lower your WiFi networks TCO with Comfast Tanaza Powered Devices.